Zelensky Legalizing Crypto Will Unlock Over $100M for Ukraine Defense
Ukrainian President Volodymyr Zelensky signed legislation on Wednesday that legalizes cryptocurrency — a move that comes after Ukraine has received a flurry of digital currency donations in recent weeks amid the country's war with Russia.
The law establishes the conditions to launch a market for virtual assets that will be regulated by Ukraine's National Securities and Stock Market Commission, the country's Ministry of Digital Transformation said in a statement on Wednesday.
"Ukraine has legalized the crypto sector – @ ZelenskyyUa signed a law. From now on foreign and Ukrainian cryptocurrencies exchanges will operate legally and banks will open accounts for crypto companies," Ukraine's Ministry of Digital Transformation stated in a Tweet on Wednesday.
According to Mykhailo Fedorov, Ukraine's Minister of Digital Transformation, cryptocurrencies have become a tool for bringing in additional funding for the country's armed forces. In a statement on Wednesday, he noted that Ukraine has raised more than $ 54 million in cryptocurrency donations since Russia invaded the country three weeks ago.
Coindesk, a publication that covers digital currencies, reported that Ukraine has received even more – at least $ 100 million in cryptocurrency donations – in the last three weeks.
In an interview with TechCrunch published on Tuesday, Fedorov said that the funds that the country has received via cryptocurrency donations have "been directed toward the needs of the Ukrainian army."
He also noted the cryptocurrency law, which had yet to be signed by Zelensky at the time, saying "we strive to be as friendly to virtual assets as possible. And we are continuing this effort during wartime as well."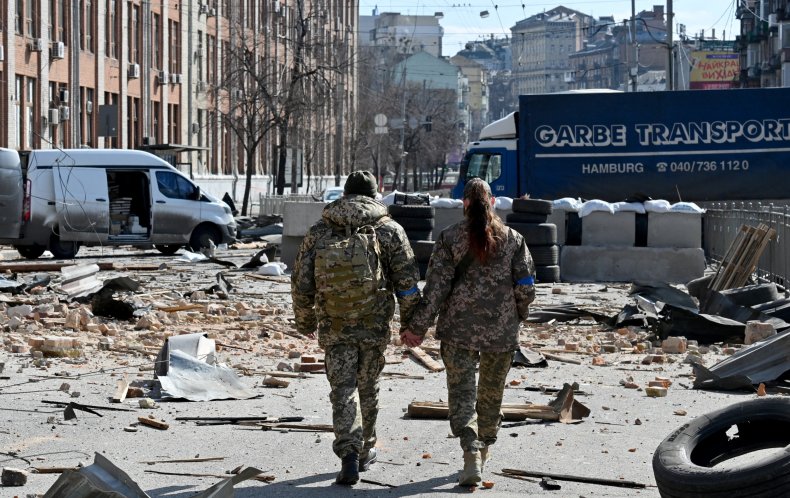 Even during Ukraine's war with Russia, Fedorov said Ukrainian officials are working on the "tech front" and the "economic front."
"And our government has been working especially hard to liberalize the economy and remove all hurdles, roadblocks and bottlenecks in our economy. We are simplifying tax rules. We are opening up our customs and – gee – we're even trying to develop our country economically despite the war, "Fedorov told TechCrunch.
He added that he believes the tech community has "chosen" Ukraine's side.
"We can feel it with our hearts and we can feel it by the actions of the tech community, and we are very grateful for that," he stated.
As part of its efforts to raise funds for its military, earlier this month, Ukraine announced it would be releasing NFTs (non-fungible tokens) for purchase.
Newsweek reached out to Ukraine's Ministry of Digital Transformation for any additional comment, but did not immediately receive a response before publication on Thursday morning.