Why the Crimea bridge blast was such a blow to Putin
Putin accused Ukraine of "terrorism" after the huge explosion rocked the strategically crucial bridge over the Kerch Strait between the Black Sea and the Sea of ​​Azov early Saturday. Russian authorities said the blast was a truck bomb attack carried out by Kyiv's special services.
Ukraine has not taken responsibility for the incident, but its officials celebrated what was widely seen as a bold strike against a target that holds deep personal significance for Putin as well as its value feeding his war effort.
Ukraine had long voiced strong opposition to the construction of the bridge, which was seen as a symbol of Putin's territorial claims to the area.
For years after the Kremlin illegally annexed Crimea in 2014, travel to Russia was only possible by overcrowded planes and ferries. As sanctions hit and companies withdrew, the peninsula became increasingly cut off from the world.
Putin took the project of connecting Crimea with the Russian mainland personally, an ambition that both the Soviet Union and Nazi Germany had failed to realize. He reached out to his childhood friend and billionaire Arkady Rotenberg, who led the construction. The result was a 12-mile structure that was completed in 2018, becoming Europe's longest dual-span bridge at a cost of $3.6 billion.
The bridge not only allowed the movement of people but also quickly became a key route for supplying perishables for residents, as well as cargo and military equipment. It features a separate roadway and railway.
Putin inaugurated the bridge by leading a convoy in an orange truck he drove himself. On the Crimean end, he was met by cheering construction workers, to whom he told their talents had made "this miracle happen."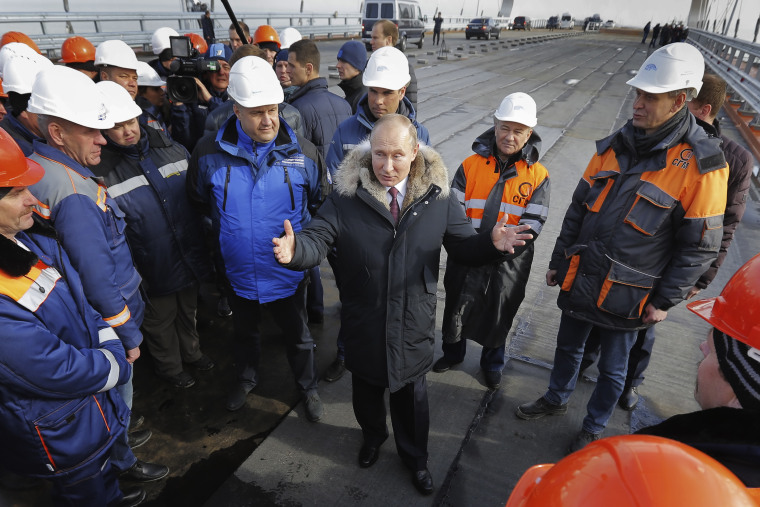 Saturday's explosion, which came hours after the Russian leader's 70th birthday, was a public humiliation.
"It was a really big achievement for him, and this bridge sealed it," said Ledwidge of Putin's annexation of Crimea.
The bridge, especially the rail line, is a crucial artery for Russian forces in the southern area of ​​Kherson, where Ukraine's military has been advancing, as well as Zaporizhzhia and Crimea itself.
"The bridge was always going to be a target either from covert ops or US-supplied longer range artillery systems, which have been the real game-changer," James Nixey, director of the Russia-Eurasia Program at Chatham House, said Saturday.
"The only reason they can actually keep the Kherson front and indeed their control of Crimea, supplywise, is because of that bridge," said Phillips O'Brien, professor of strategic studies at the University of St. Andrews in Scotland. "If that bridge hadn't been built, Crimea would be doomed now," he said, adding that Russia would likely prioritize key supplies to the front line while the bridge had limited bandwidth.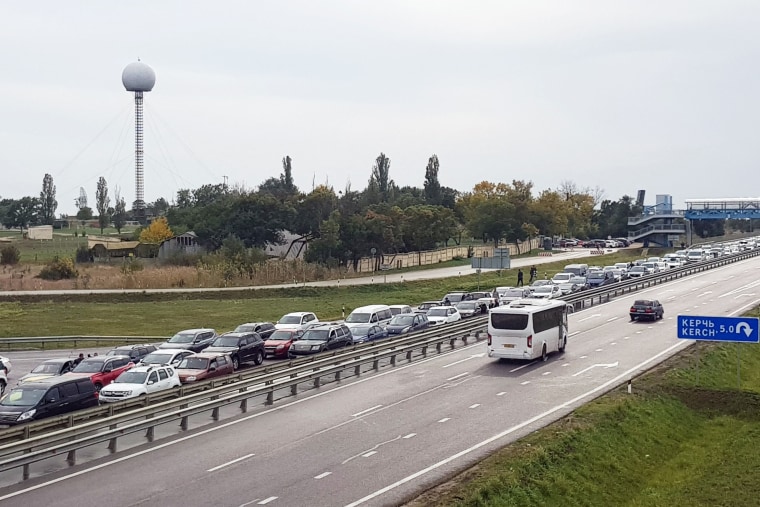 While its military assaulted Ukrainian cities from the air, the Kremlin was scrambling to repair its prized possession.
The first passenger train bound for Moscow departed Simferopol in Crimea on Saturday evening after the Kremlin announced the first test run of the railway had been successful, according to the Russian state news agency TASS. Russia's transport ministry said freight trains and passenger trains were running according to schedule on Sunday.
Road traffic had also resumed in some lanes, Britain's defense ministry said Sunday in an intelligence update, "but capacity will be seriously degraded."
"Conceivably the Russians can rebuild it," said Nixey, "but they can't defend it while losing a war."
Leila Sackur, Reuters and Yuliya Talmazan contributed.