Video Shows Russian 'Alligator' Chopper Fall From Sky After Ukraine Strike
The moment in which a Russian Ka-52 "Alligator" helicopter was shot down by Ukraine was captured on video, providing a look into one of Russia's most recent losses in the ongoing war.
The video was shared on Twitter by Ukraine's Defense Ministry, which said that the Ukrainian National Guard shot down the aircraft using an Igla man-portable air defense system (MANPADS). The helicopter can be seen flying in the distance just before it is struck, and then continuing to travel for a short distance before crashing to the ground in a wall of smoke.
Although the defense ministry did not specify when and where the Ka-52 was destroyed, Ukraine's National Guard said it was shot down Thursday on the Zaporizhzhia front, the online Ukrainian newspaper Ukrainska Pravda reported.
The list of Russian equipment that Ukraine said has either been destroyed or lost in the ongoing war, as well as the Russian death toll, has built up since the conflict began on February 24. In its latest estimate released Thursday, the Ukrainian Defense Ministry said that more than 2,200 Russian tanks, 4,700 armored combat vehicles, 253 military jets and 218 helicopters had been eliminated. The losses have not been confirmed by Russia.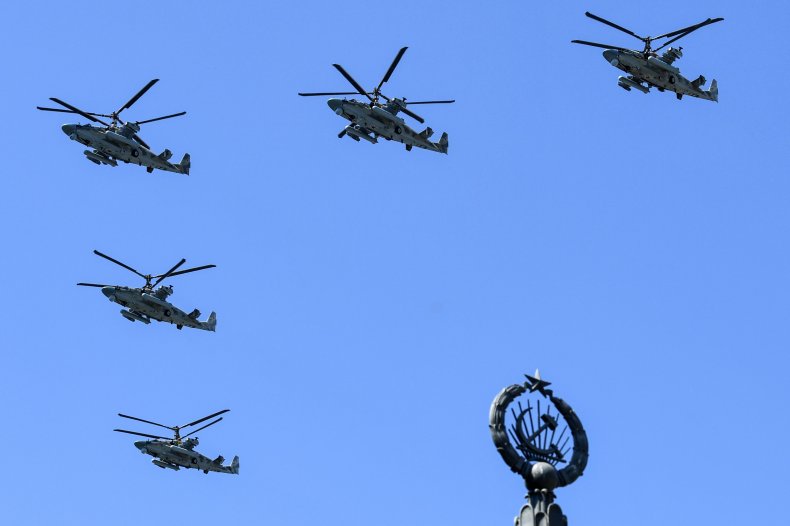 Ukraine's Thursday update said that 55,510 Russian personnel had been killed since the start of the war, although Russian Defense Minister Sergei Shoigu announced a far lower toll of 5,937 Russian soldiers on Wednesday, according to Reuters.
Ukrainian forces have also reportedly come across scores of equipment that the Russian army left behind while fleeing from a counteroffensive in the eastern Kharkiv region.
Ukraine's Defense Ministry said Sunday that it discovered one of Russia's most advanced tanks, the T-90M, in "perfect condition" abandoned in the area. Last week, the Security Service of Ukraine shared photos on social media showing what it said were "arsenals of ammunition" left behind by Russians in Kharkiv.
"We know what to do with them and we will definitely use them for their intended purpose—against the enemy," the service said of the supplies.
The Ka-52 "Alligator" is an all-weather attack helicopter operated by the Russian Air Force, according to Airforce-technology.com. It is a two-seat version of the one-seat Ka-50.
Russia has lost several of the Ka-52 helicopters in recent months, according to Ukraine.
The Air Force Command of Ukraine's Armed Forces said last month that bomber planes had taken out one Ka-52s and three unmanned Russian aircraft. Earlier this month, the Ukrainian Air Force Command said that another "Alligator" helicopter was destroyed, the same day that Ukraine's Defense Ministry announced 23 tanks, 33 armored combat vehicles and 24 artillery systems had also been eliminated.
Newsweek reached out to Russia's Defense Ministry for comment.