US says Putin failing to achieve war goals
eRm
April 25, 2022
58
Russia promises cease fire to allow civilians escape from Mariupol steelworks plant
The Russian military said Monday it will open a corridor to allow civilians to evacuate from the steel plant harboring the last of Ukraine's resistance in besieged Mariupol.
The Russian Defense Ministry said in a statement that starting from 2 pm Moscow time on Monday (7 am ET) its forces will cease fire and withdraw "to a safe distance" to allow civilians, including women and children to safely exit from the Azovstal plant .
The ministry's statement said that civilians will be allowed to "go in any direction they choose."
This comes after Ukraine had accused Moscow of forcibly transferring Mariupol residents into Russia without providing them with an option to escape into Ukrainian-controlled territory. Kyiv authorities also blame Russia for blocking evacuation buses from getting into the city.
The Russian defense ministry also claimed, without evidence, that the civilians at Azovstal were being held by Ukrainian forces as a "human shield" and there were "no obstacles to the exit of civilians from Azovstal."
An estimated 1,000 civilians are sheltering along with about 2,000 Ukrainian soldiers in the steelworks, a massive Soviet-era complex with a warren of underground facilities built to stand airstrikes.
The steelworks is the last Ukrainian-held area in Mariupol, a strategic port city on the Sea of ​​Azov that's viewed as crucial for the Russians.
On Sunday, the Azov Battalion of Ukraine's National Guard fighting at the plant released video of what it purports to be civilians sheltering in a bunker beneath the besieged Azovstal.
From Ukraine to Japan
Maria, 68 whose husband passed away from radiation poisoning after being exposed while working at the Chernobyl nuclear power station during the 1986 disaster, fled her home in Kyiv shortly after the Russian invasion of Ukraine.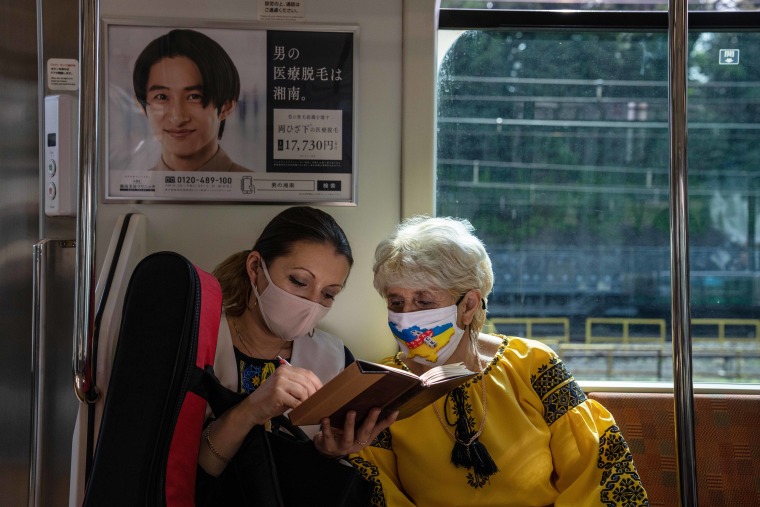 After sheltering at a refugee facility in Poland, she arrived in Japan earlier this month under the evacuee assistance scheme with her Japanese son-in-law who traveled to Poland to help her. She joins her daughter Kateryna, a professional musician who has lived in the country for 16 years.
Russia investigates large fires at oil facilities in Bryansk
Two large fires have broken out at multiple oil facilities in the Russian city of Bryansk overnight, according to emergency services.
NBC News' Social Newsgathering team verified videos that circulated online early Monday that showed two large fireballs coming from the location of an oil depot and refinery in the Russian city to the north of Ukraine.
Satellite data available from NASA's fire monitoring service, FIRMS, also detected fires at the oil facilities in Bryansk.
The ministry of emergency situations for the Byransk region said no one was injured when the facility owned by the pipeline company Transneft caught fire around 2 am Moscow time (7 pm ET).
It is not clear how the fires initially began. Alexander Bastrykin, head of Russia's Investigative Committee, ordered a probe into the incident.
Stations in central, western Ukraine come under Russian attack, rail chief says
Several railway stations in central and western Ukraine were targeted by Russian forces, the head of the country's national rail company has said.
"Russian troops continue to systematically destroy railway infrastructure," Ukrzaliznytsia chief Oleksandr Kamyshin said in a Telegram post.
He said at least five railway stations in central and western Ukraine came under fire Monday morning, causing many delays. Kamyshin said there were victims, but did not provide more details.
Russia trying to hide true scale of losses, British Defense Intelligence reports
Russia has made small advances after beginning to focus on the full occupation of the Donbas region, but the lack of resources and combat support are making it hard for the Russian troops to occupy the region, British Defense Intelligence said in a report.
The report also said that Ukraine's defense of Mariupol has consumed many Russian units and successfully reduced Russian warfare effectiveness. Many Russian units remain fixed in the city without redeployment.
A proposal by Russia's defense ministry that the military handle payments to the families of deceased soldiers suggests that Russia is trying to hide the extensive war losses from its own population, the report added.
US diplomats return from Kyiv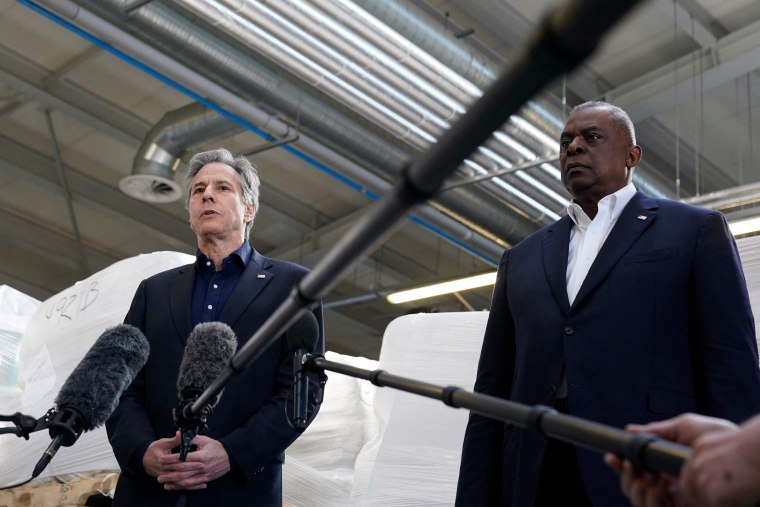 US wants Russia 'weakened,' US defense secretary says
Secretary of Defense Lloyd Austin said Monday the US wants to see Russia militarily weakened to the point where it can't do things like invade Ukraine.
"We want to see Ukraine remain a sovereign country, a democratic country able to protect its sovereign territory," Austin said. "We want to see Russia weakened to the degree that it can't do the kinds of things that it has done in invading Ukraine."
Austin also said he believed Ukraine could win the war if it had the "right equipment" and "right support." The US has committed around $ 3.7 billion in security assistance to the country since the start of the Russian invasion of Ukraine, according to the State Department.
The US will coordinate the shipment of additional heavy weaponry, ammunition and spare parts from other nations to Ukraine, Austin was cited as saying by the State Department after the visit to Kyiv. It will also expand military training for Ukrainian servicemen in the region on certain weapons systems being provided.
Blinken, Austin tell Zelenskyy his courage is inspirational during Kyiv visit
Emergency workers on the front line in Kharkiv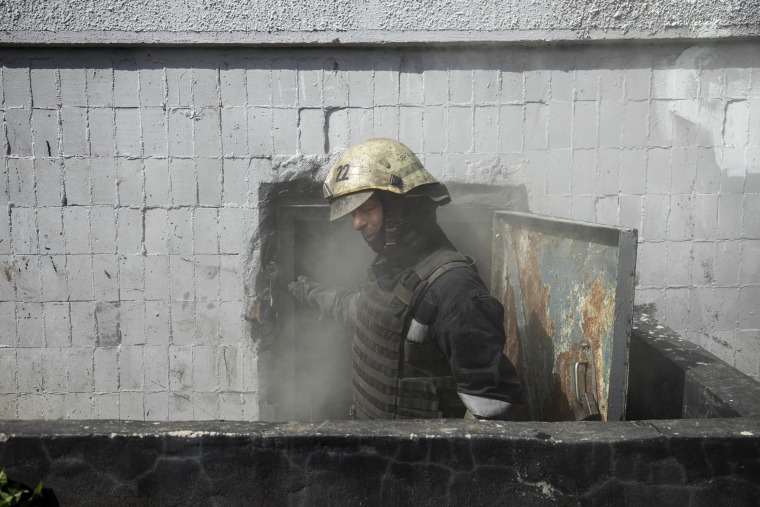 Putin congratulates Macron on election victory
Russian President Vladimir Putin sent a message congratulating Emmanuel Macron on his re-election as France's president, the Kremlin's press service reported.
"I sincerely wish you success in your state activities, as well as good health and well-being," Putin said.
Macron continued to negotiate with Putin persistently even after the Russian invasion of Ukraine.
'Russia is failing. Ukraine is succeeding, 'Blinken says after a visit to Kyiv
Russia is failing in its war aims while Ukraine is succeeding, Secretary of State Antony Blinken said on Monday after he and Defense Secretary Lloyd Austin met Ukrainian President Volodymyr Zelenskyy in an extraordinary wartime meeting Sunday.
"When it comes to Russian war aims, Russia is failing. Ukraine is succeeding, "Blinken told reporters in Poland the day after a meeting with Zelenskyy and other Ukrainian officials. "Russia has sought as its main aim to totally subjugate Ukraine to take away its sovereignty, its independence. That has failed. "
Russia, which has called its actions in Ukraine a "special military operation," has met more military resistance than expected in Ukraine since it invaded the country, western officials have said. In recent weeks, it has tried to refocus its military efforts on Ukraine's strategic region of Donbas after retreating from near capital Kyiv.
"The bottom line is this: We don't know how the rest of this war will unfold, but we do know that a sovereign independent Ukraine will be around a lot longer than Vladimir Putin is on the scene," Blinken said.
Damage seen at besieged steelworks in Mariupol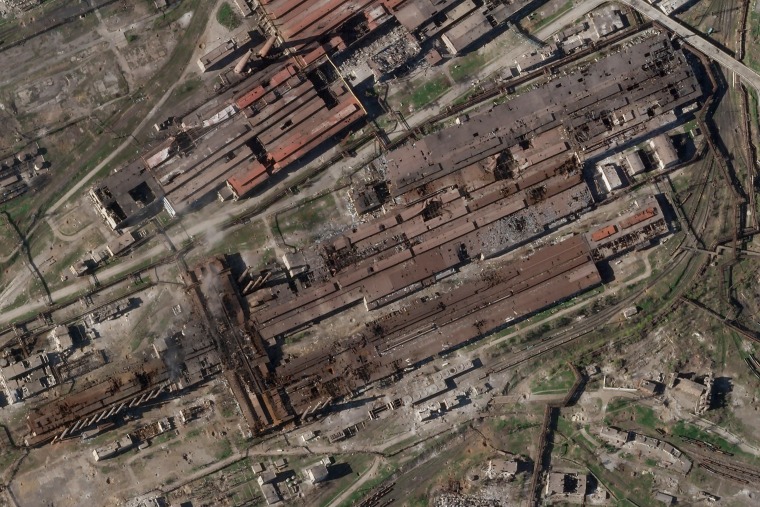 'We see it. We feel it ': Ukraine's Zelenskyy on US support after Blinken, Austin visit
Ukrainian President Volodymyr Zelenskyy thanked the US for its "unprecedented assistance" Monday after a visit from Secretary of State Antony Blinken and Secretary of Defense Lloyd Austin, a wartime first for top US officials.
In a statement released after the Sunday meeting, Zelenskyy stressed the importance of the visit to Kyiv at a critical moment for his nation. He also thanked President Joe Biden personally for his leadership in supporting Ukraine and "for his personal clear position."
"We see it. We feel it," Zelenskyy said in the statement.
Among the topics discussed with the US delegation were defense assistance, strengthening sanctions on Russia, financial support for Ukraine and security guarantees, his office said.
Secretaries Blinken, Austin speak after meeting with Zelenskyy in Kyiv
Blinken, Austin meet with Zelenskyy in Kyiv
Secretary of State Antony Blinken and Defense Secretary Lloyd Austin slipped into Ukraine on Sunday for an extraordinary wartime meeting with President Volodymyr Zelenskyy, bringing new promises of military and diplomatic support and defying serious concerns about whether it was safe to make the journey.
The trip, the highest-level US visit since Russia invaded two months ago, was designed to show steadfast US support for Ukraine and its defense as the war enters a new, worrying phase expected to be marked by a major Russian offensive in Ukraine's south and east.
Blinken came bearing news that the Biden administration will finally nominate an ambassador to Ukraine, will return a diplomatic presence to the country as soon as this week and that the US will provide another $ 713 million in military financing for Ukraine and other regional partners.
Read the full story here.