US examines if Canadian firms can replenish ammunition stockpiles
eRm
September 16, 2022
55
Industry representatives say Canada has some capability in the production of ammunition and explosives, but it is limited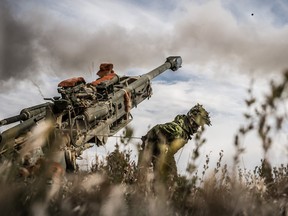 Content article
As the push continues to provide Ukraine with more weapons, the United States Army is looking to see whether Canadian companies can help build up artillery shell stock.
Content article
The US Army recently issued a notice that it wants to gather information on firms in the US and Canada to determine which might have the capabilities to help build 12,000 rounds of 155mm ammunition a month.
Content article
The US has so far donated more than 800,000 rounds of 155mm ammunition to Ukraine.
But Ukraine has said it needs more artillery rounds to continue battling Russian forces. In addition, there is concern in US defense circles that the donations of weapons and ammunition to Ukraine have seriously depleted the Pentagon's own stockpiles.
The US Army noted it is conducting "market research to identify potential sources within the United States and Canada that can Load, Assemble, and Pack (LAP) and deliver the 155mm M795 High Explosive (HE) Projectile."
Content article
The research, at this point, is for planning purposes.
Defense firms in the US have been swamped with new orders as the Pentagon sends supplies to Ukraine as well as rebuilds its own weapons stockpiles. It was announced this week that the US Army is spending more than $300 million for new Javelin anti-tank missiles, in part to replace the 1,800 such weapons sent to Ukraine.
Industry representatives say Canada has some capability in the production of ammunition and explosives, but it is limited. In May, Canada announced it was buying 20,000 artillery rounds to donate to Ukraine but those had to come from the US, industry officials noted.
The $98 million in ammunition has already been purchased and delivered, National Defense spokesperson Dan Le Bouthillier confirmed Thursday.
Content article
Canada is also still in the midst of discussions to purchase 100,000 artillery shells for Ukraine in a deal that could cost taxpayers several hundred million dollars.
Canadian officials have been talking with their counterparts in South Korea to acquire the 100,000 rounds of 155mm artillery ammunition. Canada would then donate that ammunition to Ukraine.
Ukraine is firing between 5,000 and 6,000 artillery rounds a day at Russian positions, its military officials say.
Ukrainian president Volodymyr Zelenskyy is expected to give a keynote speech next week at a conference of the National Defense Industrial Association, calling for more weapons to be delivered to his country. The association represents 1,800 corporate and 66,200 individual members in the US defense industry.
Content article
In Canada, Defense Minister Anita Anand and Chief of the Defense Staff Gen. Wayne Eyre has been pushing for more involvement of the defense industry in supplying weapons to Ukraine. Eyre has called on defense companies to go to a war-time production footing, a major move that could only be supported by significant federal spending.
But the Liberal government has noted it wants to focus federal funding on child care and housing programs. The Liberals are also facing pressure to spend more on health.
NATO nations have already shipped large amounts of weapons to Ukraine since the Feb. 24 invasion of that country by Russia.
Some view the war as an opportunity to either force regime change in Russia or seriously weaken that country militarily. US defense secretary Lloyd Austin, a retired four-star US general, said in April that with enough equipment Ukraine can defeat Russia. Austin told reporters the US wants to see "Russia weakened to the degree that it can't do the kinds of things that it has done in invading Ukraine."
Russian leader Vladimir Putin has justified his invasion of Ukraine by claiming NATO was using the country to threaten Russia's security. NATO denies Putin's claims.
Besides artillery ammunition, Canada has already provided anti-tank systems, howitzers, armored vehicles, grenades, small arms and drone cameras to Ukraine.
Technical issues behind delays affecting Canada's new search and rescue planes

Canada's military will overhaul its recruitment process, general says