UNSC dilutes statement on Ukraine, opens window
eRm
May 8, 2022
73
TEN weeks into the Russian invasion of Ukraine, the United Nations Security Council issued its first Presidential statement early Saturday – adopted by consensus, including Russia – which did not mention "war", "conflict" or "invasion". Instead, it referred to the conflict as a "dispute".
This is UNSC's first unanimously adopted statement, and it is significant that it took place under US presidency – it holds the rotational presidency of the UNSC for May – and Russia came on board with the language widely perceived to be significantly "watered down."
This statement comes as Russian forces renewed their attacks Saturday across Ukraine ahead of Victory Day festivities in Moscow Monday.
India is a non-permanent member of the UNSC. In its statement, it made two important and new formulations: First, it said that "diplomacy will be a lasting casualty".
"India remains on the side of peace and therefore believes that there will be no winning side in this conflict and while those impacted by this conflict will continue to suffer, diplomacy will be a lasting casualty," India's Permanent Representative at the UN TS Tirumurti had said early Friday.
Adopted: #UNSC Presidential Statement on #Ukraine. The SC expresses deep concern with the maintenance of #peace and security in Ukraine and strong support for @antonioguterres's efforts in the search for a peaceful solution.

Presidential Statement⬇️ pic.twitter.com/mnJXcIKteR

– UAE Mission to the UN (@UAEMissionToUN) May 7, 2022
Second, it said that humanitarian aid to Ukraine should not be subject to food export restrictions. Sources said that while the World Food Program's aid is exempt from taxes, aid by individual countries, including India, is being subject to taxes. This should not happen, sources said.
Tirumurti said, "Oil prices are skyrocketing and there is a shortage of food grains and fertilizers. This has had a disproportionate impact on the Global South and developing countries. We acknowledge the efforts made by the Secretary-General, particularly the findings of the Global Crisis Response Group Task Team. We welcome their recommendation for exempting purchases of food by WFP for humanitarian assistance from food export restrictions with immediate effect. It is important that similar such exemptions are provided to all member states and relevant stakeholders, who are contributing to this global humanitarian effort. "
The UNSC's first statement, which was adopted, said the Security Council "expresses deep concern regarding the maintenance of peace and security of Ukraine" and "recalls that all member states have undertaken, under the Charter of the United Nations, the obligation to settle their international disputes by peaceful means. "
The four-line statement did not mention the US-led West's description of events in Ukraine – war, invasion, or conflict – nor did it mention "special military operation", as Russia describes it.
Today, for the first time, the Security Council spoke with one voice for peace in Ukraine.

As I have often said, the world must come together to silence the guns and uphold the values ​​of the @UN Charter.

– António Guterres (@antonioguterres) May 6, 2022
Russia, which has vetoed power in the council, has blocked all past attempts to adopt a presidential statement or a resolution which requires unanimity.
Sources said that this was the "compromise language" reached after weeks of negotiations. The UNSC also expressed "strong support" for the "efforts" of UN Secretary General Antonio Guterres's efforts to find a peaceful solution to the 10-week "dispute." It called on Guterres to brief members "in due course."
Explained
Getting US, Russia on the same page
The first UNSC statement on the conflict is seen as a starting point for talks. While there will be criticism over the language, it could offer room for diplomacy.
Guterres had recently visited Moscow and Kyiv and had met Russian President Vladimir Putin and Ukraine's President Volodymyr Zelenskyy.
While he had got a deal for evacuation of civilians from the south-eastern port city of Mariupol which is under siege and the Azovstal steel plant where the last Ukrainian forces are holding out, this diluted UNSC statement is an effort to calm down temperatures and get the warring sides to start talking, sources said.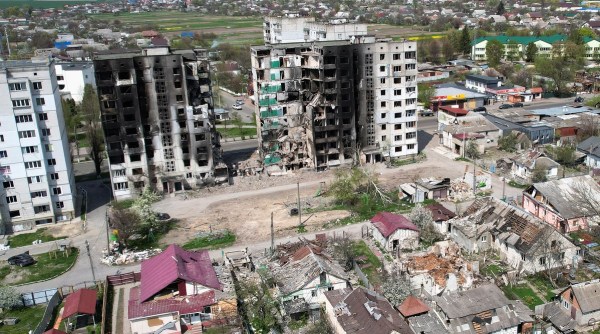 A view shows buildings destroyed by the shelling, amid the Russian invasion of Ukraine, in Borodianka, Kyiv region. (Reuters)
This is also important for the UN Secretary General since the UN has been seen as marginalized amid the conflict in the heart of Europe.
After the UNSC statement, Guterres said, "Today, for the first time, the Security Council spoke with one voice for peace in Ukraine… As I have often said, the world must come together to silence the guns and uphold the values ​​of the UN Charter. "
Norway and Mexico had drafted and moved the statement.
The language of the resolution is in sharp contrast to earlier ones passed at the UN. For example, on March 2, the UN General Assembly had voted 141-5 with 35 abstentions in favor of a resolution demanding an immediate Russian cease-fire, withdrawal of all its forces and protection for all civilians.
Newsletter | Click to get the day's best explainers in your inbox
By a similar vote on March 24, it approved a resolution 140-5 with 38 abstentions blaming Russia for the humanitarian crisis in Ukraine and urging an immediate cease-fire and protection for millions of civilians and the homes, schools and hospitals critical to their survival .
The General Assembly voted by a smaller margin – 93-24 with 58 abstentions – on April 7 to suspend Russia from the Geneva-based Human Rights Council, the UN's leading rights body, over allegations of horrific rights violations by Russian soldiers in Ukraine, which the United States and Ukraine have called tantamount to war crimes.
India has consistently abstained in all the resolutions so far, trying to maintain a diplomatic balance between both sides. However, it condemned the killing of civilians in Bucha and has called for an independent probe.