Ukraine war live: EU accuses Putin of 'dangerous gamble' after his nuclear threat and 'partial mobilisation' of Russia | Russia
eRm
September 21, 2022
48
Putin making a 'very dangerous nuclear gamble', says EU
Vladimir Putin is making a "very dangerous nuclear gamble" and must "stop such reckless behaviour", an EU executive has warned.
European Commission spokesperson Peter Stano added that the "sham, illegal referenda" planned in Luhansk, Donetsk, Kherson and Zaporizhzhia this weekend would not be recognised.
Stano told reporters:
Putin is doing a nuclear gamble. He's using the nuclear element as part of his arsenal of terror, it's unacceptable.
EU member states have held discussions on how to respond to the latest developments in Russia's war in Ukraine, he continued, warning Moscow that there would be "consequences from our part".
Key events
Ukraine's prime minister Denys Shmyhal has met with new British prime minister Liz Truss at the Ukrainian Institute of America in New York.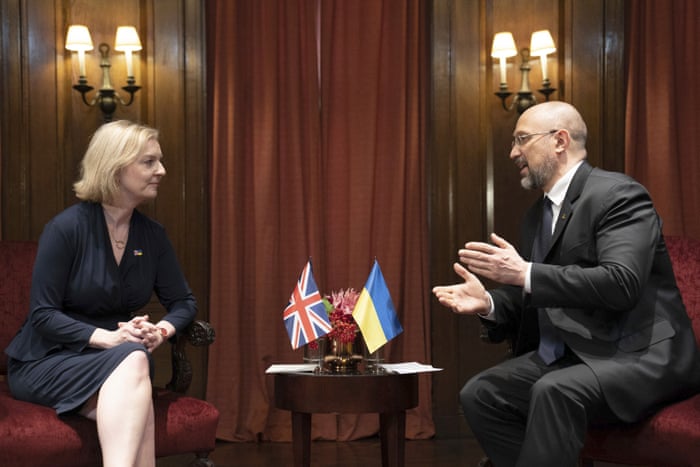 Ukrainian first lady, Olena Zelenska, was also there.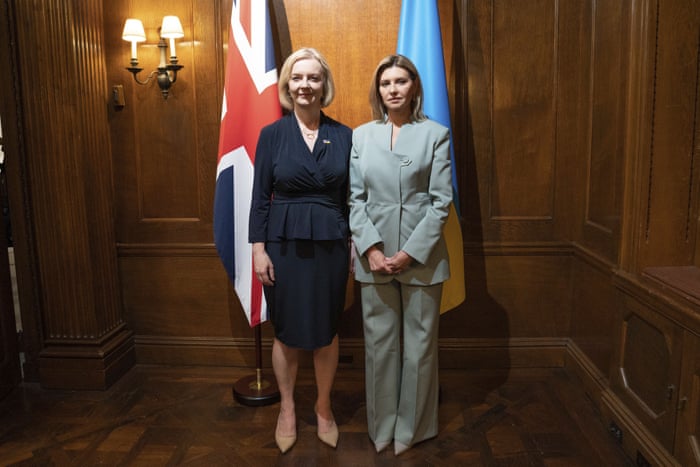 Zelenskiy: peace talks can only happen if Putin withdraws forces from Ukraine
Volodymyr Zelenskiy has said there was a shrinking likelihood of holding talks with Vladimir Putin to end the war, adding that it could only happen if the Russian leader withdrew his forces from Ukrainian territory.
Zelenskiy said that Ukraine had no influence on when Putin's rule in Russia would end but wanted to speak to Moscow from a position of strength.
Reuters reports the Ukrainian president was speaking via a translator in an interview with Germany's Bild TV. He also repeated calls for Germany to supply weapons and air defence systems to Ukraine, saying they were needed to save lives.
Nato's Stoltenberg: Putin using 'dangerous and reckless' nuclear rhetoric
Nato secretary general Jens Stoltenberg has criticised Vladimir Putin for using "dangerous and reckless" nuclear rhetoric.
Reuters reports Stoltenberg said nuclear war must never be fought, and that Putin's speech indicated that the war was not going along to his plans, and that his words were an escalation but not a surprise. The Nato leader said Putin had miscalculated in Ukraine and made a mistake. Arguing that Russian troops are ill-equipped and lack proper command and control, Stoltenberg said that the presence of more troops would inevitably escalate the conflict.
He promised that Nato will make sure there is no misunderstanding in Moscow about the seriousness of using nuclear weapons. He stated that so far Nato had not observed any changes in Russia's nuclear posture. Six months ago, just three days after the latest Russian invasion of Ukraine commenced, Putin order his nuclear forces onto high alert.
During an interview with Reuters editor in chief Alessandra Galloni he added that Nato has provided unprecedented support to Ukraine, and was in close dialogue with the defence industries to ramp up the production of weapons and ammunition.
Stoltenberg also said that he hopes that the war in Ukraine will end at the negotiating table, but that it has to be an acceptable outcome to Kyiv.
Keir Giles, who works with the Russia and Eurasia programme of Chatham House, writes for the Guardian today that Putin's speech is admitting his previous threats were hollow. He argues:
For long-term Russia watchers, the most striking aspect of Putin's speech was how little his claims about Ukraine and the world had moved on since his last major speech at the launch of his invasion in February. The central myth that the west wants to destroy Russia has now been embellished with the notion that the country has been threatened with western weapons of mass destruction. But otherwise, it was as though the collision with reality Russia's military has experienced over the past six months had had no impact at all on Putin's outlook.
The speech was primarily for a domestic audience, one that is preconditioned to accept, or at least tolerate, the looking-glass version of the world that Putin presents. But it also contained the familiar nudge and wink nuclear half-threats, designed to give western leaders the excuse they may be looking for to slacken support for Ukraine. Even here, though, there was an edge of desperation. "It's not a bluff," said Putin – a recognition that all his previous threats against the west, nuclear and non-nuclear, have been shown to be hollow as successive Russian "red lines" have evaporated in the face of western determination.
The speech is a further recognition that Russia has been unable to win on the battlefield – so, to defeat Ukraine, it has to win elsewhere. That win, Putin hopes, will come through undermining Ukraine's international support. It's a dare to the west and a play for the fearful among western leaders – especially those who read Russian nuclear intent from Moscow's propaganda rather than from its doctrine.
Read more here: Keir Giles – Putin is admitting his previous threats were hollow by saying 'this is not a bluff'
Ukraine's president Volodymyr Zelenskiy has urged the west not to be blackmailed by Vladimir Putin's threat of nuclear retaliation, warning that to do so would invite Russia to attempt to take more territory.
In an interview with Bild TV, Zelenskiy said:
I don't believe that he [Putin] will use these weapons. I don't think the world will allow him to use these weapons.
He accused Putin of wanting to "drown Ukraine in blood, including in the blood of his own soldiers".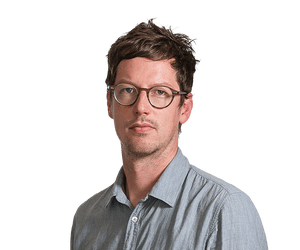 Philip Oltermann
German police have raided several properties understood to belong to the Russian oligarch Alisher Usmanov, including his villa on Tegernsee lake in the southern state of Bavaria, on suspicion of money laundering and violations of EU sanctions.
A special unit consisting of over 250 police officers on Wednesday morning searched properties registered to a Russian citizen at three addresses in the municipality of Rottach-Egern in Upper Bavaria, the Munich state prosecutor said in a statement.
Reports by the news magazine Der Spiegel and the broadcaster Bayrischer Rundfunk identified the individual as Usmanov, an ally of the Russian president, Vladimir Putin.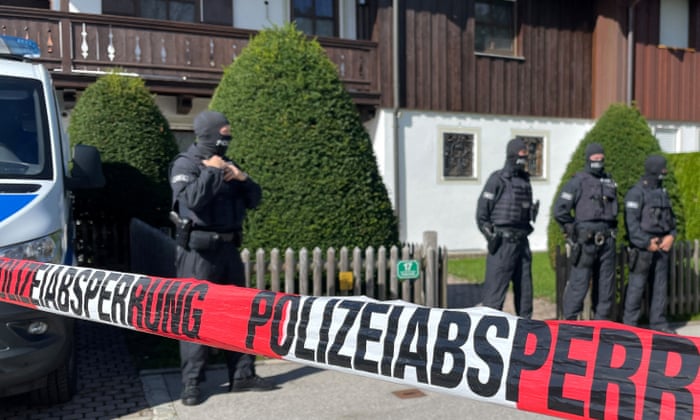 In the operation, which was still ongoing on Wednesday morning, properties were also raided in the southern state of Baden-Württemberg, and Hamburg and Schleswig-Holstein in northern Germany.
Usmanov, an early Facebook investor who made his fortune in mining and sports, has been hit with sanctions and asset freezes by the European Union, the US, the UK and Switzerland over Russia's war in Ukraine.
Read the full story here:
The EU will remain "steadfast" in its support of Ukraine in the face of Russian aggression, European Council president Charles Michel said.
Writing on Twitter, Michel said there was "only one aggressor" in the war in Ukraine after Vladimir Putin warned the west he was not bluffing when he said he would be ready to use nuclear weapons to defend Russia.
Protests have already begun to take place in Russia in response to Vladimir Putin's announcement of a partial mobilisation of reservists.
From the Wall Street Journal's Matthew Luxmoore:
The Russian anti-war movement Vesna has called for demonstrations in cities and towns across Russia at 7pm local time (16:00 GMT) today in protest against mobilisation.
In an appeal on its website, organisers said:
We call on the Russian military in units and at the frontline to refuse to participate in the 'special operation' or to surrender as soon as possible.
The statement continued:
You don't have to die for Putin. You are needed in Russia by those who love you. For the authorities, you are just cannon fodder, where you will be squandered without any meaning or purpose.
The Russian government will announce "very soon" which categories of citizens will be exempted from the mobilisation of reservists to serve in Ukraine, the Kremlin said.
In his regular briefing with reporters, Kremlin spokesperson Dmitry Peskov said Moscow would shortly determine which citizens would be allowed to defer a call-up in the new draft.
Asked about the possibility of border closures to prevent Russian citizens from evading the mobilisation, Peskov replied:
I can't answer that question … There are provisions for this in the current laws.
Australia's foreign affairs minister Penny Wong has condemned Vladimir Putin's threats of nuclear retaliation and demanded Russia stop its "illegal, immoral" war against Ukraine.
Putin earlier today said Russia had "lots of weapons to reply" to what he called western threats on Russian territory and added that he was not bluffing.
Writing on Twitter, Wong said:
Australia condemns President Putin's threats to use "all means" at his disposal. Claims of defending Russia's territorial integrity are untrue.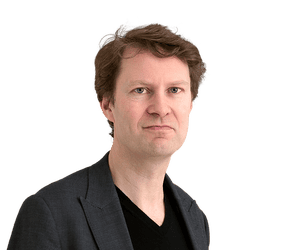 Luke Harding
Russia fired a series of long-range missiles at Ukraine's second city Kharkiv early on Wednesday, hours after the Kremlin announced plans to annex Ukrainian territory and to carry out a partial mobilisation.
Explosions were heard across Kharkiv at around 2am. At least one missile struck a high-rise apartment in the western Zalutino district. It gouged a hole out of the top of the building and blew out windows in apartments facing onto a grassy square.
Ten residents were injured. It was unclear what Russia was trying to hit. An electricity sub-station targeted last week was several kilometres away. "There was a loud explosion. It was like a firework. I was in shock. I haven't really come to my senses," Raisa Nikolaivena, a 61-year-old pensioner said.
She added:
We are peaceful people, small people. It was quiet here up until this moment. Obviously this is Putin's fault. He's a terrorist and a criminal.
The emergency services sealed off the area. Municipal workers swept away debris and chopped down trees damaged in the blast. There was a sound of sawing as carpenters cut rectangles of plywood to be used to replace broken glass.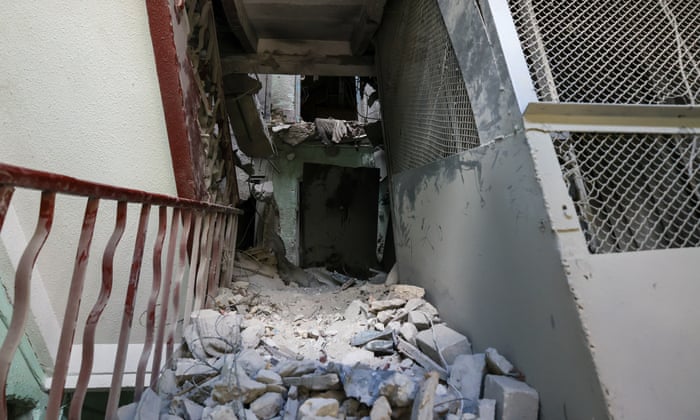 Kharkiv has been bombarded regularly since the start of Russia's invasion in February. The city is now out of artillery range, following Ukraine's stunning counter-offensive earlier this month. Russian troops abandoned their positions and retreated across the border.
Another resident, Yevgeniy Subota, said it was almost certainly a S-300 long-range missile that had crashed into his building. "Our balcony looks like chaos. The glass and a door blew in," he said. "We will repair it. And it looks like nobody died."
What did he make of Putin's threat to use nuclear weapons in the event of his defeat in Ukraine?
It's bluff. We don't believe it. There would be a reaction from the US. He's just trying to scare us.
Partial mobilisation of Russia's reservists 'clear admission' invasion of Ukraine failing, UK says
Vladimir Putin's announcement of partial mobilisation of Russia's military reservists is a "clear admission" his invasion of Ukraine is failing, Downing Street has said.
Britain will continue to support Ukraine in the face of "this assault on their sovereignty", a No 10 spokesperson said.
She said:
Putin's speech this morning and his move to mobilise the Russian population are a clear admission that his invasion is failing.

The UK alongside our international partners stand united in condemning the Russian government's reprehensible actions.
Nearly all flights leaving Russia sell out after Putin announcement
Nearly all flights out of Russia were sold out just hours after Vladimir Putin declared a partial mobilisation of reservists.
Google Trends data showed a spike in searches for Aviasales, Russia's most popular website for buying flights, after Putin's announcement sparked fears that some men of fighting age would not be allowed to leave the country.
Flights from Moscow to the capitals of Georgia, Turkey and Armenia, all destinations that allow Russians to enter without a visa, were sold out within minutes of Putin's announcement, according to Aviasales data.
Within hours, direct flights from Moscow to Azerbaijan, Kazakhstan, Uzbekistan and Kyrgyzstan had also stopped showing up on the website. Some routes with stopovers, including from Moscow to Tbilisi, were also unavailable.
The cheapest flights from Moscow to Dubai were costing more than 300,000 roubles (£4,320) – about five times the average monthly wage.
Russian missiles struck residential buildings in Ukraine's second city Kharkiv overnight, trapping civilians in their homes and wounding at least one person.
Kharkiv mayor Igor Terekhov said four projectiles had struck the Kholodnogorsky district, hitting two housing blocks, a building site and some civil infrastructure.
In one block, 10 residents were trapped until rescuers could arrive, he said.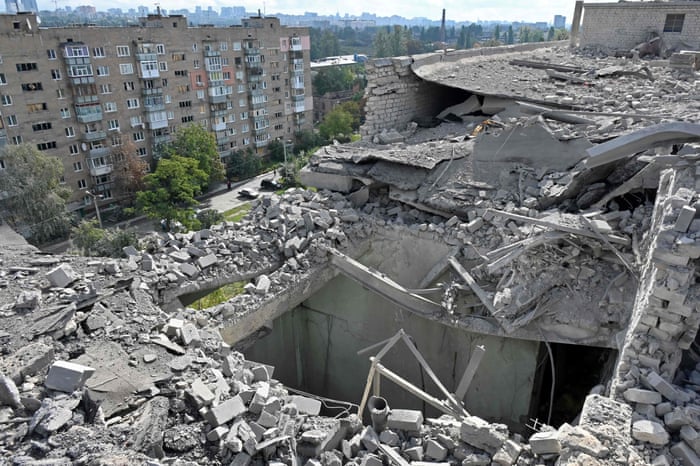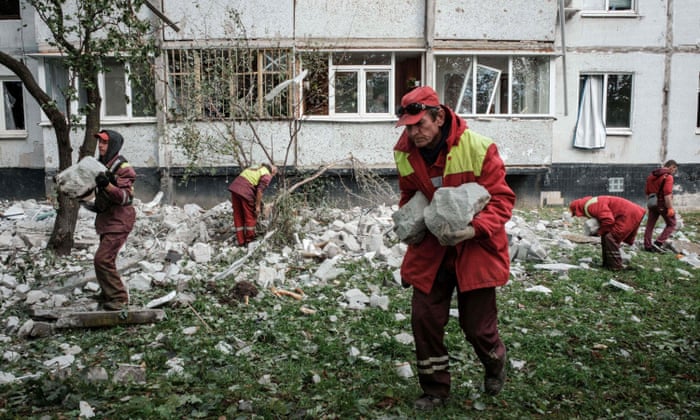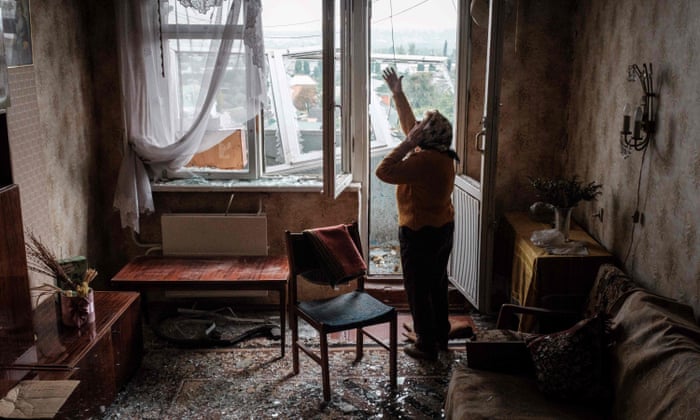 The Russian stock market tumbled after Vladimir Putin ordered his country's partial mobilisation and threatened the west with nuclear retaliation.
Putin's announcement sent the Moscow stock exchange's MOEX index plunging by as much as 10%, marking a second day in falling stocks.
On Tuesday, the rouble-denominated MOEX index fell by 8.7% to hit its lowest point since 16 August.