Ukraine Running Out of Space for Russian POWs
eRm
September 12, 2022
60
Kharkiv Without Electricity, Water After Russian Strike
Russia airstrikes in the Kharkiv region have destroyed key infrastructure.
The region has lost power and water supply again Monday due to Russian shelling.
"Yesterday evening situation repeats again," Kharkiv Mayor Ihor Terekhov said on Telegram. "Due to the shelling, critical infrastructure was put out of operation, resulting in the loss of power and water supply in Kharkiv."
Terekhov said earlier Monday that 80 percent of the electricity and water supply had been restored after Sunday's outage.
Ukraine President Volodymyr Zelensky said the goal of the Russian Federation is to "deprive people of light and heat."
"Even through the impenetrable darkness, Ukraine and the civilized world clearly see these terrorist acts," Zelensky said on Telegram. "Deliberate and cynical missile strikes on critical civilian infrastructure. No military facilities."
One employee working at a Kharkiv power and heating plant was killed in the strike Sunday, according to Head of Kharkiv Region Civil military Administration, Oleh Synehubov.
"As a result of the strikes on the critical infrastructure of Kharkiv, a man – an employee of the enterprise – died. Rescuers continue their search," Synehubov said on Telegram.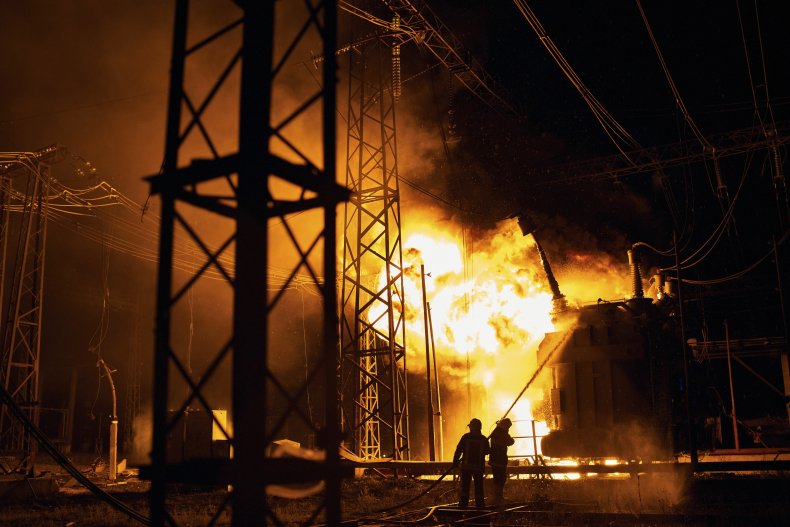 In the city of Izium, more than 80 percent of city infrastructure has been destroyed, according to city council member Maksym Strelnikov.
This includes multi-story buildings and private houses, enterprises, government institutions, educational institutions and industrial plants, Strelnikov said at a briefing Monday.
"The central heating system, which was used by the majority of residents in winter, is damaged. So these would be the challenges to overcome for the local authorities," Strelnikov said.
He also said at least 1,000 civilians have died, mostly due to a lack of medical care, after Russian forces destroyed health care institutions.
"The occupiers have looted all the pharmacies, so there was no access to medication," he said. "This is the most urgent issue for now, along with hospitalization of Izium residents, who require urgent medical care."