Ukraine: Putin warns Macron of 'catastrophe' at nuclear plant
eRm
August 19, 2022
72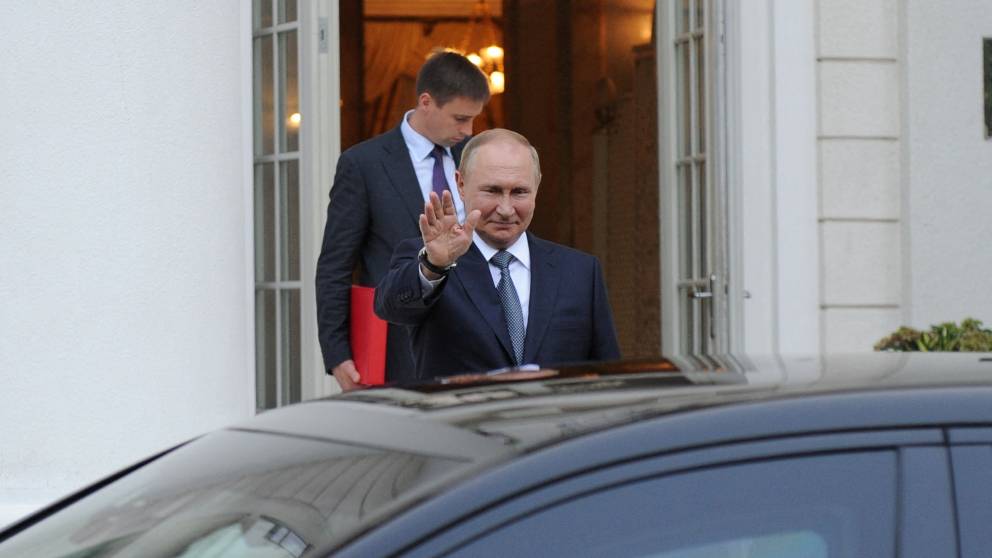 Russian President Vladimir Putin warns his French counterpart of a potential 'catastrophe' at Europe's biggest nuclear plant. /Nikita Orlov/Sputnik/Reuters
Russian President Vladimir Putin warns his French counterpart of a potential 'catastrophe' at Europe's biggest nuclear plant. /Nikita Orlov/Sputnik/Reuters
TOP HEADLINES
• Russian leader Vladimir Putin has warned his French counterpart Emmanuel Macron that shelling of the Russian-controlled Zaporizhzhia nuclear power plant in Ukraine, which he blames on Kyiv, could result in a "large-scale catastrophe." French officials said Macron's phone call to Putin was justified in view of the serious safety risk.
• UN Secretary-General Antonio Guterres said that the electricity generated at the power plant belonged to Ukraine and demanded that principle be fully respected, after Kyiv said Moscow was planning to disconnect the site from Ukraine's energy grid. Russia's foreign ministry had earlier rejected the UN chief's calls for the plant's demilitarization.
• Russia has written to the UN Security Council about 'provocations' at the nuclear power site. Russian news agency TASS cited a diplomat saying that the letter repeated Russia's previous assertion that Kyiv was planning a "provocation" at the plant on Friday.
• The Nord Stream 1 pipeline, which supplies gas from Russia to Europe, will be shut down for three days from August 31 to September 2 as its only remaining gas compressor requires maintenance, Russia's state energy firm has announced. The closure will bring further disruption to Europe's gas supplies with the pipeline already running at only 20 percent capacity.
• Guterres headed to the conflict-scarred southern Ukrainian port of Odessa, from where boats have started shipping Ukrainian grain again after an UN-brokered agreement to lift a blockade on exports from Ukraine's Black Sea ports was reached in July.
• At least four more explosions have hit Crimea in an area near the Belbek military airport north of Sevastopol, according to local sources. However, a pro-Moscow official on the peninsula said no damage had been done.
• Blasts at the Saky air base in the Crimean peninsula earlier this month have put more than half of the Russian Black Sea fleet's naval aviation combat jets out of usea Western official said.
• Seventeen people were killed and 42 wounded in two separate Russian attacks on Kharkiv, the regional governor said on Thursday, while a further five rockets hit the city early on Friday killing at least one person. Britain's defense ministry said Russia is targeting the city to tie down Ukrainian forces and prevent them from joining counter-attacks in other regions.
• Two Russian villages near the Ukraine border were evacuated after a nearby ammunition storage depot caught fire. No one was injured during the incident, an official said.
• Ukraine's economy could contract by 35 to 40 percent by the end of the year, Economy Minister Yulia Svyrydenko has announced. The country's economic output shrank by over 15 percent in the first quarter.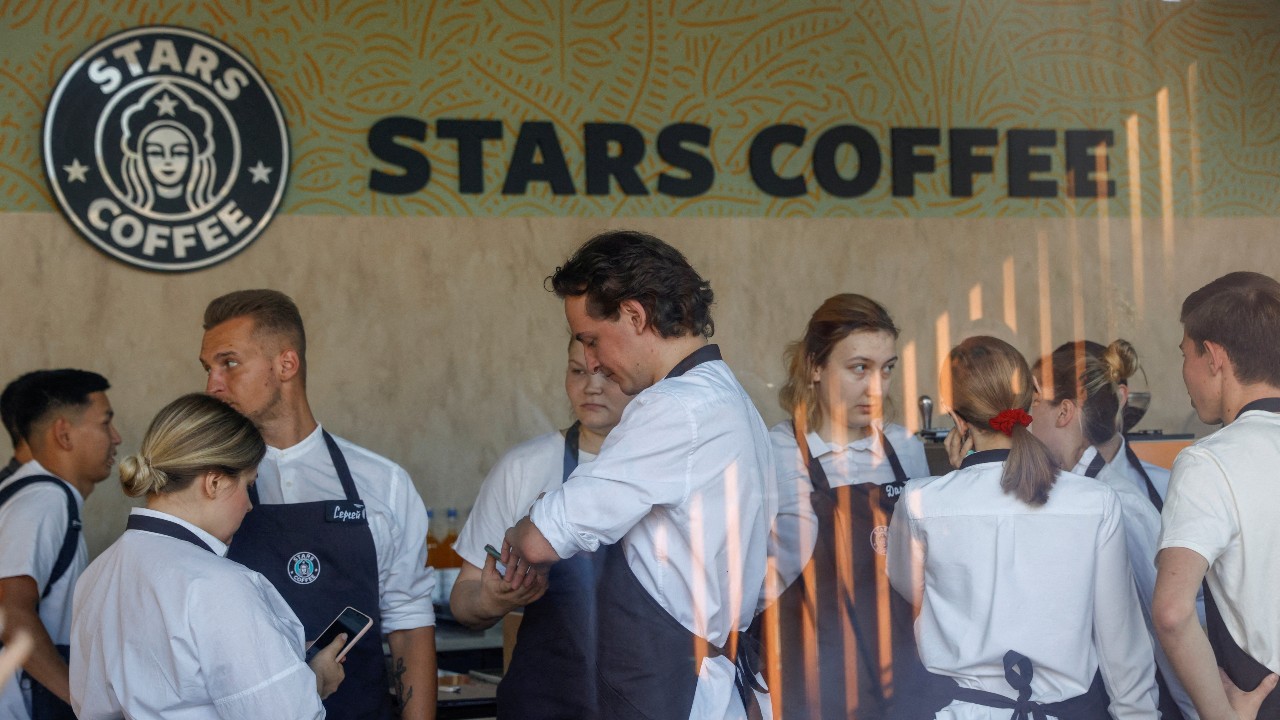 All stars, no bucks: Staff members in Moscow prepare to launch a new coffee shop following Starbucks' exit from the Russian market. /Maxim Shemetov/Reuters
All stars, no bucks: Staff members in Moscow prepare to launch a new coffee shop following Starbucks' exit from the Russian market. /Maxim Shemetov/Reuters
IN DETAIL
UN, Turkish, Ukrainian leaders meet in Lviv
The UN chief and the presidents of Turkey and Ukraine have discussed ways to end the Ukraine conflict and secure Europe's largest nuclear power station, as Russia and Ukraine continue to trade accusations of new shelling near the plant.
UN Secretary-General Guterres told reporters after talks in Lviv, Ukraine, where Thursday he was deeply concerned about events at the Zaporizhzhia nuclear plant and called for the area's demilitarization.
Türkiye's President Erdogan said he, Guterres and Zelenskyy had discussed building on a recent positive steps on a grain export deal to revive peace talks with Russia that took place in Istanbul in March.
READ MORE
CGTN special: Cost-of-living crisis across Europe
Meet the 'sappers' dealing with Ukraine's unexploded bombs
Which food has the worst environmental impact?
In a deal brokered by the UN and Türkiye, Moscow and Kyiv reached an agreement in July to lift a blockade of Ukrainian grain shipments, with exports resuming at the beginning of August.
Guterres headed to the southern Ukrainian port of Odessa to check in on the shipments, which are helping to alleviate a global food crisis exacerbated by the conflict.
NATO member Turkey has maintained good relations with Russia, an important trade partner, and sought to mediate in the conflict.
"Personally, I maintain my belief that the war will ultimately end at the negotiating table. Mr Zelenskyy and Mr Guterres have the same opinion in this regard," Erdogan said.
Source(s): AFP, Reuters