Ukraine Needs These Six Things in Order to Win War—Ex-Defense Minister
Ukraine's former defense minister has told Newsweek what weaponry his country needs from the West, in order to "achieve victory in the field" over the invading Russian military.
Andriy Zagorodnyuk urged Western powers to provide Ukraine with long-range rockets, modern air defenses, counter-battery radar, anti-ship missiles, more unmanned aerial systems and additional tanks and armored personnel carriers to repel Vladimir Putin's forces.
Zagorodnyuk, a former adviser to incumbent President Volodymyr Zelensky, served as Ukraine's defense minister from 2019 to 2020 and is a distinguished fellow at the Atlantic Council think tank.
In the aftermath of a surge in Russian drone and missile attacks on Ukrainian cities, including Kyiv, Zagorodnyuk urged the West to step up its backing for Ukraine.
Long-Range Missiles
Zagorodnyuk called for Ukraine to be sent more artillery and long-range rockets, including the Guided Multiple Launch Rocket System (GMLRS) and Army Tactical Missile System, which the Pentagon has thus far refused to provide.
He said: "The key enabler of success in this war is long-range firepower. Thus, Ukraine has to be provided with enough weapons and ammunition to fit its brigades with artillery systems and multiple rocket launchers.
"With enough weapons, Ukraine will be able to make further counteroffensive progress by destroying Russian positions on the battlefield and in the operational depth of 200 kilometers. Artillery units must be provided with enough counter-battery systems enabling a swift ability to respond.
"That's why longer-range rockets such as GMLRS and ATCAMS are important, as they will allow Ukraine to prevent the Russians from providing necessary logistics support to their troops. Russians are operating thousands of artillery systems and rocket launchers, so the quantity of the weapons must be sufficient to address operational requirements at least in two or three directions simultaneously while holding Russians in other ones."
Zagorodnyuk added that counter-battery radar, such as the ANTPQ Firefinder weapon locating system, is needed to "ensure the detection of the incoming fire."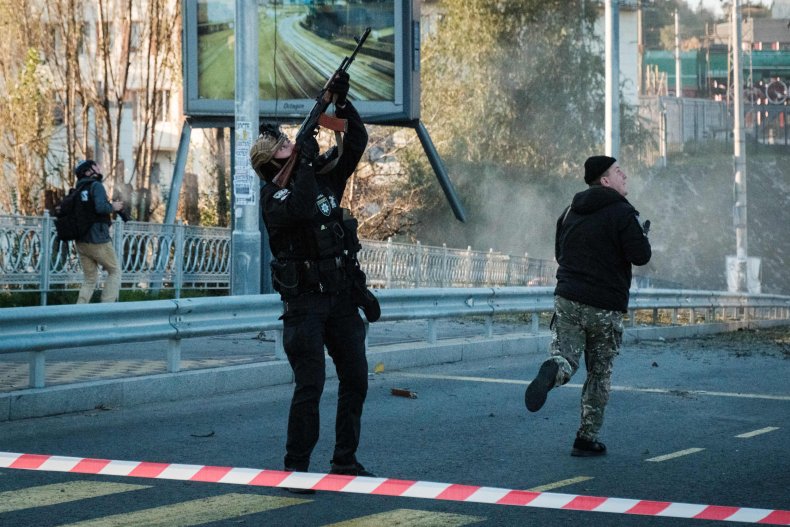 Tanks and Armored Vehicles
The former minister said Ukraine needs more "tanks and armored vehicles" to support its infantry.
He explained: "As the experience of this war shows, as soon as Russians fail to provide their battlefield troops with enough logistical support, they cannot sustain their positions. Russians are extremely fragile in infantry battles. The panic we have seen in the Kharkiv area has been rooted in the Ukrainian advantage in a given operational zone and a consequential collapse of the Russian command-and-control function."
In September, Ukrainian troops pushed the Russians out of nearly all of Kharkiv province in the north, pushing Putin's forces well away from Ukraine's second city.
Modern Air-Defense Systems
As Ukraine's cities come under repeated bombardment Zagorodnyuk called for "modern air-defense weapons," such as the Norwegian NASAMS ground-to-air missile system, to be sent to his country.
He said: "Russians do have a massive missile capabilities advantage. Their missiles are not precise, but abundant. Also, keeping Russian aviation out of the battlefield is necessary to ensure it never achieves air superiority. Thus modern air-defense weapons, such as NASAM's, are critical."
Unmanned Aerial Systems
Both Ukraine and Russia have been using unmanned aerial systems, or drones, to devastating effect since the invasion began, with Moscow's forces deploying large numbers of Iranian-made "kamikaze" drones.
Zagorodnyuk called for Ukraine to receive more drones in turn, stating: "Unmanned aerial systems have played a revolutionary role in this war. It is possible to forecast that the reconnaissance and striking drones will eventually become a game changer in the course of the war. "
Anti-Ship Missiles
Ukraine has scored a number of victories over the Russian navy, most prominently sinking the cruiser Moskvaformerly the flagship of the Black Sea Fleet, in April.
However, Zagorodnyuk requested more "coastal missiles and unmanned systems" to "destroy Russian naval vessels," adding "sea access denial" for the Russian fleet is "an ongoing process."
Intel and Logistical Support
Ukraine has already been receiving intelligence from Western powers, including the US and UK, but this must continue according to Zagorodnyuk. He said: "Ukraine has a great collaboration with allies on situational awareness and military intelligence. The continuation of real-time detailed information sharing is another critical enabler of success."
Zagorodnyuk also noted Ukraine's increasing reliance on Western weapon systems, and urged the West to set up "comprehensive sustainment facilities" to provide "repairs and engineering support" to Kyiv's forces.
The Ukrainian and Russian foreign ministries have been contacted for comment.