Ukraine Claims Russia Pulling 70-Year-Old Defense Systems Out of Storage
Ukraine said on Monday that Russia had pulled 70-year-old anti-aircraft guns out of storage, mocking the country for seemingly having to resort to the old weapons in the ongoing war.
"Meeting at the crossroads. While #UAarmy is mastering IRIS-T, NASAMS, Aspide, the terrorist state [Russia] is getting 70 year-old AZP-57 anti-aircraft guns from its warehouses," Ukraine's Defense Ministry tweeted, referencing some Western-supplied systems in addition to the Russian AZP-57. "Ukraine confidently stepping into the future. The empire is returning to where it belongs — in the past."
The tweet included a video showing what are presumably several AZP-57 guns loaded onto parked trucks while several men are heard discussing the weapons.
"Just what kind of guns are these? From what century?" one of the men asks in the video, according to an English caption.
While Russian President Vladimir Putin's army has been facing Ukrainian advances on several fronts of the war, it has also purportedly been contending with increasingly low stocks of weapons and equipment. Bringing back the AZP-57 guns, if true, could signal that Russia is running low on its more current anti-aircraft models.
Newsweek was not able to independently verify the Ukrainian Defense Ministry's report and reached out to Russia's Defense Ministry for comment and confirmation that it had pulled AZP-57 guns out of storage.
In late August, The Insider, a Latvian-based media outlet, estimated that Russia's military would run out of weaponry by the end of the year because of Western sanctions and successful Ukrainian counteroffensives.
"Being cut off from the supply of Western equipment, spare parts and materials and at the same time limited in terms of human capital and labor productivity, Russian manufacturers of artillery and ammunition will inevitably face in the foreseeable future not so much stagnation as production cuts ," The Insider reported.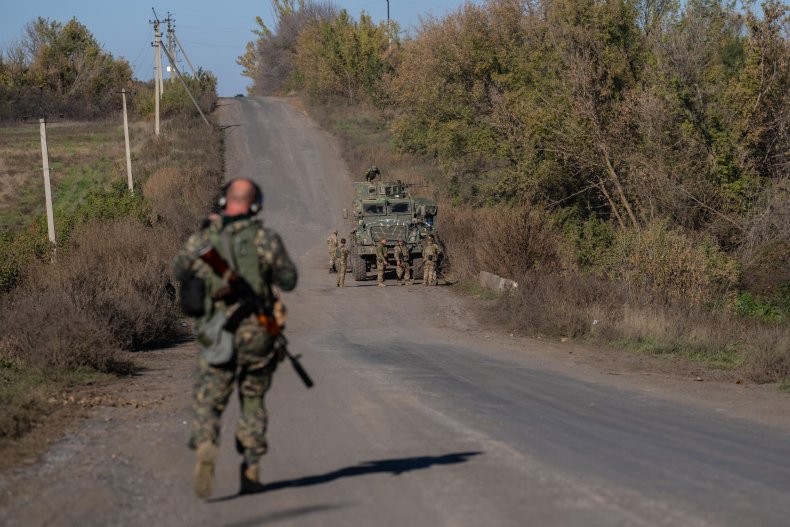 The General Staff of the Armed Forces of Ukraine wrote in an early September update that Moscow was launching outdated missiles on Ukrainian territory because of a "lack of high-precision weapons."
Also in September, Putin called on military-industrial complex bosses to ramp up production of weapons and ammunition to "urgently" supply the armed forces.
Meanwhile, a daily update from the General Staff of the Armed Forces of Ukraine estimated that Russia had lost eight tanks, 12 armored personnel vehicles, 17 unmanned aerial vehicle (UAV) and one anti-aircraft warfare system on Monday alone. Overall, Ukraine says that Russia lost 187 anti-aircraft warfare systems since the start of the war on February 24.
The AZP-57 guns Russia has allegedly now pulled out of storage were developed in the 1950s, ТРУХА reported.