Russia's Demoralized New 3rd Army Corps Given Obsolete Weapons: Ukraine
Ukraine's armed forces recently claimed that troops in a Russian military unit formed to support Russian President Vladimir Putin's invasion are frequently drunk and are forced to rely on out-of-date equipment.
Russia's 3rd Army was established in June and it consists mostly of volunteer units of soldiers who were offered signing-on bonuses and salaries much higher than the Russian average.
Based in Mulino in the Nizhny Novgorod region east of Moscow, the 15,000-strong 3rd Army Corps was the first major formation that was newly formed to make up for Russian troop losses.
But on Tuesday, the General Staff of the Armed Forces of Ukraine painted a picture of a drunken unit beset by equipment difficulties.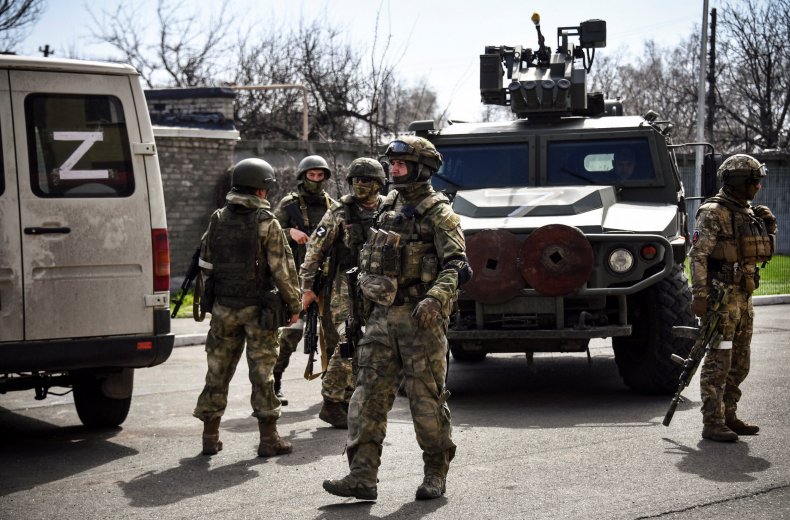 It said that the corps was "unable to effectively perform their assigned tasks" and had to use "obsolete and unusable weapons and military equipment." The formation was also beset by an "arbitrary abandonment of positions and refusal to perform combat tasks by personnel."
"Consumption of alcoholic beverages" as well as "systematic violations of military discipline are the main reasons for the demoralization of servicemen of units of the specified enemy unit."
The assessment adds to question marks over the discipline and effectiveness of the new grouping. Newsweek has reached out to the Russian defense ministry for comment.
In August, The Wall Street Journal reported that 3rd Army troops in training have reportedly been seen drunk and bothering local residents. In September, Ukraine's Defense Intelligence said that equipment and personnel problems were hampering Russia's ability to form the new corps.
The 3rd Army was intended to help bolster Russian forces left reeling from huge losses and an effective Ukrainian counteroffensive. On September 21, Putin announced a partial mobilization of the Russian population which aimed to draft 300,000 reservists.
Russia's defense minister Sergei Shoigu said on Tuesday that "more than 200,000 people have arrived in the armed forces," according to state-owned news agency RIA Novosti, adding that they would be trained at 80 training grounds and in six training centers."
State television pundits have criticized the botched mobilization, without directly criticizing Putin or the Kremlin, although experts have expressed doubt about just how effective the extra manpower would be.
Lawrence Freedman, emeritus professor of War Studies at King's College London told Newsweek last week that the mobilization would not have an immediate impact, and "only if they can train and kit them, which is a big constraint."
"There isn't an awful lot of kit to go around, including winter kit," he told Newsweek"if you put a large number of people into the field, you've got to supply them.
"If you can't supply them, then actually you've just created more problems because scarce resources have got to be shared among more people."