Russians still suffering losses as they withdraw
eRm
August 16, 2022
62
Fighting continues on the wide front with ground attacks and counterattacks including some potential mutinies in the Donbas between the two separatist states (DPR and LPR).
The Kremlin-controlled fighters from Moscow's sham "Luhansk People's Republic" ("LPR") in the Donbas have staged a revolt amid the huge losses of the Russian invaders in the war against Ukraine, Ukrainian army officer Anatoliy Shtefan tweeted on Aug. 15.
He also posted a video with the fighters' appeal to their leaders.
Their dissatisfaction was caused by the decision of the Russian leadership to send them to reinforce the fighters of another sham statelet, the "Donetsk People's Republic" ("DPR").
"We refuse to go and fight on the territory of the DPR," one of the organizers of the riot said in the video.
english.nv.ua/…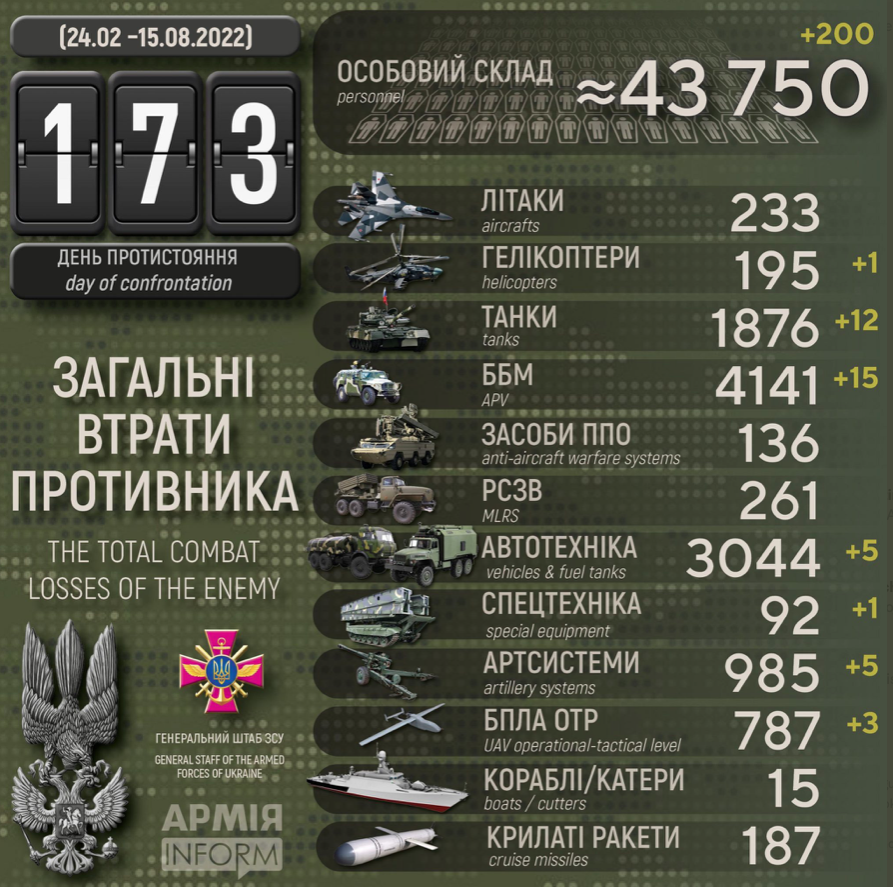 Ukrainska Pravda, a Ukrainian online newspaper, reported that on Saturday Kyiv forces were successful in destroying eight tanks and 11 armored vehicles.
This report comes after a post by the General Staff of the Armed Forces of Ukraine Facebook page on Sunday.
The post highlighted Ukrainian estimates of the total losses Russia has faced since the conflict began on February 24, while also highlighting the latest additions.
According to the post, A total of 43,550, of Russia's military personnel have been killed with an additional 150 killed on Saturday.
A total of 1,864 tanks have been destroyed with an additional 8 tanks destroyed on Saturday.
A total of 4,126 armored combat vehicles have been destroyed in total, it said.
As well as this, five operational-tactical UAVs, three vehicles and fuel tankers, two artillery systems and one helicopter, were destroyed on August 13, according to Ukraine.
The post also highlighted that 261 multiple-launch rocket systems, 136 air defense systems, 233 aircrafts, 194 helicopters, 980 artillery systems, 187 cruise missiles, 15 ships/boats, 3,039 vehicles and fuel tankers and 91 other vehicles and equipment of Russia have been destroyed due to the work of Ukrainian forces.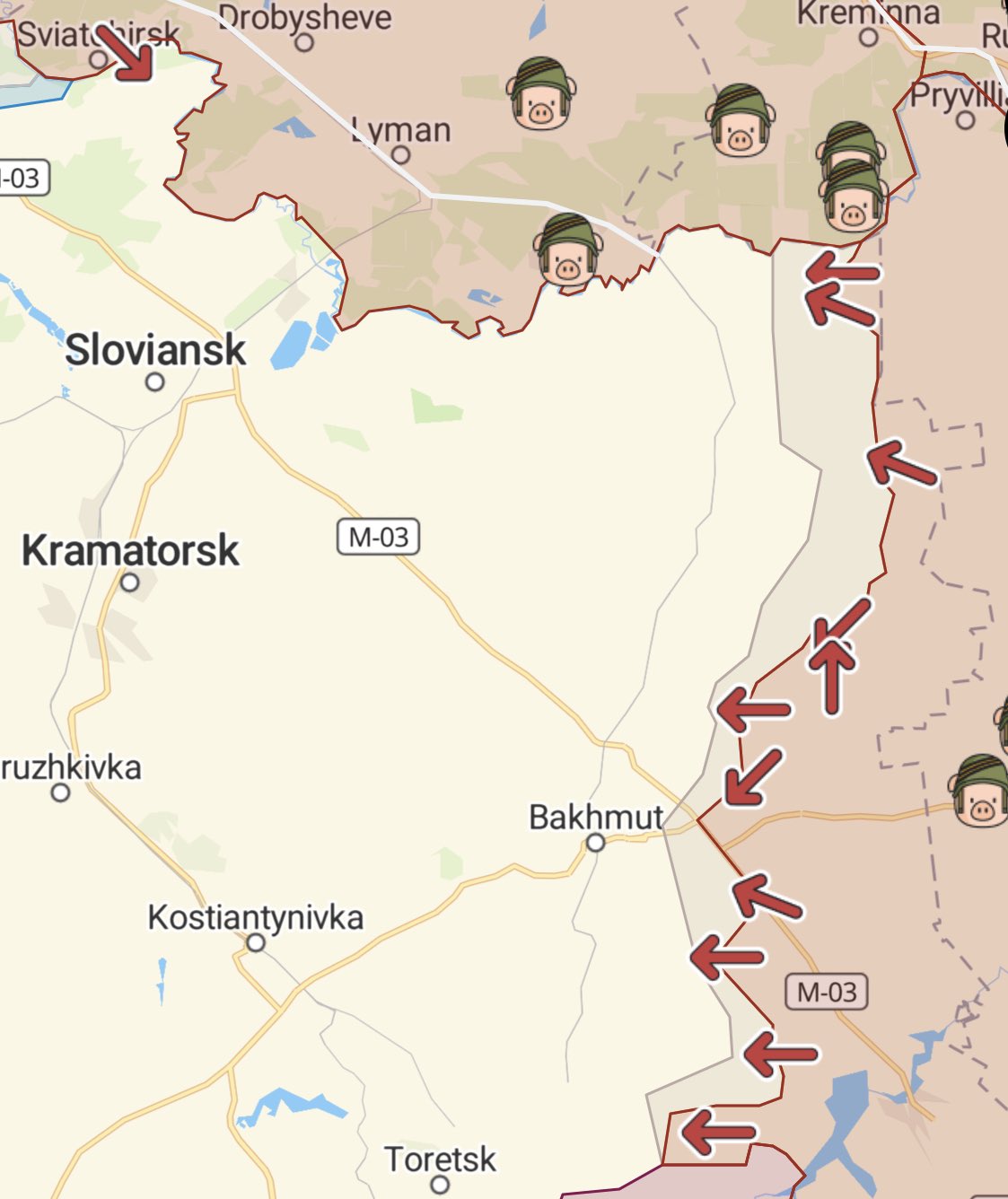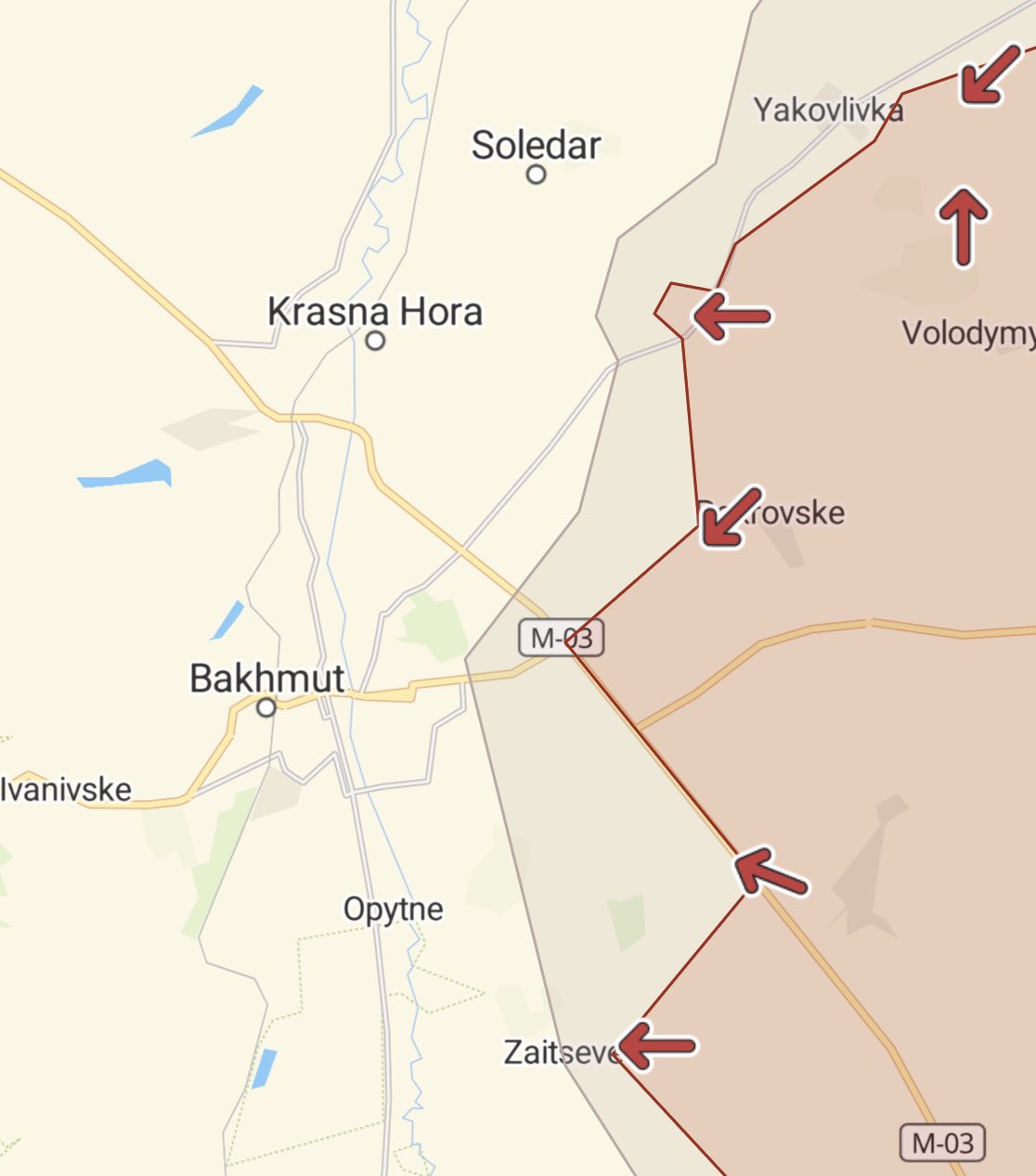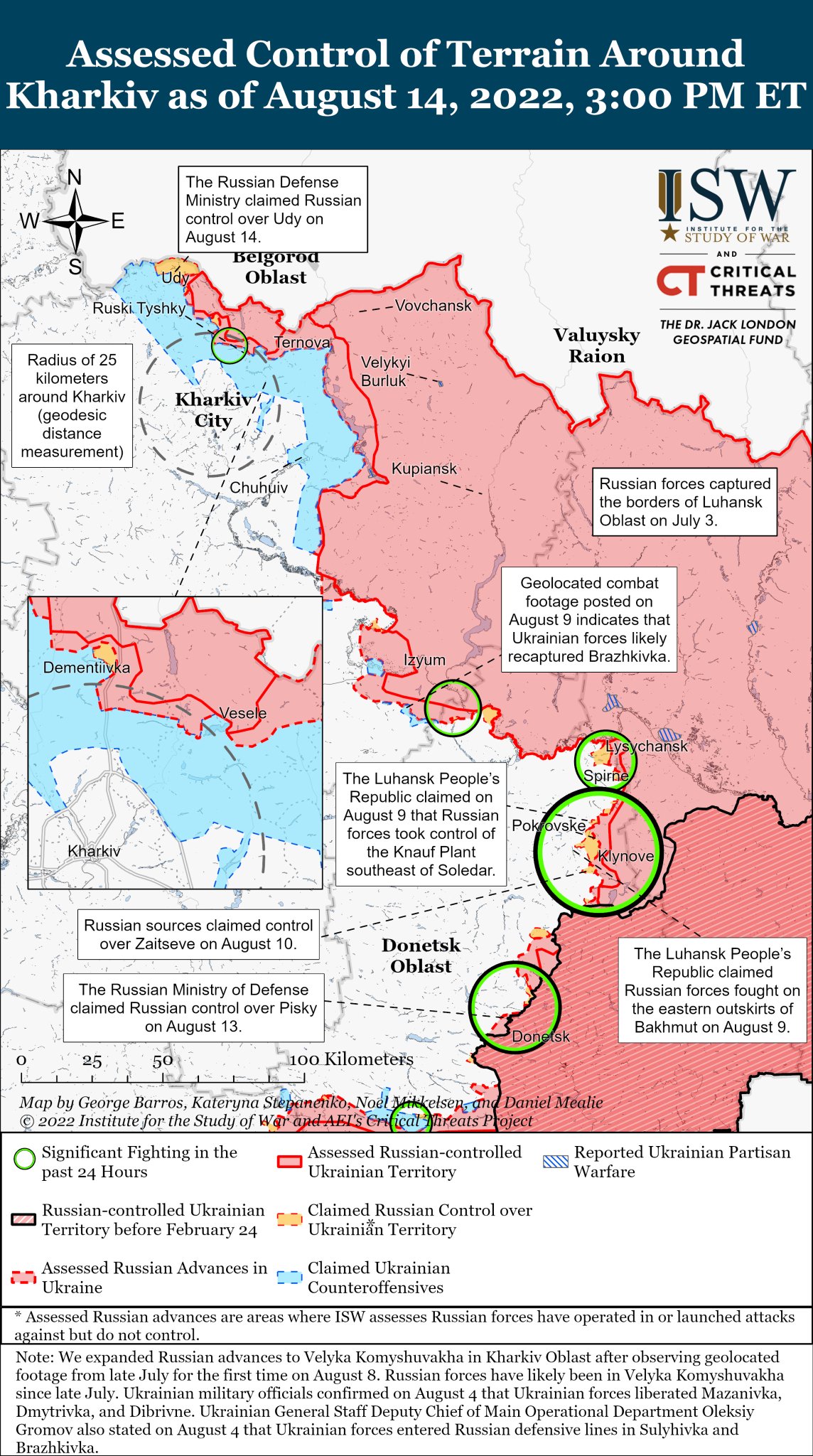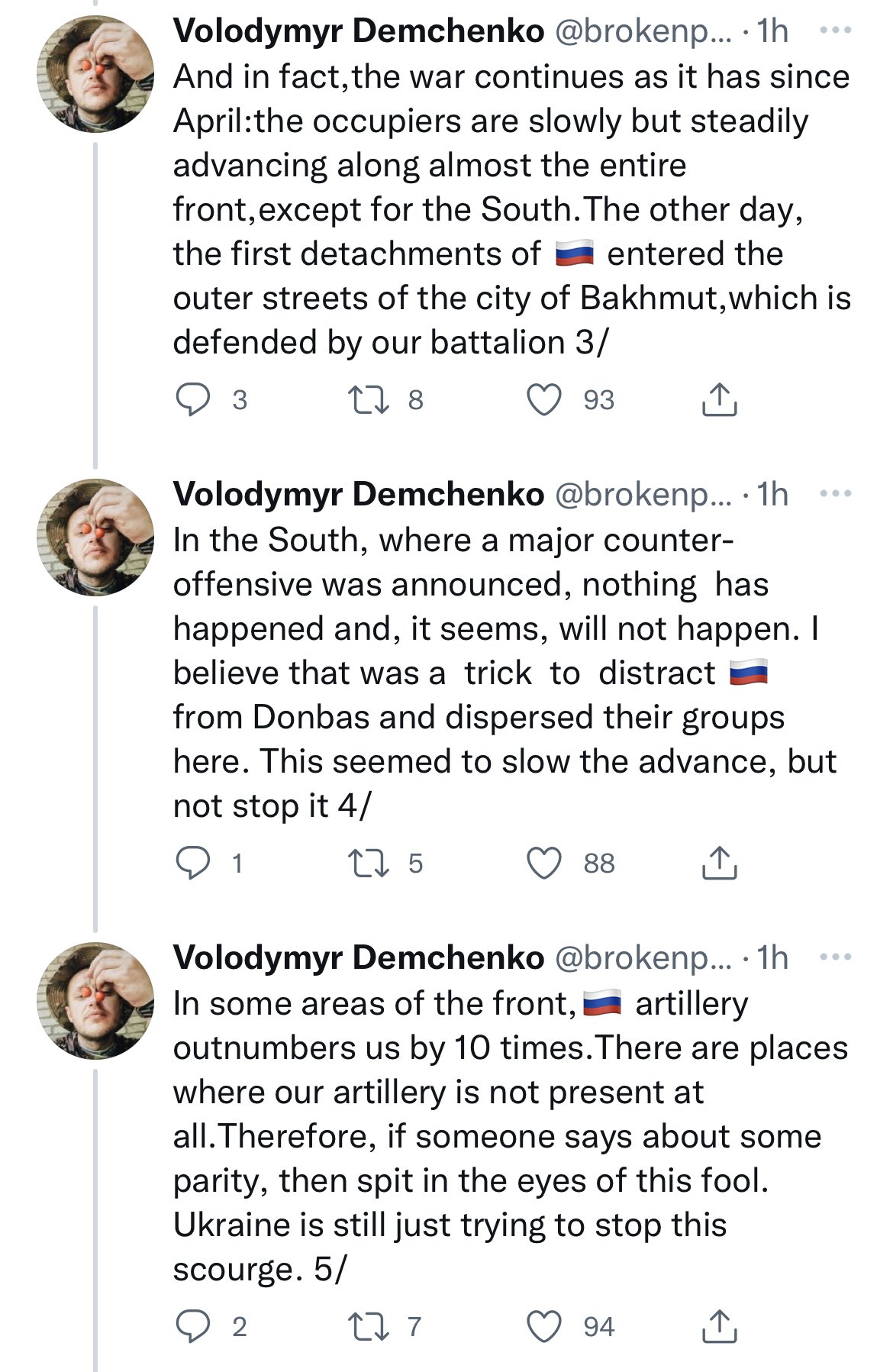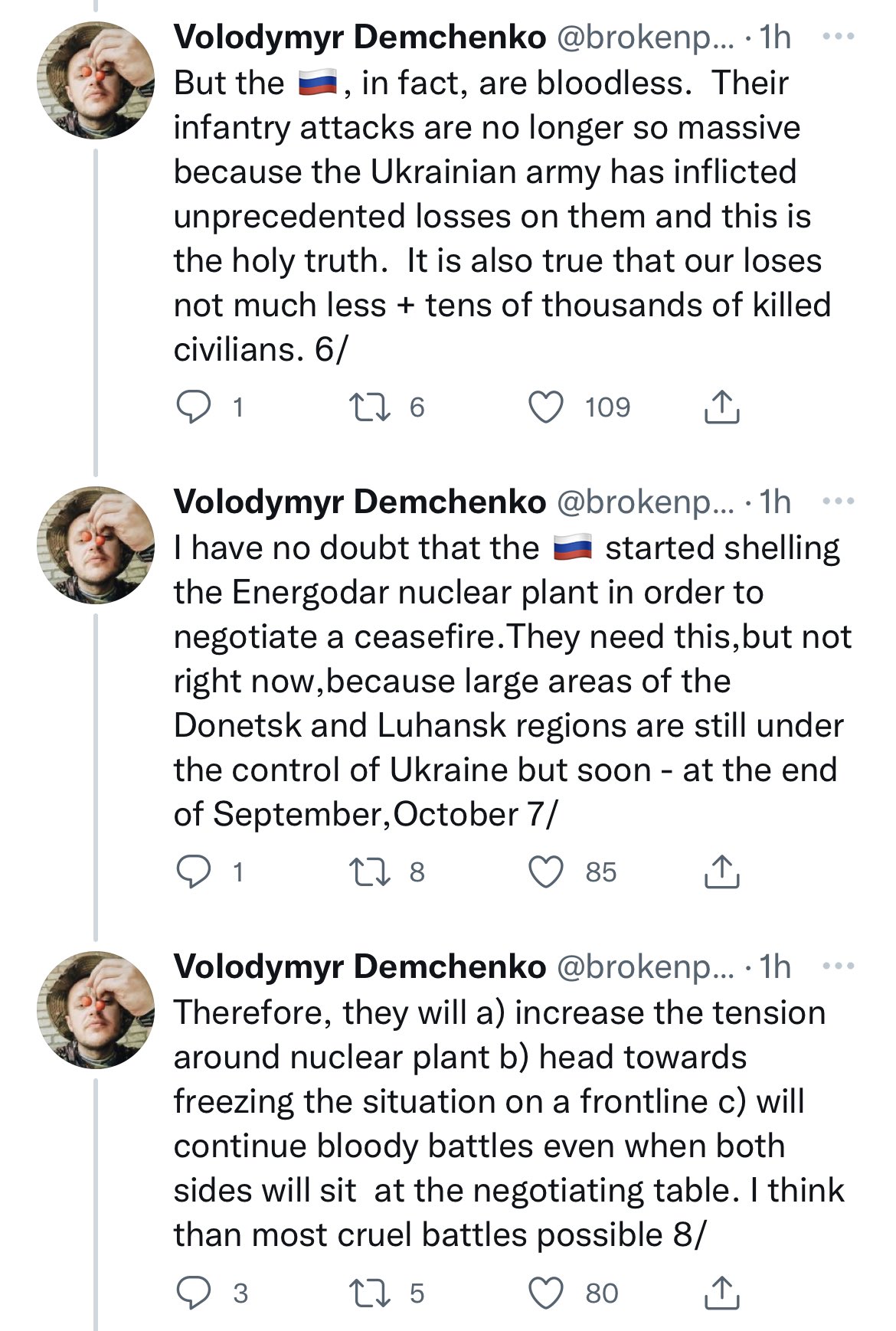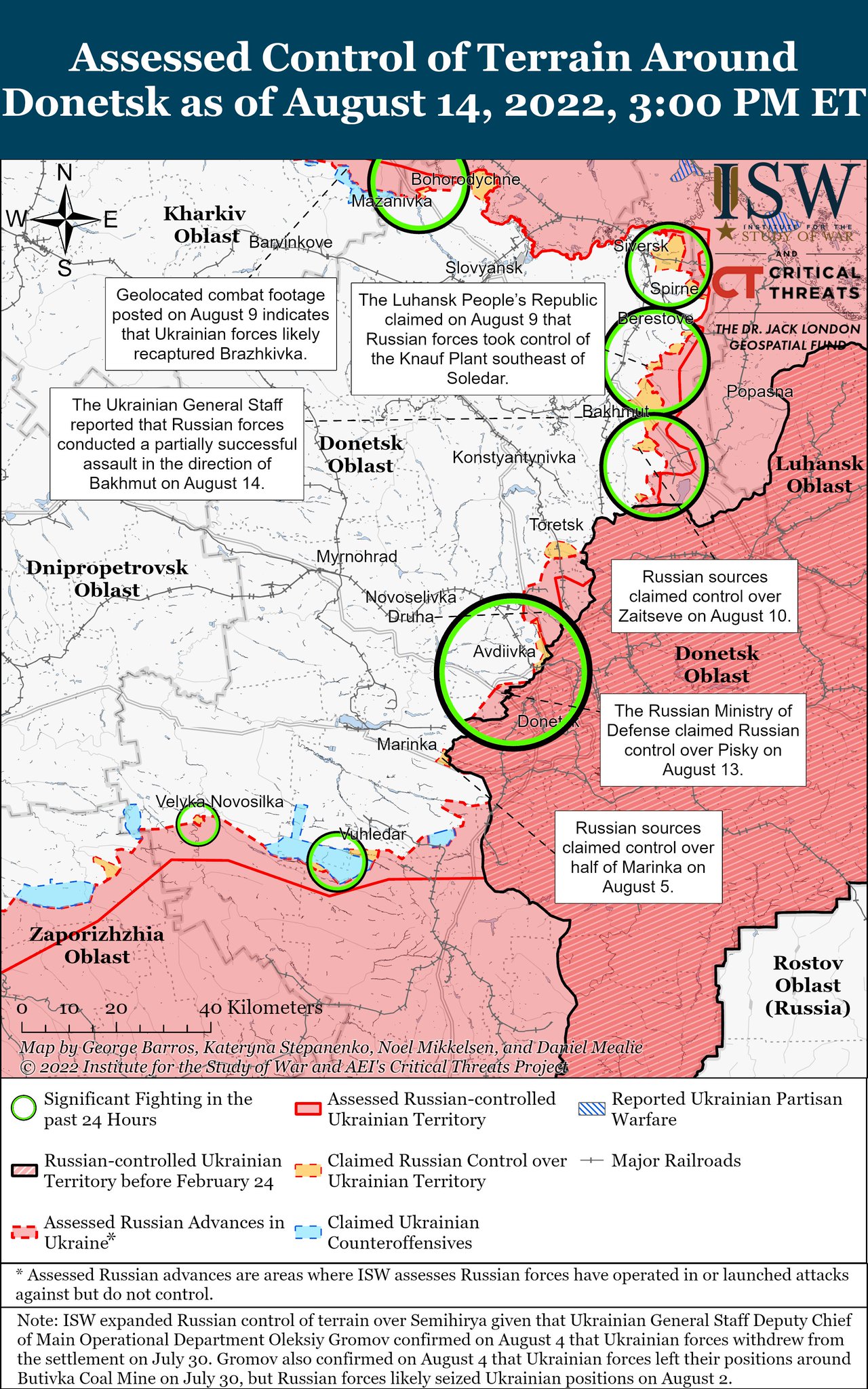 Russia maintains overwhelming superiority in troop numbers and ammunition, and in recent weeks the Kremlin has moved to reinforce its military in the region, shifting resources there from the fighting in the eastern Donbas. Even if Ukraine's military is able to squeeze Russian forces out of the rural farmlands, they will most likely have to fight a vicious urban battle for the city of Kherson, which could lead to huge losses in lives and property.
Ukraine is also operating under a condensed timeline. The Kremlin plans to hold a referendum on Kherson's absorption by Russia in mid-September, and disrupting it would require Ukraine's president, Volodymyr Zelensky, and his generals, to take some kind of significant offensive action soon, experts said.
"The real limitations the Ukrainians face is that moving forward in the combat environment today is really difficult," said Phillips P. O'Brien, a professor of strategic studies at the University of St. Andrews in Scotland. "Unless you have total command of the skies and the ability to clear out the area in front of your troops, those moving forward are in real danger of getting eaten away."
But Russia's position in Kherson is also precarious, Professor O'Brien and others said.
Although Ukrainian troops have not advanced for weeks in Kherson, their artillery campaign appears to have borne fruit, slowing the flow of Russian arms, equipment and troops into the region, Ukrainian officials say. Using high-precision weapons such as the American-supplied High Mobility Artillery Rocket System, or HIMARS, Ukrainian forces have pounded the three bridges over the vast Dnipro River that connect thousands of Russian troops to their supply lines in occupied Ukrainian territory east of the river.
The strikes have rendered these bridges "inoperable," said Nataliya Gumenyuk, the spokeswoman for the Ukrainian military's southern command. Over the weekend, Ukrainian forces launched yet another strike on the Antonivsky Bridge, the main supply artery into the city of Kherson.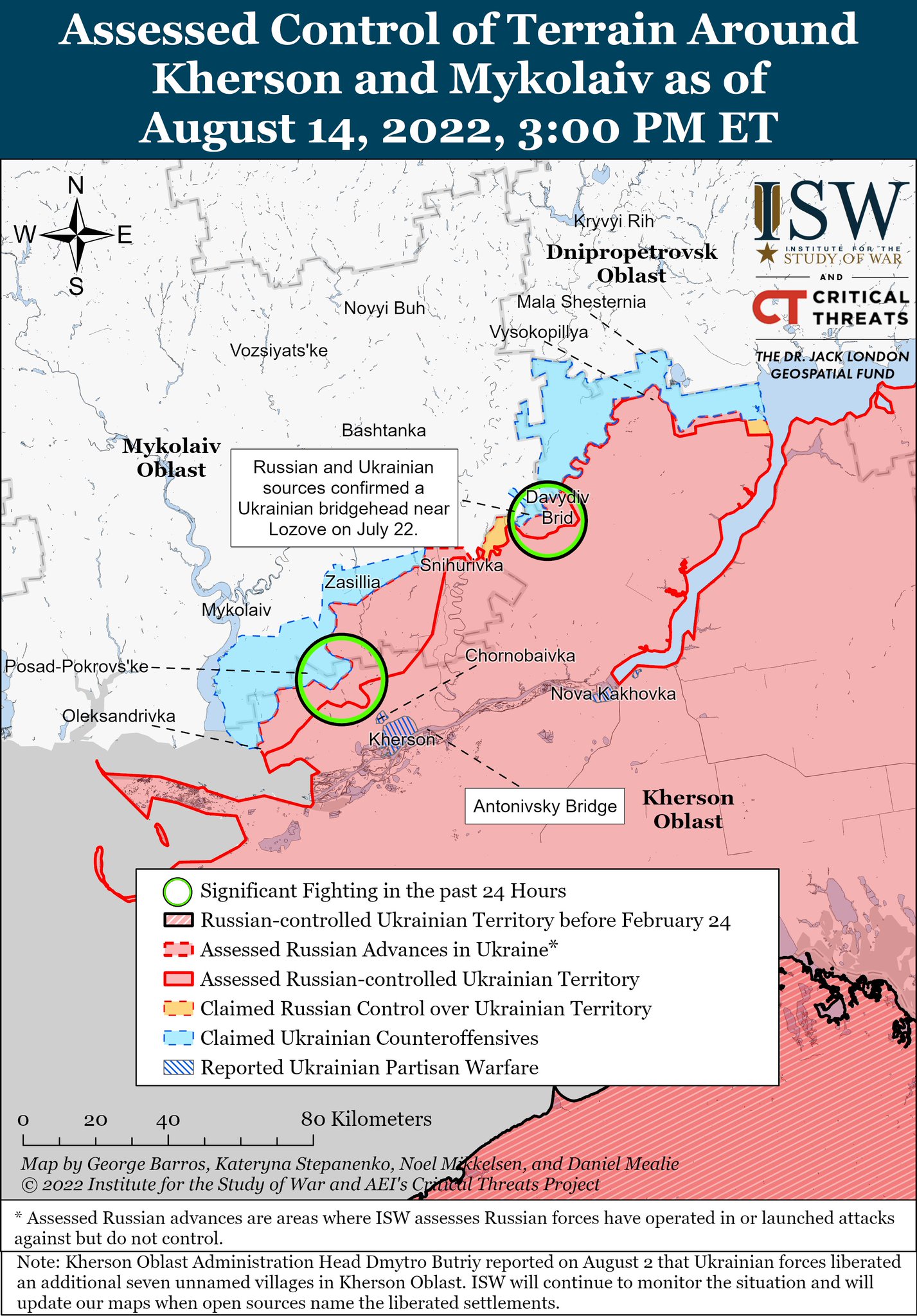 Factories in Russian-occupied areas were packed up and moved on trains and trucks, and are being resurrected in the west. Manufacturers are creating jobs and hunting for skilled workers. Now closer to Poland — Ukraine's gateway to Germany and western Europe — the reborn businesses are forging ties with the European Union, which Ukraine hopes to join soon
[…]
Ukraine's economy is expected to contract by over a third this year. Inflation is risingand is likely to climb above 30 percent, the country's central bank recently said, and the finance minister recently announced the country had reached an agreement to stop paying some foreign creditors.
[…]
The government offered tax breaks and the free transport of equipment on Ukrainian railways. Lviv and other cities nearby have competed fiercely to lure the newcomers, offering additional financial sweeteners including cheap warehouse space, free legal counsel and fast-track paperwork to set up new operations quickly.
Beyond the 200 companies that have already moved, another 800 have applied for relocation, said Volodomyr Korud, vice president of Lviv's Chamber of Commerce.
www.nytimes.com/…
Almost six months into a war in Ukraine that Russia can't seem to decisively win, Russian President Vladimir Putin is bragging this week that Russia's weapons are decades ahead of competitors.
"Many of them are years, maybe decades ahead of their foreign counterparts, and in terms of tactical and technical characteristics they are significantly superior," Putin said at an annual arms show Monday, according to Interfax.
[…]
"Russia sincerely cherishes historically strong friendship, truly trusting ties with the states of Latin America, Asia, Africa, and is ready to offer its partners and allies the most modern types of weapons—from small arms to armored vehicles and artillery, combat aircraft and unmanned aerial vehicles," Putin said.
Moscow is indeed, a top weapons exporter. Russia accounts for 20 percent of global arms exports and is the second-largest exporter of weapons in the world, ranking just after the United States, according to an analysis of exports tracked by the independent research entity the Stockholm International Peace Research Institute (SIPRI) between 2016 and 2020. India, China, and Algeria are the top recipients of Russian weaponry, and Russia is also the main supplier of arms to Egypt, Vietnam, Kazakhstan, Belarus, and Angola, according to the report. Russia exports major arms to 45 states in all.
www.thedailybeast.com/…
Russian presence in the south complicated by Ukrainian attacks on supply lines, officials say
Ukrainian officials have said that Russia's presence in the southern Kherson region and parts of Zaporizhzhia is becoming more tenuous as supply lines are targeted daily by Ukrainian long-range systems, many of them supplied by Western allies.
[…]
Meanwhile, Serhii Khlan, advisor to the head of Kherson Civil Military Administration, told Ukrainian television on Monday that continuing attacks by Ukrainian forces on bridges across the river Dnipro had caused serious difficulties for Russian forces.
"The impossibility of (the Russians) supplying ammunition allows us to say that if they cannot resolve the issue of crossing to the Dnipro right bank in the next two weeks, then they will have no other opportunity than to leave their positions."
A substantial part of the Russian occupying force is on the right (northern) bank of the Dnipro, in Kherson city and further upstream.
Khlan claimed that the Russians had moved their command headquarters to the southern bank of the Dnipro.
Operational Command South said on Sunday that the main highway connection — the Antonivskyi bridge — was hit again. Social media video showed a series of detonations at one end of the bridge, which links southern Kherson with the region's capital city.
Khlan said Ukrainian civilians continue to leave Kherson, even though travel has become more difficult.
I said 40% of the Ukrainians trying to get through the only official transit point to Ukrainian-held territory (at Vasylivka) were residents of the Kherson region. "Every day, between 700 and 2,000 people leave the occupied territories," he said.
edition.cnn.com/…