Russian units 'forced' to turn back to reorganize
eRm
March 30, 2022
77
Twelve dead in strike on Mykolaiv regional government building
The death toll of a strike Tuesday morning that hit a regional government building in Mykolaiv has risen to 12 people, the State Emergency Service of Ukraine has said.
In a Telegram post on Wednesday, the emergency service said rescue efforts were still underway.
It said the bodies of a dozen victims had so far been pulled out of the rubble. At least 33 people were also injured, with 18 rescued, the emergency service said.
On Tuesday, regional governor Vitaliy Kim said on Telegram that his personal office was destroyed in the attack. He said most people appeared to have survived the assault, however.
US, UK, Germany, Mexico, Russia send top officials to India
India is gearing up for a week of high-level individual visits by top officials from US, UK, Germany, Mexico and Russia.
US Deputy National Security Advisor Daleep Singh, UK Foreign Secretary Liz Truss, Russian Foreign Minister Sergey Lavrov, Mexican Foreign Secretary Marcelo Ebrard, German Foreign and Security Policy Advisor Jens Plötner will all meet Indian officials this week in New Delhi.
Singh, who's traveling on Wednesday and Thursday, will "consult closely with counterparts on the consequences of Russia's unjustified war against Ukraine and mitigate its impact on the global economy," National Security Council Spokesperson Emily Horne said in a statement on Tuesday.
While no joint meetings between the delegations have been announced, Ukraine is expected to remain on the top agenda as New Delhi faces monumental pressure from the West on its continued relationship with Moscow.
UN names three experts to probe possible war crimes in Ukraine
The United Nations named three human rights experts on Wednesday to investigate possible war crimes in Ukraine where Russia has been accused of indiscriminate bombing of civilians.
The independent panel, led by Erik Mose of Norway, will probe all accusations of rights abuses and violations of international humanitarian law "in the context of the aggression against Ukraine by the Russian Federation," a statement said.
The UN Human Rights Council has created the commission of inquiry for one year at the request of Ukraine and allies including the European Union, Britain and the United States.
The panel will interview witnesses and collect forensic material for any future legal proceedings. It is to report initial findings in September.
Mose is a former judge of the European Court of Human Rights and former president of the International Criminal Tribunal for Rwanda who also served as a judge on Norway's Supreme Court. Other panel members are Jasminka Dzumhur, the human rights ombudsperson of Bosnia and Herzegovina, and Pablo de Greiff, a Colombian who was the first UN justice investigator.
Russia redeploying troops from Kyiv to east and south, presidential adviser says
Russia is transferring its forces from Kyiv and the north of Ukraine to the east and near the besieged southern port city of Mariupol, Oleksiy Arestovych, an adviser to President Volodymyr Zelenskyy, said.
Moscow made the move so its forces could have a "qualitative and quantitative" advantage and encircle Ukrainian troops, he said.
Russia's deputy defense minister said Tuesday that Moscow would scale back its military presence near Kyiv and Chernihiv.
"There is very heavy fighting there now," Arestovych said on Ukrainian TV of the eastern regions, adding that there was also fighting in Mariupol, "where the city is half captured and there are heavy street fights happening."
For weeks, Russian forces have surrounded Mariupol, causing widespread destruction in residential areas and leaving residents in a serious humanitarian situation.
Germany triggers 'early warning' of possible gas supply emergency
Germany declared an "early warning" Wednesday that it could be heading towards a gas supply emergency amid demands from Russia that it be paid for energy supplies in rubles.
Federal Economy Minister Robert Habeck triggered the "early warning," saying the measure was designed to prepare for a possible disruption or stoppage of natural gas flows from Russia. Under Germany's current gas emergency plan, the early warning level is the first of three stages.
Habeck said supplies were safeguarded for the time being and said Germany was closely monitoring supply flows with market operators.
"Nevertheless, we must increase precautionary measures to be prepared for an escalation on the part of Russia," he said. The economy minister said that "with the declaration of the early warning level, a crisis team has convened."
It comes after Russia demanded that Germany and other nations pay for energy supplies in rubles as Moscow contends with the economic impacts of Western sanctions over its invasion of Ukraine.
'Nothing that happens here will be unnoticed,' IAEA chief says on visit to Ukrainian nuclear plant
International Atomic Energy Agency Director General Rafael Grossi promised technical assistance to help prevent the possibility of a "nuclear accident" as he met with government officials and staff at a power plant in Ukraine Wednesday.
"We are ready to support you in whatever way and form we can that nothing that happens here will be unnoticed," he said told staff at the South Ukraine Nuclear Power Plant based near the city of Yuzhnoukrainsk in Mykolaiv province. "Because the IAEA will be here to support and to say whenever there is a problem."
In a separate Twitter postGrossi, who reached Ukraine on Tuesday, wrote that the IAEA's on-site presence would help prevent "the danger of a nuclear accident" that could have severe public health and environmental consequences in and beyond Ukraine.
Families flee Ukraine with beloved pets in tow
NBC News saw dozens of families at border crossings and in train stations in southeastern Poland, carrying crates with dogs, cats and other pets with them from Ukraine.
Many said they could not bear leaving them behind because they are not just pets, but family members, and would be in danger in Ukraine.
On Wednesday, the United Nations refugee agency said the number of people fleeing Ukraine since Russia launched its invasion had reached more than 4 million, with more than 2.3 million fleeing to neighboring Poland.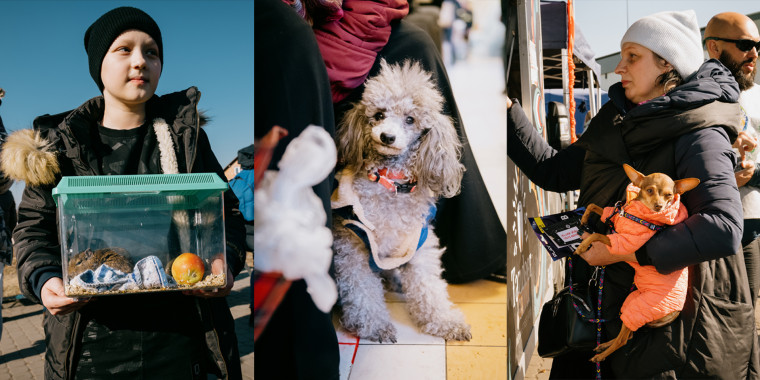 Ukraine has achieved 'serious success' in negotiations, presidential adviser says
Kyiv has improved its negotiating position with Moscow from where it stood even before the start of the war in February, Ukrainian presidential adviser Oleksiy Arestovych said.
"Serious success has been achieved," he said in a post on Facebook early Wednesday. "We have improved our position in all respects," he added.
He pointed to Russia's military struggles in Ukraine as the reason for the success in the negotiations. Russian and Ukrainian negotiators met Tuesday in Istanbul for a round of peace talks, and Moscow said it would scale back its military presence near Kyiv.
Arestovych warned however, that despite Ukraine's success at the negotiating table, the war was not over.
"Negotiations will in no way slow down the war and will not cancel it," he said. "This is a separate line that prepares a future peace agreement because any war, even a hundred-year war, ends with a peace agreement."
Number of refugees who have fled Ukraine exceeds 4 million, UNHCR says
The number of refugees who have fled the war in Ukraine has reached more than 4 million, the United Nations refugee agency has said.
In an update Wednesday morning, the UNHCR said at least 4,019,287 have fled the country since Russia launched its invasion into Ukraine.
More than half of those who have fled, over 2.3 million, have sought refuge in neighboring Poland. Meanwhile, hundreds of thousands of others have fled to Romania, Moldova, Hungary and Slovakia.
More than 300,000 people have also ended up in Russia, while more than 10,000 have arrived in Belarus.
A number of other nations have also taken in refugees fleeing the crisis, with Germany, Ireland and the UK among them.
Russia strikes Chernihiv after saying it would scale down activity, governor says
Russian forces shelled the northern city of Chernihiv "the whole night," the governor of the region said on Telegram Wednesday.
The shelling came less than a day after Russia said it would scale down its military activity near the capital Kyiv and Chernihiv.
"The enemy demonstrated a 'decrease in activity' in the Chernihiv region by striking Nizhyn, including by air, and spent the whole night hitting Chernihiv," regional governor Viasheslav Chaus said in a post on Telegram. "In fact, the enemy roamed Chernihiv all night."
Since the early stages of the war, Chernihiv has come under heavy assault from Russian forces, who have also encircled the city. Their military progress however, had largely stalled.
One dead after Russia accused of firing on residential neighborhoods in Luhansk, officials say
At least one person is dead after Russian forces were accused of firing on residential neighborhoods in the Luhansk region on Wednesday morning, Ukrainian authorities have said.
In a Telegram post, Serhiy Haidai, the governor of Luhansk region, said Russian forces had "fired on residential neighborhoods in one of the Lysychansk districts of the Luhansk region."
"There are a lot of blockages. Rescuers are trying to save the living, "he said.
According to the State Emergency Service of Ukraine, at least one person died in the attack. Five people have been rescued with eight already evacuated to safety, it said in a post on Telegram.
The state emergency service said information about the dead and injured was still being "clarified."
Ukrainian residents wait for food outside a church in the northeastern city of Trostianets, on Tuesday.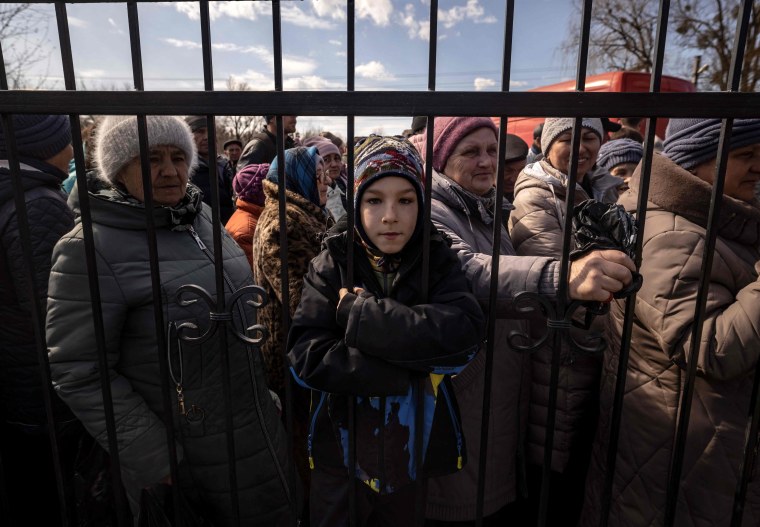 Russian units forced to return to Belarus, Russia to reorganize, UK says
Russian units suffering heavy losses have been "forced to return to Belarus and Russia to reorganize and resupply," Britain's defense ministry has said.
In an intelligence update early Wednesday morning, the defense ministry said such activity was putting further pressure on Russia's "already strained logistics and demonstrates the difficulties Russia is having reorganizing its units in forward areas within Ukraine."
It warned that Russia would likely continue to "compensate" for the reduced capability on the ground through mass artillery and missile strikes.
The statement added that Russia's proclaimed focus on an offensive in Donetsk and Luhansk was likely a "tacit admission that it is struggling to sustain more than one significant axis of advance."
Three humanitarian corridors agreed for evacuation and aid
Three humanitarian corridors have been agreed to for the evacuation of Mariupol and Melitopol residents and delivery of humanitarian aid, Ukrainian Deputy Prime Minister Iryna Vereshchuk announced on Wednesday.
In a Telegram post she said that the corridors will deliver aid to the city of Berdyansk and will clear the way for people traveling using their own transport from Enerhodar to Zaporizhzhia.
"On the way back to the city of Zaporizhzhia, people from Berdyansk and Melitopol will be able to join the humanitarian columns in their own vehicles," she said.