Russian Spy in NASA T-Shirt Caught Hunting HIMARS, Ukraine Says
The Ukraine security service said it recently captured a Russian spy who was allegedly collecting intelligence on HIMARS (M142 High Mobility Artillery Rocket Systems)—US-supplied weapons that have been credited with turning the tide of Russian President Vladimir Putin's war against Ukraine.
The Security Service of Ukraine (SBU) said in a statement on social media that the "agent of the Russian Federation" was "hunting" for the positions of the Ukrainian HIMARS.
The individual was detained during a special operation in the front-line areas of the Mykolaiv region in Ukraine's southern region, the SBU said.
The SBU, which is the main intelligence and security agency of the Ukrainian government, published two photographs of the individual who it said was a Russian spy.
One photograph shows the man dressed in a NASA T-shirt with his hands behind his back, between two Ukrainian intelligence agents. Another photo shows the man on the ground, as the agents attempt to detain him.
"A resident of the Mykolaiv region collected intelligence on the deployment, movement and armament of the Defense Forces of Ukraine in the southern direction," the SBU post said.
"According to the counterintelligence of the Security Service, the main task of the traitor was to establish and transfer to the occupiers the coordinates of the combat positions of the HIMARS reactive artillery systems."
The SBU said the man planned to use the information he received to prepare and carry out sabotage and missile strikes.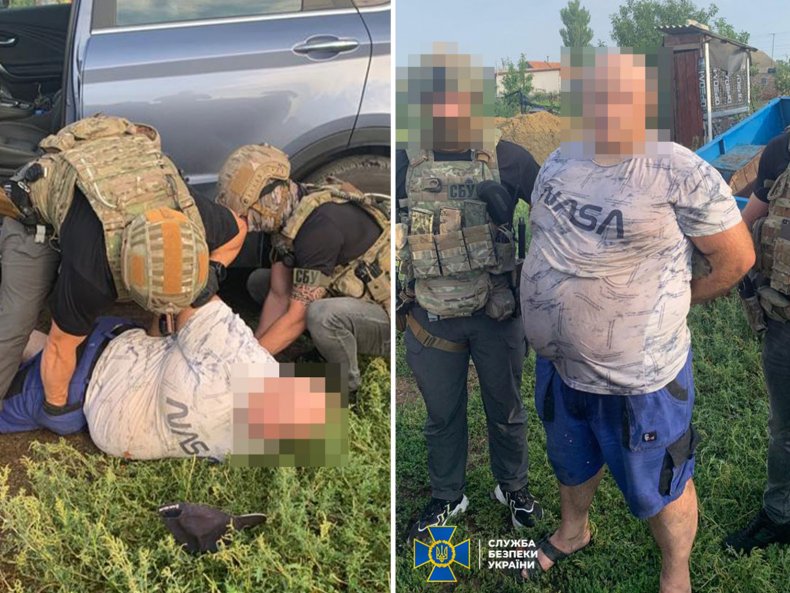 According to The Odessa Journalthe man was recruited by Russian special services after spreading posts in favor of the Kremlin, and posts supporting aggression against Ukraine, on social media.
After being recruited, he reportedly began to carry out reconnaissance and what were deemed as "subversive tasks," and subsequently sent information to Russia, the news outlet reported. During a search of the man's home, law enforcement officers found a mobile phone that he used to communicate with Moscow.
Newsweek has been unable to independently verify whether the detained individual in the photos is a Russian spy.
The Kyiv Postan English-language Ukrainian newspaper reported earlier this week that Ukraine had captured two Russian spies who were allegedly collecting HIMARS plans in the front-line areas of the Donetsk oblast, part of the separatist Donbas region, which Putin claimed he wanted to "liberate "through the invasion of Ukraine, Newsweek previously reported.
Ukraine's armed forces have been using HIMARS with great effect against Russian forces.
US Defense Secretary Lloyd Austin said on July 20 during a meeting of the Ukraine Defense Contact Group, that Ukrainian President Volodymyr Zelensky's troops have "effectively" used the HIMARS that Washington has provided and that the long-range weapons "have made such a difference on the battlefield.
Luhansk Governor Serhiy Haidai told Newsweek last month that Russians are "in panic mode" over HIMARS strikes.
Newsweek has reached out to Russian authorities for comment.