Russian Spies Allegedly Stealing HIMARS Plans Caught Behind Ukrainian Lines
Ukraine captured two Russian spies who were allegedly collecting HIMARS plans as the war between the two countries continues, Ukrainian media reported.
Russian President Vladimir Putin launched the invasion of Ukraine on February 24, anticipating a quick victory. However, the Kremlin's military was met with a stronger-than-expected defense from Ukrainian forces. Russia has failed to achieve any major objectives in the war, and fighting has become largely concentrated in eastern Ukraine.
Ukraine's defense efforts, in recent months, have been bolstered by M142 High Mobility Artillery Rocket Systems (HIMARS), which have been supplied by Western countries including the United States. The rocket systems have a longer range and better precision than those previously used by Ukraine—and they have allowed Ukraine to go on the offensive.
As the HIMARS continue to weaken Russian efforts, Ukraine announced on Monday the capture of the two alleged Russian spies, according to the Kyiv Postan English-language Ukrainian newspaper.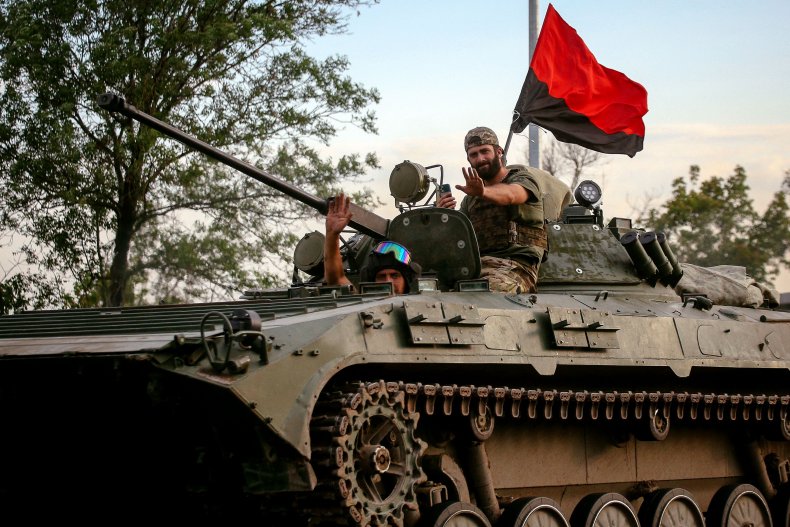 The Security Service of Ukraine (SSU) captured the individuals in the front-line areas of the Donetsk oblast, part of the separatist Donbas region, which Putin claimed he wanted to "liberate" through the invasion of Ukraine. They were allegedly stealing information that included coordinates of important Ukrainian personnel and equipment, including the location of the HIMARS, according to the Kyiv Post.
They also allegedly took data about the location and operation of local critical infrastructure facilities. Russia then used the intelligence gathered by the spies to shell water management facilities in Selidove, a town in eastern Ukraine, the Post reported.
During an investigation, the SSU found computer equipment, flash drives and mobile phones that allegedly contained evidence of the stolen information, according to the Post.
The arrests came as HIMARS continued to turn the tide of the war in favor of the Ukrainians. On Monday, it was reported that the Ukrainian armed forces used HIMARS to target a pro-Russia military group in Donetsk. They have also struck important Russian targets including command centers and ammunition depots. Russia has struggled to counter the boost in Ukraine's defense, but Kremlin authorities have said they have destroyed more than 100 missiles sent to Ukraine for use in the rocket systems.
In addition to allegedly having spies collect information about the locations of HIMARS, Russia has also turned to other ways to try to neutralize their threat, such as by having Russian hackers make a "secret development" to hack into HIMARS rocket systems. Russian authorities have also touted a tactic known as "dispersion" to try to mitigate damage caused by the weapons.
Newsweek reached out to the Russian Foreign Affairs Ministry for comment.