Russian Soldier Tells Dad Troops Have 'Nowhere to Run' as Ukraine Advances
The Ukrainian counteroffensive in Kharkiv is worsening the morale of already-overwhelmed Russian soldiers, according to an intercepted phone call between a Russian fighter and his father.
A transcript and audio of the conversation recorded at an unspecified date was posted on YouTube by the Main Intelligence Directorate of Ukraine's Defense Ministry. A translation conducted by The Daily Beast revealed an angst-ridden son who surprised his father by saying the Russians are "losing" in the region.
"I'm telling you, seriously, you know how many injured we have? … We have nowhere to run," the soldier said. "They just keep advancing, advancing, advancing."
After telling his father that mortar fire has been ineffective against Ukrainian personnel, the soldier said that his "surrounded" unit has not fled because mines were likely planted on their escape route.
"That's why we're here for now," he said.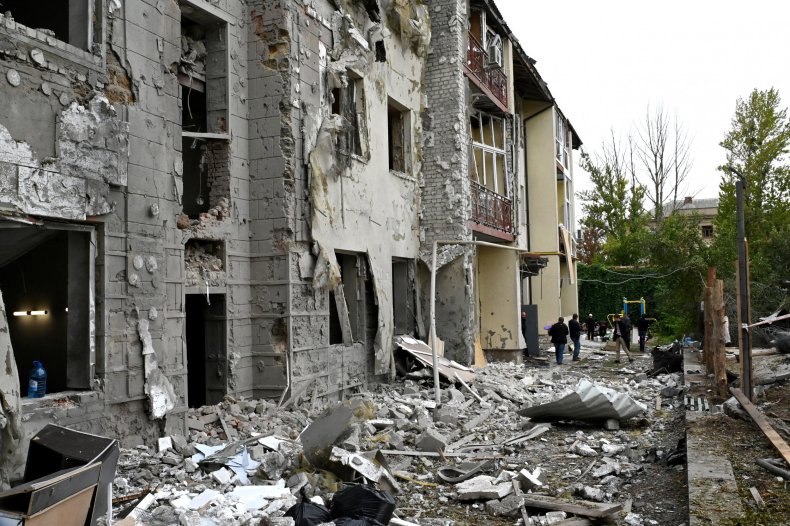 Ukrainian troops continue to advance against Russian forces, pushing them across the Oskil River. The battlefield success has extended in the pro-Kremlin Luhansk region, where Russian troops and local collaborators are reportedly "fleeing" an area long controlled by a puppet regime.
On Monday, Ukrainian President Volodymyr Zelensky said his troops had recaptured about 2,320 square miles since the counteroffensive began at the beginning of the month.
Hanna Maliar, a spokesperson for the Ukrainian Ministry of Defense, estimated that an even larger area of ​​land was retaken. She posted Tuesday on Facebook that since September 6, about 3,800 square miles—including more than 300 settlements and about 150,000 citizens—have been reclaimed.
"These are the confirmed figures given stabilization measures," Maliar said, according to a Google translation. "The real number of released territories in Kharkiv region is almost twice as much."
On Sunday, Anton Gerashchenko, an adviser at the Ukrainian Ministry of Internal Affairs, tweeted a video showing a Russian tank left behind in Kharkiv.
"Russian soldiers fled so fast they left half of their equipment," he said.
Other photos shared on Twitter and Telegram by the Security Service of Ukraine (SBU) show abandoned vehicles and potentially boxes of ammunition and equipment in an unsupervised storage space in Izium, in southern Kharkiv.
The Institute for the Study of War said Ukraine recapturing Izium is a blow to Russian forces, as it makes it more difficult to successfully attack the Izium-Sloviansk highway used by Kyiv as a major supply route.
On Friday, US Secretary of State Antony Blinken told reporters at NATO headquarters in Brussels that Russian President Vladimir Putin was causing present and long-term damage by escalating the war in Kharkiv.
"President Putin has demonstrated that he will throw a lot of people into this at huge cost to Russia, at huge cost to its future," Blinken said.
Newsweek reached out to the defense ministries of Ukraine and Russia for comment.