Russian soldier on trial in first Ukraine war-crimes case
eRm
May 13, 2022
30
Defense attorney Victor Ovsyanikov acknowledged that the case against the soldier is strong but said the court would make the final decision over what evidence to allow. Ovsyanikov said on Thursday that he and his client had not yet decided how he would plead.
After Friday's hearing, Ovsyannikov said he was assigned to defend Shishimarin as a lawyer for the Center for Free Legal Aid. His client "certainly knows all the details" of what he's accused of, Ovsyannikov said. The lawyer would not detail his defense strategy.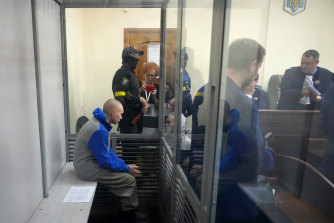 As the inaugural war-crimes case in Ukraine, Shyshimarin's prosecution is being watched closely. Investigators have been collecting evidence of possible war crimes to bring before the International Criminal Court in The Hague.
Prosecutor General Iryna Venediktova's office has said it is looking into more than 10,700 potential war crimes involving more than 600 suspects, including Russian soldiers and government officials.
Many of the alleged atrocities came to light last month after Moscow's forces ended their bid to capture Kyiv and withdrew from around the capital, exposing mass graves and streets and yards strewn with bodies in towns such as Bucha.
Loading
Volodymyr Yavorskyy, coordinator at the Center for Civil Liberties in Kyiv, said activists will monitor the Russian soldier's trial to ensure his legal rights are protected. It can be difficult, he said, to maintain the neutrality of court proceedings during wartime.
Russia is believed to be preparing similar trials for Ukrainian soldiers, Yavorskyy said. Kremlin spokesman Dmitry Peskov said, "I don't have any information about this trial and this incident."
Prosecutor-General Venediktova, her office and the Security Service of Ukraine, the country's law enforcement agency, posted a few details on social media from the investigation into Shyshimarin's alleged actions.
On February 28, four days after Russia invaded Ukraine, Shyshimarin was among a group of Russian troops that fled Ukrainian forces, according to Venediktova's Facebook account. The Russians allegedly fired at a private car and seized the vehicle, then drove to Chupahivka, a village about 320 kilometers east of Kyiv.
On the way, the prosecutor-general alleged, the Russian soldiers saw a man walking on the sidewalk and talking on his phone. Shyshimarin was ordered to kill the man so he would not be able to report them to Ukrainian military authorities. Venediktova did not identify who gave the order.
Shyshimarin fired his Kalashnikov rifle through the open window and hit the victim in the head.
"The man died on the spot just a few dozen meters from his house," Venediktova wrote.
The Security Service of Ukraine, known as the SBU, posted a short video on May 4 of Shyshimarin speaking in front of camera and briefly describing how he shot the man. The SBU described the video as "one of the first confessions of the enemy invaders".
"I was ordered to shoot," Shyshimarin said. "I shot one (round) at him. He falls. And we kept going. "
Russia takes losses in failed river crossing, officials say
Ukrainian and British officials said the destruction of a pontoon bridge Russian troops were using to try to cross over the Siversky Donets River in the east was another sign of Moscow's struggle to salvage a war gone awry.
Ukraine's airborne command said its troops "drowned the Russian occupiers".
Britain's Defense Ministry said Russia had lost "significant armored maneuvering elements" of at least one battalion tactical group in the attack earlier this week.
"Conducting river crossings in a contested environment is a highly risky maneuver and speaks to the pressure the Russian commanders are under to make progress in their operations in eastern Ukraine," the ministry said.
More sanctions
Britain has added Russian President Vladimir Putin's ex-wife and his alleged girlfriend to its sanctions list over the invasion of Ukraine.
The British government says its latest asset freezes and travel bans target the "shady network" of friends and allies who "owe Putin their wealth and power, and in turn support Putin and his war machine."
The sanctioned individuals include Putin's ex-wife Lyudmila Ocheretnaya; former Olympic gymnast Alina Kabaeva, who is "alleged to have a close personal relationship with Putin," according to the government; and several businessmen who are cousins ​​of the Russian president.