Russian shelling hits Ukraine power plant
eRm
March 3, 2022
90
U.S. waives Covid test for Americans leaving Russia, Belarus
The United States is waiving a requirement for negative Covid-19 tests from Americans leaving Belarus or Russia to travel home, the State Department said Thursday.
The Centers for Disease Control and Prevention said it would exercise its discretion to allow travel by U.S. citizens, permanent residents and holders of valid immigrant visas who were in either country by a Feb. 28 cut-off date.
Earlier, it made a similar waiver for Americans leaving Ukraine who had been in the country by Feb. 10. 
Fire out at Ukraine nuclear plant after Russian shelling
A fire that erupted in a training building at Europe's largest nuclear power plant amid heavy Russian shelling was extinguished, authorities said Friday.
The State Emergency Service of Ukraine said in a statement that there were no victims in the blaze at the Zaporizhzhia nuclear power plant, according to an NBC News translation.
"Russian army is firing from all sides upon Zaporizhzhia NPP, the largest nuclear power plant in Europe," the foreign minister, Dmytro Kuleba, said earlier on Twitter. "Fire has already broke out."
The International Atomic Energy Agency said no "essential" equipment had been damaged and that there were no changes in radiation levels.
Ukrainian President Volodymyr Zelenskyy spoke with President Joe Biden and European leaders about what he described in a Telegram post as the potential "nuclear catastrophe" the shelling could unleash.
"If there is an explosion it is the end for all of us," he said. "The end of Europe."
In a summary of their call released by the White House, Biden urged "Russia to cease its military activities in the area and allow firefighters and emergency responders to access the site."
Ukraine's rail system a lifeline for refugees fleeing war with Russia
Boris Johnson to seek U.N. Security Council meeting
The office of British Prime Minister Boris Johnson says he will seek an emergency U.N. Security Council meeting after Russian troops in Ukraine attacked a nuclear power plant and sparked a fire.
Johnson's office says he spoke to Ukrainian President Volodymyr Zelenskyy in the early hours of the morning. He says Britain will raise the issue immediately with Russia and close partners.
Johnson's office says he and Zelenskyy agree Russia must immediately cease attacking and allow emergency services unfettered access to the plant. The two agree a ceasefire is essential.
"The Prime Minister said the reckless actions of (Russian President Vladimir) Putin could now directly threaten the safety of all of Europe," Johnson's office said in a statement. "He said (the United Kingdom) would do everything it could to ensure the situation did not deteriorate further."
Russian negotiators say more talks will likely be held shortly
MOSCOW — Russian negotiators in talks with Ukraine say another round of talks will likely be held shortly.
Vladimir Medinsky, Russian President Vladimir Putin's adviser who led the Russian delegation in the talks Thursday in Belarus near the Polish border, said the parties' "positions are absolutely clear, they are written down point by point," including issues related to a political settlement of the conflict. He added without elaboration that "mutual understanding was found on part of them."
He confirmed that Russia and Ukraine reached a tentative agreement to create safe corridors for civilians to exit besieged cities and observe local cease-fires in areas where they will be created.
Leonid Slutsky, a senior Russian lawmaker who was part of the Russian delegation in talks, said that the details of safe corridors will need to be worked out quickly. He said that the next round of talks could lead to agreements, some of which would need to be ratified by Russian and Ukrainian parliaments.
Biden speaks with Zelenskyy
Biden spoke with Zelenskyy on Thursday evening, a White House official said.
The call came amid reports about a fire at the Zaporizhzhia nuclear power plant in southeast Ukraine. The plant, Europe's largest, accounts for about one-quarter of Ukraine's power generation.
"President Biden joined President Zelenskyy in urging Russia to cease its military activities in the area and allow firefighters and emergency responders to access the site," the White House said in a readout of the call.
Russian troops are firing at Europe's largest nuclear power plant, Ukrainian official says
Ukraine's foreign minister said Thursday that Europe's largest nuclear plant in the country's southeast was taking fire from Russian troops. 
"Russian army is firing from all sides upon Zaporizhzhia NPP, the largest nuclear power plant in Europe," the foreign minister, Dmytro Kuleba, said on Twitter. "Fire has already broke out."
Kuleba added that if the plant, which holds six of the country's 15 reactors, explodes, it will be far worse than the 1986 Chernobyl disaster.
In a video posted on Telegram, Andriy Tuz, a facility spokesperson, demanded that Russia stop shelling the plant and said there was a "real threat of nuclear danger," according to the Associated Press.
The development came one day after Mariano Grossi, the director general of the International Atomic Energy Agency, said he was "gravely concerned" about the invasion of Ukraine.
"It is the first time a military conflict is happening amidst the facilities of a large, established nuclear power program," he said.
"I have called for restraint from all measures or actions that could jeopardize the security of nuclear and other radioactive material, and the safe operation of any nuclear facilities in Ukraine, because any such incident could have severe consequences, aggravating human suffering and causing environmental harm."
Read the full story here. 
Ukraine-Russia tentatively agree on establishing humanitarian corridors
A second round of talks between Ukraine and Russia ended Thursday with both sides tentatively agreeing to establish humanitarian corridors that would allow the safe evacuation of Ukrainian citizens and supplies to be delivered for those left behind. 
The two countries also agreed on possible temporary cease-fires in the areas established as humanitarian corridors. Little else was agreed upon Thursday. 
"I think this is a significant progress," Vladimir Medinsky, Russia's chief negotiator in the talks, told reporters. "Russia once again calls on all civilians to use these humanitarian corridors if the fighting continues or to do everything possible to stop the fighting."
Mykhailo Podolyak, an adviser to the Ukrainian presidential office, said Wednesday more needs to be done to protect innocent civilians caught in the crossfire.
"The villages & towns where Russian troops' columns are stationed immediately turn into places of looting, robbery, murder," he said in a tweet. "We need humanitarian corridors – food, medicine, ambulance, evacuation. We need active help of international organizations."
Biden administration offers temporary immigration relief to Ukrainians in U.S.
The Biden administration said Wednesday it would allow some Ukrainians already in the U.S. to seek temporary immigration protections, citing the deadly war Russia is waging against the country.
"In these extraordinary times, we will continue to offer our support and protection to Ukrainian nationals in the United States," Homeland Security Secretary Alejandro Mayorkas said in a statement.
Temporary Protected Status runs for 18 months. To be eligible, applicants must have continuously resided in the U.S. since March 1, 2022, DHS said. It will not apply to those who entered the country after March 1. The temporary immigration status, once conferred, protects people without documentation against deportation action, allowing them to stay and work in the U.S.
Kremlin-backed RT America lays off staff
RT America, the U.S. cable news network widely seen as one of Putin's mouthpieces in the West, plans to halt production and lay off its employees, according to a memo from T&R Productions, the production company that operated the channel.
Misha Solodovnikov, the general manager of T&R Productions, told employees that it will be "ceasing production" because of "unforeseen business interruption events." (NBC News obtained a copy of the memo. The news was first reported by CNN.)
"Unfortunately, we anticipate this layoff will be permanent, meaning that this will result in the permanent separation from employment of most T&R employees at all locations," Solodovnikov wrote.
An RT America employee who spoke on condition of anonymity, citing concern about professional repercussions, said staff members were told they would receive two months of severance.
RT America is part of the Moscow-based RT network, which U.S. intelligence agencies have described as "Russia's state-run propaganda machine." In late 2017, T&R Productions registered as a foreign agent for the Russian government, according to a Justice Department release.
The channel aired a mix of news broadcasts, political commentary programs and talk shows hosted by the likes of William Shatner and Dennis Miller. (The shows featuring Shatner and Miller were produced by the independent media company Ora TV, which licensed content to RT America.)
NBC News reported this week that Miller would stop making his talk show because of Russia's invasion of Ukraine, according to a source familiar with his thinking.
In an email this week, Shatner insisted that he was not involved in the decision to license his show to RT and said he stood with the people of Ukraine.
Ukraine presses U.S. to sanction Russian oil and gas exports
Ukraine is calling on the Biden administration to sanction Russia's oil and gas exports, arguing that it's the only way to put real pressure on Putin to stop the invasion.
Andriy Kobolyev, the former head of Ukraine's state-owned gas company, Naftogaz, flew to Washington this week to make the case for limiting Russia's fossil fuel exports, meeting with more than a dozen lawmakers from both parties, as well as senior White House and State Department officials.
Putin has convinced the ruling elite in Moscow that "the West cannot survive without Russia's energy supply," Kobolyev told NBC News. Casting doubt on that premise would shake the foundation of his power, he said.
"That sounds like a very hard and painful step, but I don't see any other way for the West to stop the invasion," said Kobolyev, who has negotiated with Kremlin officials and Russia's state-owned Gazprom in his former role. "Eight years ago, everybody was saying Ukraine would not survive without Russian gas. We proved we could."
Ukraine Foreign Minister Dmytro Kuleba also called for a "full embargo" of Russian oil and gas exports this week.
Energy analysts say placing sanctions on the world's third-largest oil producer could trigger a spike in oil prices and wreak havoc on the global economy. But Kobolyev argues that there's sufficient oil production capacity in the U.S. and the global market to withstand the blow.
The Biden administration hasn't moved to ban Russian oil in the U.S. or issue sanctions for such products despite growing calls from lawmakers in both parties to cut off Russian imports. However, White House press secretary Jen Psaki said this week that Biden hasn't ruled out the idea.
U.S. TV producer charged with violating 2014 sanctions against Russian oligarch
Federal prosecutors in New York City have charged a U.S. television producer with violating sanctions by helping a Russian oligarch set up a TV network.
The charges against John "Jack" Hanick stem from his work for Konstantin Malofeyev, whom the U.S. sanctioned in 2014 over allegations that he helped finance the promotion of Russian separatists in Crimea.
"Malofeyev is closely tied to Russian aggression in Ukraine, having been determined by OFAC to have been one of the main sources of financing for the promotion of Russia-aligned separatist groups operating in the sovereign nation of Ukraine," U.S. Attorney Damian Williams said in a statement, referring to the Treasury Department's Office of Foreign Assets Control.
The indictment says Hanick worked for Malofeyev from 2013 until at least 2017 to create a Russian cable TV network and a Greek TV network. In addition to violating sanctions, Hanick is accused of making multiple false statements to FBI agents in an interview last month.
Prosecutors said he was arrested in London, where he had been living, on Feb. 3.
U.K. announces more sanctions against Russian oligarchs
The United Kingdom announced a "full asset freeze and travel ban" Thursday against Alisher Usmanov and Igor Shuvalov, who were described as two of "Russia's leading oligarchs with significant interests in the UK and close links to the Kremlin."
According to a statement from the U.K. government, Usmanov has had significant interests in English football clubs Arsenal and Everton, as well as owning luxury real estate. Shuvalov also has two luxury apartments in central London and is a "core part of Putin's inner circle, and headed up Russia's bid for the 2018 Football World Cup," the statement said. 
"Our message to Putin and his allies has been clear from day one — invading Ukraine would have serious and crippling economic consequences. Sanctioning Usmanov and Shuvalov sends a clear message that we will hit oligarchs and individuals closely associated with the Putin regime and his barbarous war," Foreign Secretary Liz Truss said in the statement. "We won't stop here. Our aim is to cripple the Russian economy and starve Putin's war machine."
The U.S. government also joined the sanctions against Usmanov and others. Usmanov's superyacht and private jet were among his assets blocked.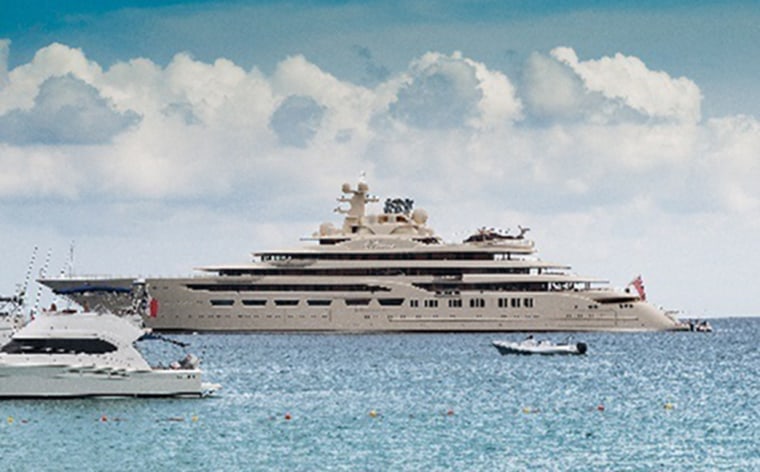 The superyacht "has two helipads and one of the world's largest indoor pools ever installed on a yacht," according to the Treasury Department's statement.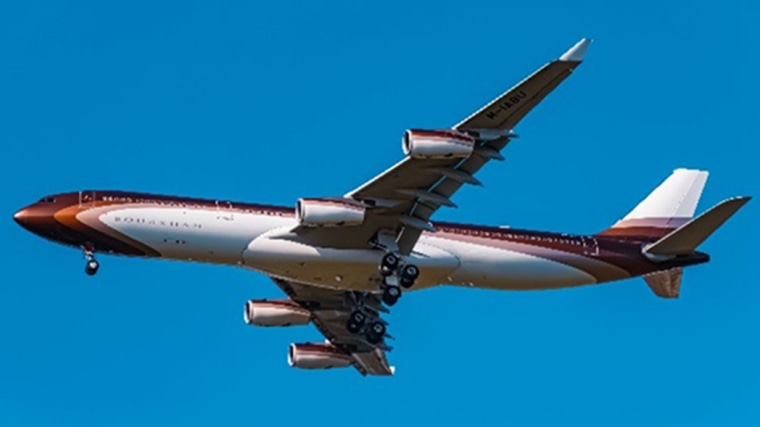 The jet "is one of the largest privately owned planes in Russia and was previously leased out for use by Uzbekistan's president."
Biden administration sanctions additional Russian oligarchs
WASHINGTON — The Biden administration announced new sanctions Thursday against additional Russian oligarchs and their families as U.S. officials prepare for the invasion of Ukraine to intensify in the coming days.
The sanctions are the latest move by Biden and European allies to pressure Putin to de-escalate the situation in Ukraine after he launched an invasion last week.
The Biden administration said in a statement that the new sanctions would seize yachts, luxury apartments, money and other assets belonging to Russian oligarchs in U.S. jurisdiction.
Among those targeted is Dmitry Peskov, a prominent spokesperson for the Kremlin. Other oligarchs sanctioned include Nikolai Tokarev, Boris Rotenberg, Arkady Rotenberg, Sergei Chemezov, Igor Shuvalov and Yevgeniy Prigozhin, as well as their spouses and children.
Read the full story here.
International Cat Federation bans Russian felines from competitions
The International Cat Federation has banned Russian cats from international competitions, condemning the invasion of Ukraine as an "unprecedented act of aggression."
Fédération Internationale Féline (FIFe), which considers itself "the United Nations of Cat Federations," with members from over 40 counties, said in a statement on its website that it "cannot just witness these atrocities and do nothing."
Starting this week, no cat bred in Russia can be imported or registered in any FIFe pedigree book outside Russia and no cat belonging to exhibitors living in Russia may be entered at any FIFe show outside the country.
The group said the new regulations will last through May 31 and "will be reviewed as and when necessary."
Read the full story here. 
Life under siege: Inside Ukraine's southern cities facing the Russian assault
Each morning since Russian forces invaded Ukraine a week ago, Irina Khabaluk has awakened alongside her husband and their two young children feeling anxious about what fresh pain the day will bring. 
From her apartment in the port city of Kherson, Khabaluk is on the front lines of the fierce fight for Ukraine's south.
Days of intense shelling have left residents like her terrified to leave their homes, feeling helpless while food supplies run low. 
"There is just shock and disbelief," Khabaluk, a project manager, said by phone from Kherson, a city of almost 300,000 people, where she has lived all her life. "We stopped saying 'Good morning' to each other when we open our eyes, because the morning is never good anymore."
Kherson Mayor Ihor Kolykhaev said Thursday that Russian troops had captured the city, which sits on the strategically important Dnieper River.
Read thefull story here. 
U.S. military sets up channel to communicate with Russian military
The U.S. military has established channels to communicate directly with the Russian military as a way to deconflict tactical movements around Ukraine, a senior defense official said Thursday.
U.S. forces do not have any aircraft flying over Ukraine or ships near where Russia's navy is operating in the Black Sea and the Sea of Azov, but the U.S. military has assets all around Ukraine. The amount has increased in the past few weeks as the Biden administration has sent more troops and assets to Ukraine's neighbors as a way to shore up NATO ally defenses.
With the U.S. military operating in the area, concerns persist of a possibility of a close encounter that leads to a miscalculation and an escalation.
To mitigate that, the U.S. European Command has set up a deconfliction mechanism with its counterparts at the Russian ministry of defense.
The senior defense official said there is more than one channel and this communication has been operable for about the past day.
'Historic': E.U. gives temporary protection to those fleeing Ukraine
The European Union will give temporary protection to those fleeing the war in Ukraine, it said Thursday. 
Under a new directive, those fleeing the war will be granted temporary protection in the E.U. and given a residence permit. They will have access to housing, education and the labor market.
Unaccompanied children and teenagers will be entitled to legal guardianship. 
The move was welcomed by Roberta Metsola, the president of the European Parliament, who tweeted that it was "solidarity in action."
Ylva Johansson, the E.U.'s commissioner for home affairs, also called it "historic."
The law will come into force once it is formally adopted by the European Council, a step expected to take place in the coming days.
Zelenskyy's adviser says needs haven't been met after 2nd round of talks with Russia
After a second round of negotiations with Russia, Ukrainian President Volodymyr Zelenskyy's adviser Mikhail Podolyak says Ukraine's needs haven't been met. 
"The second round of negotiations is over," Podolyak said in a Twitter post. "Unfortunately, the results Ukraine needs are not yet achieved. There is a solution only for the organization of humanitarian corridors… ." 
Ukrainian government websites briefly defaced with false claims of surrender
Some regional Ukrainian government websites were briefly defaced with false claims that the areas have surrendered to Russia, the Security Service of Ukraine said Thursday.
President Volodymyr Zelenskyy has repeatedly said the country will not surrender despite Russia's military assault.
The announcement of website defacements comes after Ukraine publicly warned that Russia would conduct a disinformation campaign to falsely claim that major Ukrainian political and military leaders had surrendered.
Official websites for Ukraine's Volyn province were briefly defaced with the false claims of surrender, the province's local government announced on its Facebook page.
Putin says military operation in Ukraine going to according to plan
Russian President Vladimir Putin said Thursday that the military operation in Ukraine was going according to schedule and that objectives have been met. 
Putin, whose speech was translated into English, spoke with members of his Security Council in a video call and once again claimed that the Russian military was fighting "neo-Nazis" in Ukraine, an accusation experts say is slanderous and false.
Putin has long sought to falsely paint Ukraine as a Nazi hotbed, which is a particularly jarring accusation given that Ukrainian President Volodymyr Zelenskyy is Jewish and lost three family members in the Holocaust.
Putin also said Thursday that those fighting in the Russian military were heroes and ordered payment to the families of soldiers who had been killed.
Russia's sole independent TV station shuts down
TV Rain, the last remaining independent television channel in Russia, suspended operations Thursday, but not before journalists walked off set declaring, "No war," and the station broadcast a black-and-white performance of Tchaikovsky's "Swan Lake."
The video choice was symbolic: a nod to when it was played in 1991 on state television as the rest of the world watched the beginning of the collapse of the Soviet Union.
Natalia Sindeeva, who helped co-found TV Rain in 2010 with the slogan the "Optimistic channel," reportedly told viewers: "We have never had such a difficult decision in our lives."
The Russian government flagged the station this week for restriction after it was accused of having "materials calling for extremist activity" and for publishing "false information about the actions of the Russian military as part of a special operation" in Ukraine.
Another independent media outlet in Russia, the radio network Echo of Moscow, announced Thursday that it was shutting down following similar accusations by the government.
'Crowded carriages' as people flee Russian shelling in Kharkiv
LVIV, Ukraine — Sheltering from Russian shelling with his 1-year-old son in Kharkiv's metro system, Serheii Shpak said he decided to leave the city in northeast Ukraine. 
He said the train was filled with panicked people making their way west. 
"The carriages were really crowded," said Shpak, a web developer, adding that he planned to head to the city of Vinnytsia so his family could start a new life away from the threat of Russian attacks.
E.U. High Representative Josep Borrell slams Russia for censoring media, cracking down on antiwar protests
Josep Borrell, high representative of the European Union for foreign affairs and security policy, said Thursday that Russia is cracking down further on peaceful antiwar protests, as well as on the media. 
Borrell, who also serves as vice president of the European Commission, said in a statement that two more prominent Russian media outlets, Echo of Moscow and TV Rain, were banned, and that Echo was liquidated Thursday. 
"These media outlets are being silenced for giving a platform to sources and voices that challenge the falsified picture of the situation on the ground in Ukraine as portrayed by the Russian government and the disinformation network under its control, including Russian state-controlled TV channels," he said. 
Borrell said the E.U. applauds the courage of Russians who have publicly spoken out against President Vladimir Putin and the invasion into Ukraine as well as Russian independent media. 
Pelosi says she would back oil sanctions against Russia
House Speaker Nancy Pelosi told reporters Thursday she would support banning all imports of Russian oil and gas.
"I'm all for that. Ban it," she said during her weekly press conference. President Joe Biden faces growing calls from fellow Democrats to ban imports of Russian oil. 
7 Arctic Council members pause meetings as they condemn Russia's invasion of Ukraine
Seven of the eight members of the Arctic Council, an intergovernmental forum of Arctic nations, issued a statement Thursday saying they were "temporarily pausing participation in all meetings of the Council" and condemned Russia's actions in Ukraine. Russia is the current chair of the Arctic Council. 
The United States, Canada, Denmark, Finland, Iceland, Norway and Sweden said Thursday they condemned Russia's "unprovoked invasion of Ukraine" and "the grave impediments to international cooperation, including in the Arctic, that Russia's actions have caused."
"We remain convinced of the enduring value of the Arctic Council for circumpolar cooperation and reiterate our support for this institution and its work," the statement, released by the U.S. Department of State said. "We hold a responsibility to the people of the Arctic, including the indigenous peoples, who contribute to and benefit from the important work undertaken in the Council." 
The statement said representatives of the member nations will not travel to Russia for meetings and are "temporarily pausing participation in all meetings of the Council and its subsidiary bodies, pending consideration of the necessary modalities that can allow us to continue the Council's important work in view of the current circumstances."
France seizes yacht linked to Russian oligarch
France has seized a yacht linked to Rosneft boss Igor Sechin in the Mediterranean port of La Ciotat, the country's finance minister has said.
In a statement Thursday, French Finance Minister Bruno Le Maire said the vessel was seized overnight as it was being prepared to depart the dock, despite being in need of repairs.
The yacht was owned by a company of which Sechin was identified as being the main shareholder, the statement said.
Sechin had been included on a list of Russian oligarchs to be subject to European Union sanctions in response to Russia's invasion of Ukraine.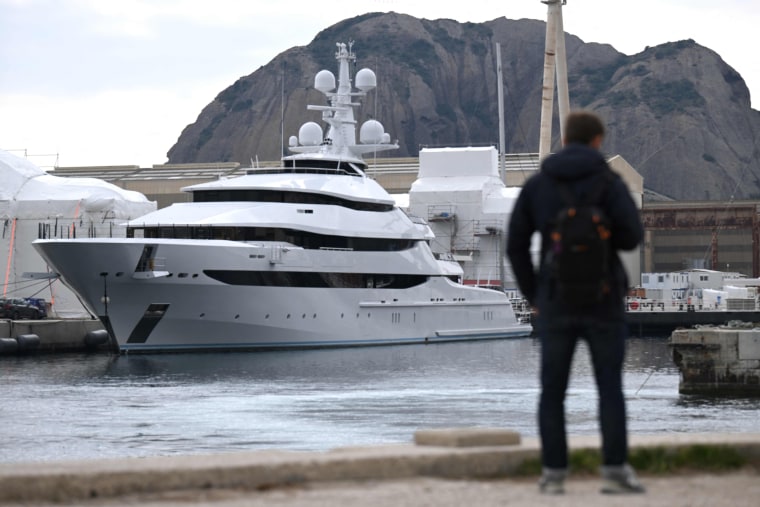 Putin and Macron share 'not-so-friendly' phone call
In a 90-minute phone call Thursday with President Vladimir Putin, French President Emmanuel Macron warned the Russian leader that "he was committing a serious mistake" by invading Ukraine, and that "his actions would punish his own country," according to an Élysée Presidential Palace source.
Putin initiated the call with Macron, the source said, describing it as "not-so-friendly."
Putin balked at Macron's concerns, the source added, and said the Russian leader was attempting to "maintain his justifications for the invasion on Ukraine" and that if "Ukrainians did not accept the conditions laid out in a diplomatic path demanded by the Russians, then they would obtain its goal by military force."
The source added: "Putin's goal is to take control of all of Ukraine."
The Kremlin's version of the phone call described the conversation as a "frank exchange," and that Putin disputed "many of the points" Macron raised regarding Russia's reasons for its "special operation."
Airline software giant ends distribution service with Russia's Aeroflot
Sabre Corp. on Thursday said it terminated a global distribution agreement with Russia's Aeroflot, crippling the country's largest airline's ability to sell seats.
The Texas-based airline software giant provides airline ticket distribution and reservation services for airlines around the world. Sabre's decision to end the distribution agreement means Aeroflot's flights won't show up on online travel agencies or other third party sites. Aeroflot didn't immediately comment.
It is the latest measure that has isolated Russia's airlines since the country invaded Ukraine last week.
Read the full story here.
Kherson mayor says Russian troops have 'captured the city'
Kherson Mayor Ihor Kolykhaev said Thursday that Russian troops have "captured the city."
"Yes it really is true. The situation is difficult, we need a green corridor for humanitarian aid for our city!" he told NBC News via WhatsApp.
The mayor said Russian troops had established a "military commandant's office." He said he was "not offered any conditions for cooperation."
However, Kolykhaev said, he had outlined a number of conditions himself, including a demand that "there must be only the Ukrainian flag above the building of the city council because Kherson is Ukraine."
"There can be no tanks in the city," he also said, adding: "There should be green corridors for humanitarian convoys and for evacuation of the population if required." 
The head of Kherson's regional council had said earlier Thursday, however, that Russian forces had taken control of the city's regional state administration building.
In a Facebook post, Hennadiy Lahuta said Russian attackers had "completely occupied the building of the Kherson Regional State Administration."
"However, we have not given up our responsibilities," Lahuta said.
Ukraine's foreign minister tells NATO 'you will be next' if 'radical steps' are not taken
Ukrainian Foreign Minister Dmytro Kuleba warned NATO partners that a direct confrontation with Russia is "inevitable" unless the military alliance helps Ukraine bring an end to the current conflict. 
"You can think as much as you want about how to avoid a direct confrontation with Russia," he said Thursday afternoon during a TV marathon. "But if you do not help us to stop it now, a direct confrontation will be inevitable because you will be next."
Ukrainians continue to be threatened by Russian airplanes, helicopter and missile systems, he said. "Therefore, if you do not take radical steps to strengthen Ukraine's air defense, the blood of our dead citizens will be in your hands, as well."
In a tweet Thursday he also said, "Russia's barbaric war tactic is to manipulate the civilian suffering it itself inflicts."
The television address came as a second round of talks was expected to take place between Russia and Ukraine.
"Your restraint and your unwillingness to take the next steps — all this gives Russia the opportunity to continue the killings without punishment," he said.
Serhii, the father of Iliya, a teenager, cries over his son's body lying on a stretcher at a maternity hospital converted into a medical ward in Mariupol, Ukraine, on Wednesday.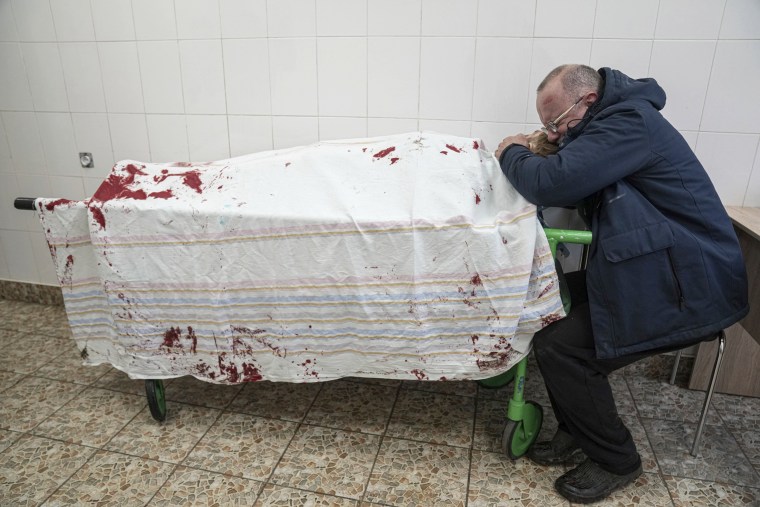 Internet governing board won't cut off Russia
The internet's primary international governing board has rejected Ukraine's request to cut Russia's connections to the rest of the world.
On Monday, Ukraine asked the Internet Corporation for Assigned Names and Numbers, which oversees domain name management for the internet, to cancel connections to websites on Russia's .ru domain and shut down global internet access that comes from St. Petersburg and Moscow. 
ICANN, which prides itself on being an apolitical body, denied Ukraine's request Wednesday evening, saying: "Our mission does not extend to taking punitive actions, issuing sanctions, or restricting access against segments of the Internet – regardless of the provocations."
White House asks Congress to provide $10 billion in humanitarian and defense assistance for Ukraine
The Biden administration has asked Congress for $10 billion in humanitarian and defense assistance for Ukraine. 
In a letter to House Speaker Nancy Pelosi, D-Calif., on Thursday, Office of Management and Budget Director Shalanda D. Young said that the administration appreciates Congress' support for Ukraine, which has allowed the United States to provide $1.4 billion in assistance to the country since 2021. 
"This request identifies an immediate need for $10.0 billion in additional humanitarian, security, and economic assistance for Ukraine and Central European partners due to Russia's unjustified and unprovoked invasion," Young said. "It also outlines a number of authorities needed to provide maximum flexibility in supporting Ukraine, our European allies and partners, and other emergent global needs."
This is more than the $6.4 billion the administration had asked Congress for last week. 
Young urged Congress to wrap this emergency funding into a governmentwide spending package by March 11. 
Young added that she anticipates Congress may need to provide more to Ukraine over time. 
Former Zelenskyy adviser expresses concern for psychological toll of ongoing conflict
A former adviser to President Volodymyr Zelenskyy has sounded the alarm on the psychological toll of Russian President Vladimir Putin's war on Ukrainians as Moscow's invasion continues.
"I'm worried about the psychological state of the civilians, especially women and children. Every little bit helps," Igor Novikov said in an interview with MSNBC on Wednesday.
The former adviser also described the emotional toll on his own loved ones. "My family's kind of psychological state disintegrating and my older daughter was crying. My younger daughter disturbed and I couldn't afford to leave them alone," he said, explaining why he could not attend a scheduled interview Tuesday. 
Novikov went on to describe his teenage daughter breaking down and "crying out of the blue with no warning."
He urged people around the world to join in the efforts to help in whatever way they can. 
"If there's a message to the people of Ukraine, it would make a difference. Why don't we get like Western celebrities that record those messages, #stand with Ukraine and we'll provide you with numbers of individual civilians. Why not give them a call and support them?" he suggested. 
"It might save somebody's life," he said.
The Emmanuel tenor bell at Notre Dame, Paris, rang out with a "call for peace in Europe," following Russia's invasion of Ukraine.
Volunteers assemble flak jackets in a warehouse in Prague as a part of a shipment to Ukraine on Tuesday.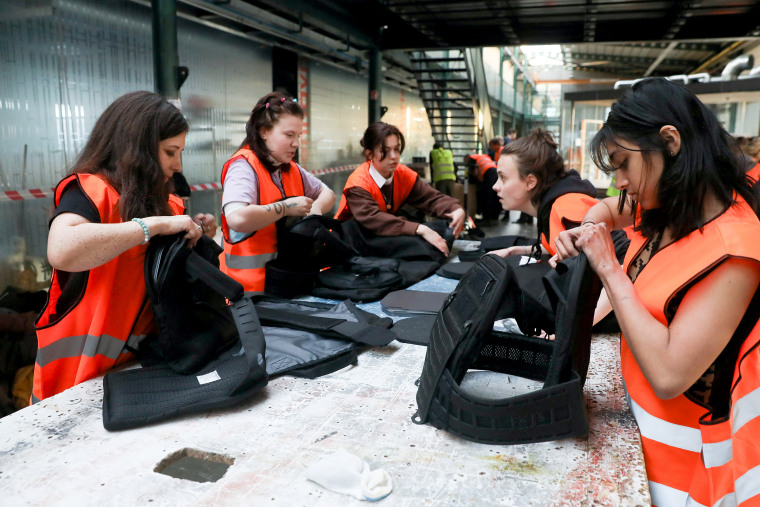 F1 terminates Russian Grand Prix contract
Formula One has terminated its contract with the Russian Grand Prix official promoter Ano Rosgonki, it said in a statement Thursday.
"Formula 1 can confirm it has terminated its contract with the Russian Grand Prix promoter," it said. "It means Russia will no longer have a race in the future."
In a statement Thursday, Ano Rosgonki said that it's performing its refund obligations in full.
Formula One's governing body, FIA, had announced last week that the Russian Grand Prix 2022 would be canceled, and with it, the race scheduled in Sochi for September. On Tuesday, it had said Russian and Belarusian racers could compete under a neutral flag.
"The FIA is watching the developments in Ukraine with sadness and shock and I hope for a swift and peaceful resolution to the present situation," FIA President Mohammed Ben Sulayem said Tuesday.
Kherson regional council head says it will continue to operate
Kherson's regional council will continue to operate and provide help to its citizens despite Russian forces taking control of the city's regional state administration building, the council's head said Thursday. 
In a Facebook post, Hennadiy Lahuta said Russian attackers had "completely occupied the building of the Kherson Regional State Administration."
"However, we have not given up our responsibilities," Lahuta said.
"The regional operational headquarters, where I am the head, continues to work and address pressing issues to help residents of the region," he continued. 
Russia has said its forces have taken control of the southern port city. British intelligence on Thursday said that, although Russian forces have entered the city, the situation remains unclear.  
Lahuta called on Kherson's inhabitants to stay calm. "We are waiting for humanitarian aid. Please do not believe in fakes and do not panic."
Nuclear weapon use 'not in the head' of Russians, Lavrov says
Russia's foreign minister Sergey Lavrov has said the idea of nuclear warfare is "not in the heads" of Russians.
Lavrov told journalists that it was "clear that World War Three can only be nuclear," Russian state media RIA Novosti reported Thursday.
Lavrov said it appeared as though the thought of "a nuclear war is constantly twisting in the heads of Western politicians," but he said it is "not in the heads of the Russians."
"Therefore, I assure you that we will not allow any provocations to force us out of balance," he said. 
Residential buildings heavily damaged in Kharkiv, Ukraine, on Thursday after continued Russian attacks.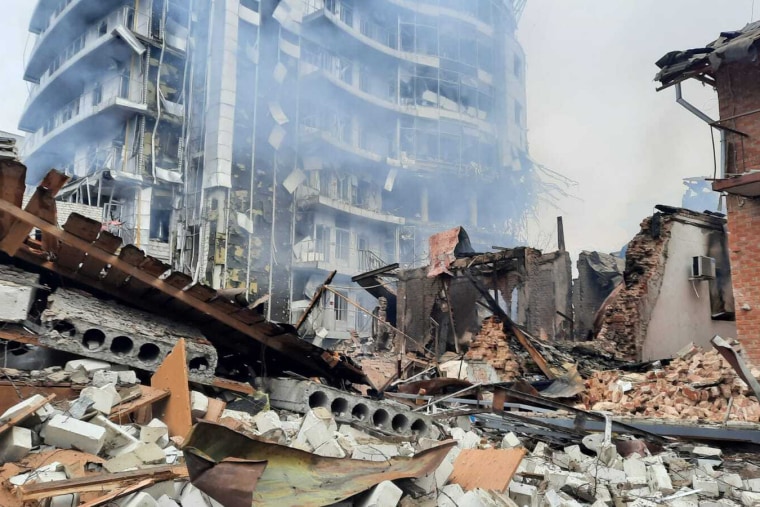 EU must be prepared to host millions of refugees, says European Commissioner for Home Affairs
European Union member states must be prepared to host millions of refugees from Ukraine as the conflict develops, European Commissioner for Home Affairs Ylva Johansson said Thursday.
"We are in a very, very dangerous situation with the development in Ukraine. We have to prepare for millions of refugees to come to the European Union," Johansson said ahead of a meeting of the bloc's Justice and Home Affairs Council.  
"This is really a moment to be proud of being European," she added, referring to the outpouring of donations and efforts by European citizens to house incoming fugitives from Ukraine. "But this is also a moment for strong decisions … We need proper guidance on how to deal with the different situations at the border." 
Johansson said she expected the new legislation for the temporary arrangement for refugees from Ukraine in Europe to be passed in the coming days. The current proposal offers temporary residence rights to refugees from Ukraine for up to three years, which would include the right to work and social welfare. 
Second round of Russia-Ukraine talks expected to begin today, Russia says
A second round of talks between Russia and Ukraine is expected to begin today, the head of the Russian delegation has said. 
Vladimir Medinsky, adviser to Russian President Vladimir Putin, said a second round of talks were expected to begin around 7 a.m. ET in the Brest region of Belarus.
Medinsky said the Russian delegation had a "block of proposals in three parts" concerning "the military-technical aspect," as well as "humanitarian-international and political" issues. 
"We are now bringing positions together, we are not wasting time," he said.
On Wednesday, Belarus' Ministry of Foreign Affairs tweeted out a photo of a conference room, saying it had already been set up "to host second round of Russia-Ukraine negotiations."
It comes days after the first round of talks at the Belarusian border ended without a clear breakthrough.
Russian forces 'regrouping' to attack in the direction of Kyiv, Ukrainian military says
Russian forces are "regrouping" in an effort to reach the capital city of Kyiv after they failed to succeed in northern cities, the Ukrainian military has said.
Part of the Northern Fleet of the Russian Armed forces, which has lost combat capability, is "regrouping and trying to attack in the direction of Brovary and Kyiv."
"The enemy is trying to break through to the capital," said Kyiv Mayor Vitali Klitschko in a Telegram post Wednesday night. The city was under heavy shelling, with private houses, cars and police facilities damaged, he said.
The Ukrainian military also said a fleet of four large landing ships in the Black Sea – accompanied by three missile boats – was headed in the direction of Odessa in southern Ukraine. The military said that Naval groups continued to capture sailors and fire on civilian ships.
"Kyiv and other Ukrainian cities are suffering from enemy missile strikes," said the General Staff of the Armed Forces of Ukraine on Facebook.
A destroyed building in a residential area of Zhytomyr, Ukraine on Tuesday.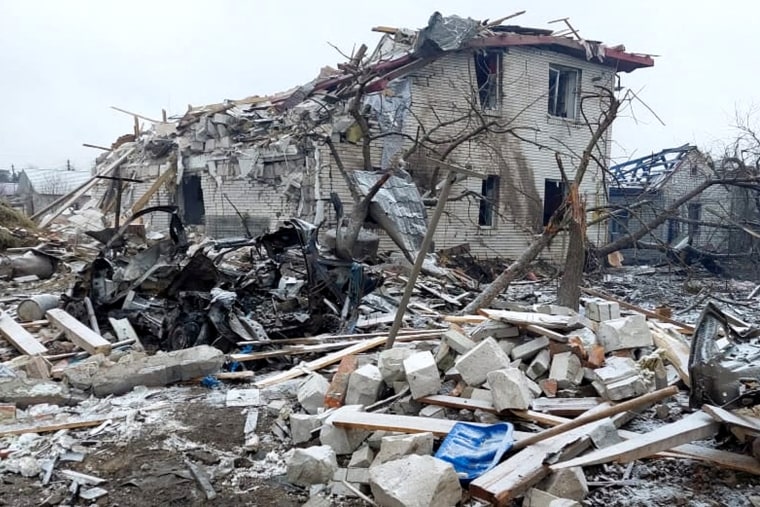 Ukraine foreign minister calls conflict a 'true People's War for Ukraine'
Ukrainian foreign minister Dmytro Kuleba has called the ongoing conflict a "true People's War for Ukraine," hailing residents who blocked the road leading to a nuclear power plant in Enerhodar, in the country's north-west, on Thursday. 
"This is a true People's War for Ukraine. Putin has no chance of winning it," the minister tweeted along with a photo of the crowd on the road.
Kuleba also urged the international community to shut the country's airspace. "We need partners to help Ukraine defend itself. Especially in the air. Close the sky now!"
Russian and Belarusian athletes barred from the Paralympic Games
The International Paralympic Committee has decided to refuse the entry of athletes from Russia and Belarus for the Beijing 2022 Paralympic Games, it said on Thursday.
This comes after IPC had earlier on Wednesday allowed the Russians and Belarusians to compete "as neutral athletes".
"In taking our decision yesterday we were looking at the long-term health and survival of the Paralympic Movement," said the IPC President Andrew Parsons in a statement on Thursday.   
"However, what is clear is that the rapidly escalating situation has now put us in a unique and impossible position so close to the start of the Games."
Multiple countries had threatened to boycott the games which would put the Games in grave danger – the impact of which would be far reaching, Parsons said.
A total of 83 Para athletes have been affected by this decision, he said.
"To the Para athletes from the impacted countries, we are very sorry that you are affected by the decisions your governments took last week in breaching the Olympic Truce.  You are victims of your governments' actions," he said.
Russian tanks have made 'little discernible progress' towards Kyiv, British defense ministry says
A column of tanks advancing towards Kyiv has made "little discernible progress" since Tuesday and remains more than 18 miles from the centre of the capital, according to the British Ministry of Defence. 
The delay is due to "staunch Ukrainian resistance, mechanical breakdowns and delays," the ministry said.
Kharkiv, Chernihiv and Mariupol remain under Ukrainian control despite continued heavy Russian shelling, it continued, while the situation in Kherson remains unclear after Russian forces entered the city. Russia had claimed it had seized control over the southern port city. 
The ministry noted that Russia's own defense ministry has also for the first time announced casualties suffered since first attacking Ukraine last Thursday, reporting 498 dead and 1,597 wounded. 
Independent Russian radio network Echo of Moscow disbands
Independent Russian radio network Echo of Moscow has shut down after its board of directors voted to liquidate its station and news site on Thursday. 
The closure comes days after the station, one of Russia's last liberal news sources, was taken off air.
The country's prosecutor general had called for access to the station to be restricted over its coverage of Russia's invasion of Ukraine.