Russian Death Toll in Ukraine Passes 50k as Putin's Army Pays High Price
eRm
September 6, 2022
29
Ukrainian military officials claimed that Russia's death toll in Ukraine passed 50,000 on Tuesday, amid a wider effort to push Russian troops out of the occupied southern Kherson region.
The General Staff of the Armed Forces of Ukraine posted Ukrainian estimates of the total losses Russia has faced since Russian President Vladimir Putin's invasion began on February 24 on its Facebook page Tuesday.
According to the post, 50,150 Russian military personnel have been killed since the conflict began, with 350 soldiers killed between Monday and Tuesday morning.
The general staff said a total of 2,077 tanks have been destroyed as of Tuesday morning local time, with nine destroyed in the past day.
A total of 4,484 armored combat vehicles have been destroyed, as well as 1,179 artillery units and 876 unmanned aerial vehicles.
Ukrainian officials also said that 236 aircraft, 207 helicopters, 15 ships/boats, 3,305 vehicles and fuel tankers, 209 cruise missiles, 109 pieces of special equipment, and 156 anti-aircraft warfare systems have been destroyed by its armed forces.
Newsweek has been unable to independently verify the figures. Russia rarely discloses its military losses.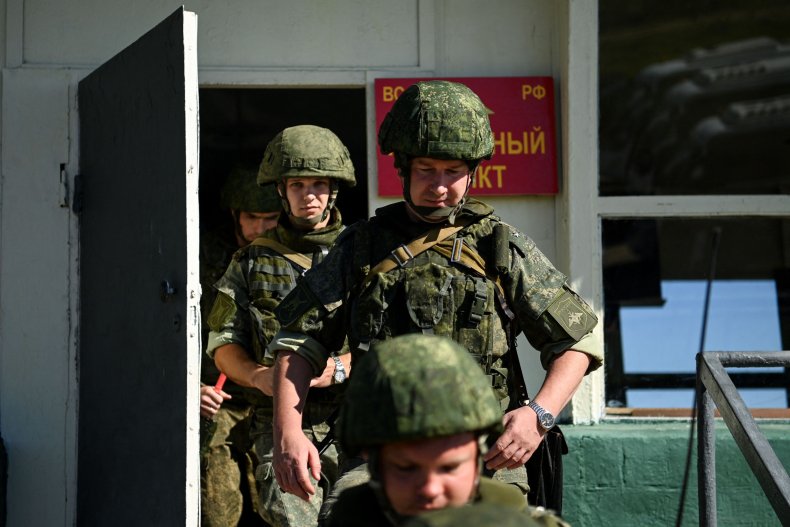 Moscow last released figures on March 25, when a member of the Russian defense ministry told state media that 1,351 soldiers had been killed and 3,825 had been wounded. The UK government said in April that Russia had lost about 15,000 troops.
The General Staff of the Armed Forces of Ukraine claimed Russia suffered the greatest losses in the past day in Ukraine's eastern Donetsk region.
Meanwhile, on Tuesday, the Russian military claimed to have killed up to 250 Ukrainian fighters in the Donetsk region, using precision-guided weapons to target units of two brigades.
"High-precision air-based weapons hit the temporary deployment points of units of the 54th and 93rd mechanized brigades of the Armed Forces of Ukraine near the city of Artyomovsk in the Donetsk People's Republic," said Lieutenant-General Igor Konashenkov, the official representative of Russia's defense ministry.
"Up to 250 military personnel and more than 10 vehicles and armored vehicles were destroyed," he said.
This news comes as Ukraine is waging a counteroffensive to retake the southern Kherson region, which was seized by Russia in March.
Ukrainian President Volodymyr Zelensky told ABC News in an interview that he believes Ukraine will slowly push out all Russian forces from the country's currently occupied territories.
"It's a very difficult war. We will regain our territory," Zelensky said, adding that Ukrainians "need to, step-by-step, de-occupy our territory."
"This task is difficult and it doesn't only depend on us, but I'm sure that is what will happen," he added. "It's only a matter of time."
When pressed on why Ukraine launched a counteroffensive in Kherson, Zelensky said: "I won't say that it's only counteroffensive in Kherson … There is a direction or directions—plural—and we have to move forward."
Newsweek has reached out to Russia's foreign ministry for comment.