Russia-Ukraine war: UN 'determined' to visit Zaporizhzhia nuclear plant; Russia turning site into 'active war zone', says US – live news | Ukraine
eRm
August 26, 2022
62
Key events
Navalny ex-staffer tells of being FSB informer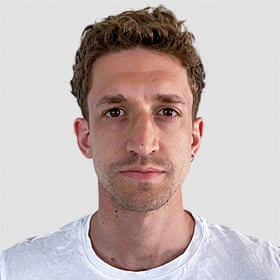 Pjotr Sauer
When Mikhail Sokolov signed up to work for the FSB security services, he never imagined his journey would end here: in a crowded refugee camp on the outskirts of a sleepy town in the rural Netherlands.
"The last six years were a rollercoaster. I am happy I am no longer in the claws of the FSB," the former FSB informant and staffer for the jailed opposition leader Alexei Navalny's anti-corruption network said in an interview with the Guardian this week.
The 25-year-old is now living in a crowded dormitory, shunned by fellow activists, while being trolled online by his former FSB handlers.
Sokolov's story shines a rare light on the inner workings of Moscow's secretive security services and their attempts to infiltrate the Russian opposition at home and abroad.
He is part of what appears to be a trend of ex-FSB informers coming clean after Moscow's decision to invade Ukraine.
"I am convinced there were hundreds of us," Sokolov said, sitting at a cafe near the refugee centre in the south of the Netherlands. "Nearly every organised opposition group had an informer at low or mid-level."
Read the full story below.
Kyiv renames nearly 100 streets to shed Russian past
Ukraine's capital renamed 95 streets on Thursday as part of a drive to purge Russian and Soviet place names, Kyiv's mayor announced a day after Ukraine marked 31 years of independence.
Since Russia invaded in February, Ukraine has accelerated what it calls "derussification", a campaign to shed the legacy of hundreds of years of rule by Moscow.
Kyiv mayor, Vitaliy Klitschko, said:
[The new names] should perpetuate the memory of significant historical events of Ukraine, as well as famous figures and heroes who glorified Ukraine and fought for the independence of our state."
One street was named after London while another was dubbed "Ukrainian rebirth street."
Another street, previously bearing the surname of a Soviet defence minister, was renamed after Ukraine's Azov regiment.
Russia's claim that it is deliberately slowing the pace of its military campaign in Ukraine is "almost certainly deliberate misinformation", according to British intelligence.
Earlier in the week, the Russian defence minister, Sergei Shoigu, told the Shanghai Cooperation Organisation that Russia was slowing its campaign to reduce casualties.
It is also highly likely that Shoigu and Russian president Vladimir Putin have fired at least six generals for not advancing quickly enough, the latest UK Ministry of Defence report reads.
Russia's offensive has stalled because of poor Russian military performance and fierce Ukrainian resistance. Under Shoigu's orders, the forces operating in Ukraine have repeatedly missed planned operational timelines."
Report identifies 21 'filtration' locations in Ukraine run by Russia
Russia and its proxy forces in Ukraine are operating 21 locations used to detain, interrogate and process prisoners of war and civilians, according to a new report by Yale University researchers backed by the US state department.
The Conflict Observatory report cites commercial satellite imagery and open-source information to identify with 'high confidence' the separate locations – including facilities that previously served as schools, markets and regular prisons. It also identifies possible graves at one prison complex.
A Conflict Observatory hub that analyses evidence of Russian war crimes released a report on Thursday which they say provides proof of forced deportation and filtration camps in Ukraine.
The Humanitarian Research Lab at Yale School of Public Health that produced the report is a partner in a US state department-funded Conflict Observatory launched in May to capture and analyse evidence of war crimes and other atrocities allegedly perpetrated by Russia in Ukraine.
Nathaniel Raymond, the lab's executive director, said the findings showed Russia and its proxies had established a "system of filtration" to sort people in areas that fall under Russian occupation that represents a "human rights emergency."
Ukrainian officials have accused Russia of deporting hundreds of thousands of people from Russian-occupied areas of Ukraine.
Thursday's report focused on Donetsk region, where Russia and its proxy the self-declared Donetsk People's Republic took control of most of the city of Mariupol in March. The city's mayor said in April that about 40,000 civilians from the city had been forcibly moved into Russian-controlled territory or taken to Russia.
The report identified a system that brings in civilians in conflict-affected areas, puts them through registration and interrogation before they are either released, kept in detention, or transported to Russia.
Outgoing British prime minister, Boris Johnson, has reportedly received a discount card for any future trips taken on Ukrainian trains.
A photo of Johnson shared by Ukrainian media outlets shows the PM holding a loyalty card "Ukrzaliznytsia" number 001.
UN to visit Zaporizhzhia nuclear plant
Negotiations are under way for the UN's nuclear watchdog to visit the site, and Ukraine's top nuclear official told the Guardian that IAEA inspectors could arrive by the end of the month.
The IAEA said Ukraine had informed it the plant temporarily lost connection, "further underlining the urgent need for an IAEA expert mission to travel to the facility".
We can't afford to lose any more time. I'm determined to personally lead an IAEA mission to the plant in the next few days," the organisation's director general, Rafael Grossi, said.
Zelenskiy also urged:
The IAEA and other international organisations must act much faster than they're acting now. Because every minute the Russian troops stay at the nuclear power plant is a risk of a global radiation disaster."
At least 25 people have been confirmed dead after a Russian rocket strike on a Ukrainian train station.
Russian forces attacked a train in the village of Chaplyne, Dnipropetrovsk oblast on Wednesday.
The deputy head of the president's office, Kyrylo Tymoshenko, reported on Telegram that two children were killed in the attack. Russia has since confirmed it was behind the attack.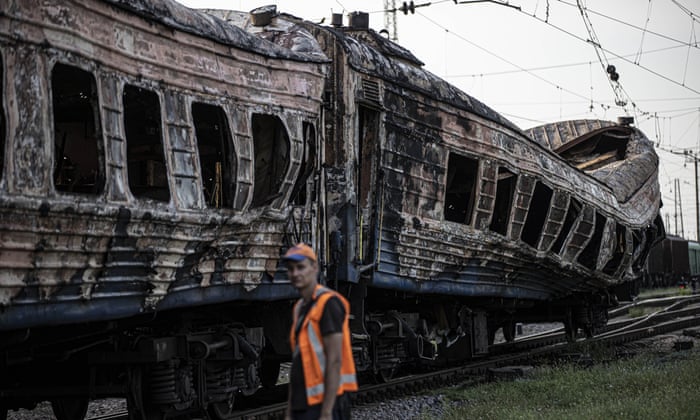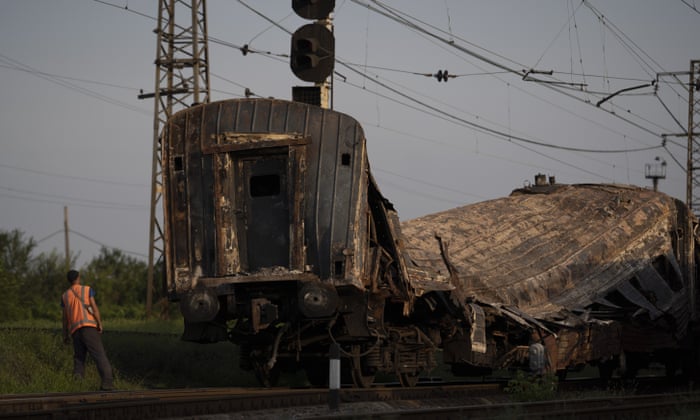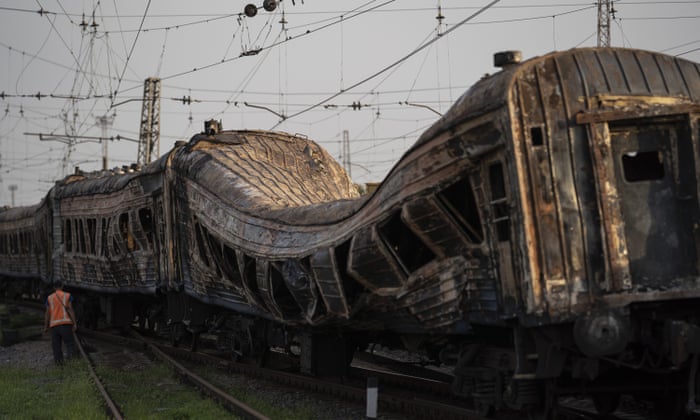 US condemns Russia for turning site into 'active war zone'
The US has condemned any Russian bid to divert energy from Ukraine where authorities said the vast Zaporizhzhia nuclear plant was cut off from its national grid.
State department spokesman Vedant Patel told reporters:
The electricity that it produces rightly belongs to Ukraine and any attempt to disconnect the plant from the Ukrainian power grid and redirect to occupied areas is unacceptable.

No country should turn a nuclear power plant into an active war zone and we oppose any Russian efforts to weaponise or divert energy from the plant."
Ukraine earlier said that Zaporizhzhia – the largest nuclear facility in Europe – for the first time was severed form its national grid after fighting around the complex.
President Joe Biden, in a telephone call with his Ukrainian counterpart Volodymyr Zelenskiy, called for Russia to return full control of the plant and let in UN nuclear inspectors, the White House said.
Bonnie Jenkins, the under secretary of state for arms control, said Moscow bore responsibility for the plant's safety.
"Their actions at the Zaporizhzhia nuclear plant have created a serious risk of a nuclear incident – a dangerous radiation release – that could threaten not only the people and environment of Ukraine but also affect neighbouring countries and the entire international community," Jenkins told reporters.
"The risk of radiation release could be all but eliminated if Russia returns control of the Zaporizhzhia nuclear power plant back to Ukraine and fully withdraws from Ukraine's sovereign territory," she said.
Zelenskiy says world narrowly avoided a 'radiation disaster'
Volodymyr Zelenskiy has said the world narrowly avoided a "radiation disaster" as the last regular line supplying electricity to Ukraine's Russian-held Zaporizhzhia nuclear power plant was restored hours after being cut by shelling.
The Ukranian president said officials from the International Atomic Energy Agency (IAEA), the UN's nuclear watchdog, must be given urgent access to the site.
Zelenskiy blamed shelling on Thursday by Russia's military for fires in the ash pits of a nearby coal power station that disconnected the reactor complex, Europe's largest such facility, from the power grid. He said back-up diesel generators ensured power supply and kept the plant safe.
Addressing the nation on Wednesday evening, he said:
Today, for the first time in history, the Zaporizhzhia nuclear power plant stopped. The emergency protection of the power units worked – after the last working line of the plant's power return to the Ukrainian power system was damaged by Russian shelling.

If our station staff had not reacted after the blackout, then we would have already been forced to overcome the consequences of a radiation accident.

Russia has put Ukraine and all Europeans in a situation one step away from a radiation disaster."
IAEA officials should be given access to the site within days, he said, "before the occupiers take the situation to the point of no return".
Hello and welcome back to the Guardian's live coverage of the war in Ukraine.
I'm Samantha Lock and I will be bringing you all the latest developments for the next short while. Whether you've been following our coverage overnight or you've just dropped in, here are the latest lines.
It is 7.30am in Kyiv. Here is where we stand:
Shelling temporarily disconnected the Zaporizhzhia nuclear plant from Ukraine's grid. Fires caused by shelling cut the last remaining power line to the plant on Thursday, temporarily disconnecting it from Ukraine's national grid for the first time in nearly 40 years of operation, the country's nuclear power firm, Energoatom, said.
The White House called on Russia to agree to a demilitarised zone around the plant, after the US president, Joe Biden, spoke to his Ukrainian counterpart, Volodymyr Zelenskiy. Biden congratulated him on the country's 31st independence day, celebrated on Wednesday. Zelenskiy said he had "a great conversation" and thanked Biden for his "unwavering" support. It comes a day after Biden announced nearly $3bn in new military assistance to Ukraine, including anti-aircraft missiles, artillery, counter-drone defences and radar equipment, the biggest tranche of US military aid to date.
Vladimir Putin has signed a decree to increase the size of Russia's armed forces from 1.9 million to 2.04 million, as the war in Ukraine enters its seventh month with no signs of abating. The Russian president's decree appears to point to the country's aim to replenish its military, which has been heavily damaged in Ukraine and has failed to achieve its objective to capture the capital, Kyiv.
At least 25 people have been confirmed dead after a Russian rocket strike on a Ukrainian train station. Russian forces attacked a train in the village of Chaplyne, Dnipropetrovsk oblast on Wednesday. The deputy head of the president's office, Kyrylo Tymoshenko, reported on Telegram that two children were killed in the attack. Russia has since confirmed it was behind the attack.
The mayor of the Russian-occupied city of Melitopol, Ivan Fedorov, has said a building allegedly used by Russian-backed officials in the region has been "blown up". Fedorov, who is not in the city, posted a video reportedly showing damage to the building, which he said was being used to plan a "pseudo-referendum" by Russia-backed authorities on whether the region should join Russia.