Russia-Ukraine war: seven killed in strikes on Lviv; Putin says sanctions have 'impacted businesses' – live | World news
eRm
April 18, 2022
37
10:34
Ukraine's President, Volodymyr Zelenskiy, has said that he expects "security support" for Ukraine to increase from the European Union.
The "price of aggression" for Russia needed to be raised, he said in a tweet following his latest talks with the president of Lithuania, one of Ukraine's strongest supporters in the EU.
10:27
Russian authorities have flagged a likely further cut in interest rates and more budget spending to help the economy adapt to biting western sanctions as it heads for its deepest contraction since 1994.
Russia faces soaring inflation and capital flight while grappling with a possible debt default after the West imposed unprecedented sanctions to punish President Vladimir Putin for sending tens of thousands of troops into Ukraine on February 24.
Russia's president, Vladimir Putin, said earlier in the day that Russia should use its state budget to support the economy and liquidity when lending activity has waned. The World Bank expects the economy to shrink by more than 11% this year.
Reuters reported that the central bank more than doubled its key interest rate to 20% on February 28 as the first wave of sanctions hit, before trimming it to 17% on April 8. It is expected to lower it further at the next board meeting on April 29.
"We must have the possibility to lower the key rate faster," Central Bank Governor Elvira Nabiullina said.
Updated

10:24
Britain's Prince Harry has said it is "extraordinary" to have a team from Ukraine at The Invictus Games, the sporting event he was involved in founding.
The prince said it is "emotional" to think about their journey to The Hague in the Netherlands for the event, taking place this week, in which wounded, injured and sick servicemen and women compete.
The duke was speaking during an interview which will be broadcast on the BBC on Monday evening. In the clip posted online by the broadcaster, Harry told presenter Alex Jones: "The whole world is definitely behind them. But again, is that enough, you know?
"Because when you get to see them and speak to them, and see in their eyes, the experiences and the things that they've seen just in the last few weeks, it's really hard."
Team Ukraine is made up of 19 competitors and they have been cheered and applauded by other nations since people started arriving at the Zuiderpark last Friday.
Speaking about their journey to the games, Harry said: "It's emotional to think that they all jumped in the bus, firstly they have to make the decision to come, which was hard enough anyway, then they jumped on the coach, probably slept all the way."
"And I think what people need to remember, or perhaps don't even know yet, is a vast majority of the Ukraine team were serving in some shape or form.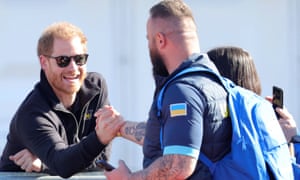 09:51
The governor of the Lviv region, Maksym Kozytskyy, said the Russian missile strikes today hit three military infrastructure facilities and an auto mechanic shop. He said the wounded included a child, and emergency teams battled fires caused by the attack. At least seven people were reported killed.
A hotel sheltering Ukrainians who had fled fighting in other parts of the country was among the buildings badly damaged, Lviv mayor Andriy Sadovyi said.
Associated Press reporters spoke to Lyudmila Turchak, 47, who had fled to Lvivi with two children from the eastern city of Kharkiv. "The nightmare of war has caught up with us even in Lviv. There is no longer anywhere in Ukraine where we can feel safe."
A powerful explosion was also reported to have rocked Vasylkiv, a town south of the capital of Kyiv that is home to a military airbase, according to residents. It was not immediately clear what was hit.
Ukraine's government has halted civilian evacuations for a second day, saying that Russian forces were shelling and blocking the humanitarian corridors.
Associated Press quotes deputy prime minister Iryna Vereshchuk saying Ukraine had been negotiating passage from cities and towns in eastern and southeastern Ukraine, including Mariupol and other areas in the Donbas. The government of the Luhansk region in the Donbas said four civilians trying to flee were shot and killed by Russian forces.
Vereshchuk said Russia could be prosecuted for war crimes over its refusal to allow civilians to leave Mariupol.
"Your refusal to open these humanitarian corridors will in the future be a reason to prosecute all involved for war crimes," she wrote on social media.
The Russians, in turn, accused "neo-Nazi nationalists" in Mariupol of hampering the evacuation.
Updated

09:41
Here are some of the latest images we have been sent over the newswires from Lviv and Kharkiv, both of which have been the target of missile attacks today.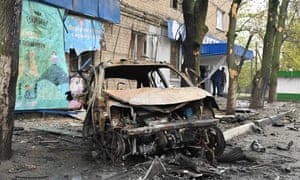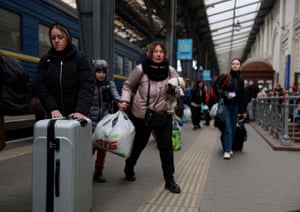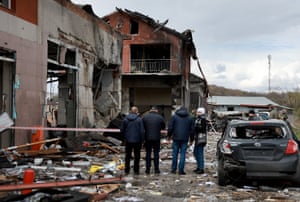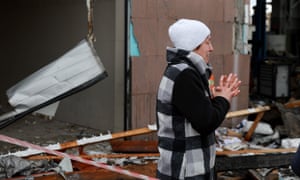 09:37
Ivan Fedorov, the exiled mayor of Melitopol, which is under Russian control, has given an interview in Rome a month after his release.
He told Reuters and the Italian newspaper Il Messaggero that he had faced "psychological" but not physical torture when he was captured by Russian forces.
He said he had appealed for help to stop the war when he met Pope Francis and Vatican secretary of state Cardinal Pietro Parolin on Saturday before attending an Easter eve service.
Of his capture and release, he said: "It was a dangerous six days because I understood that for Russians my life and the lives of civilians were worth zero. They wanted to make an example of me about what would happen if we did not agree to what the Russians wanted.
"Russian soldiers assumed that they would be welcomed but they were not … and that is why the Russians were very, very angry."
He said he was still in touch with people in Melitopol, where the situation was dire. "There is no food in my city. There is no pharmacy. Half of my city is wrecked. More than 200 people have been kidnapped. It is not safe to walk the streets," he said.
Russia has repeatedly denied targeting civilians.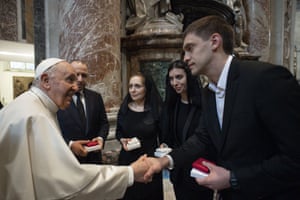 Fedorov said he had invited Pope Francis to visit Ukraine, and to intercede with Russian president Vladimir Putin to guarantee humanitarian corridors for Mariupol.
The pope has been a vocal critic of the war in Ukraine, voicing implicit criticism of Russia. Addressing Fedorov and other Ukrainians in the Easter eve service at the weekend, the pope said: "Have courage, we accompany you".
Updated

09:25
A resurgent interest in stamp collecting is one of the unlikelier effects of Russia's invasion of Ukraine, but our Luke Harding has been in Kyiv today seeing for himself the huge queues of people trying to purchase a special commemorative stamp.
It honours the Ukrainian soldier who told an officer on a Russian warship to "go fuck yourself" at the start of the invasion.
Roman Hrybov, the Ukrainian border guard who sent the message, has since been released as part of a prisoner exchange and awarded a medal for his services.
09:05
A Russian orthodox priest was fined under Russia's new military censorship laws after he was denounced to the police by at least one member of his congregation in a central Russian village, the FT's Polina Ivanova reports.
The case of Father Ioann Burdin – who began his first sermon since the outbreak of war with a promise to pray for the people of Ukraine – is nevertheless at odds with that of the Russian Orthodox Church's hierarchy, which has thrown its ideological weight behind the Kremlin's war.
Fr Burdin told the FT that he was treated fairly by his superior, Metropolitan Ferapont, though the two disagreed about whom an Orthodox priest should serve.
"A priest cannot share and preach his personal views, because people expect from him the words of the Church," the archbishop is reported to have said. When it comes to speaking out against war, Fr Burdin disagreed.
"I serve God, after all," he said.
The head of the Russian Orthodox church, Patriarch Kirill, a trusted ally of Vladimir Putin, has declined to condemn the Kremlin's decision to invade its neighbour, referring to Russia's opponents in Ukraine as "evil forces".
In a Sunday sermon in March, he also said gay pride parades organised in the west were part of the reason for the war in Ukraine.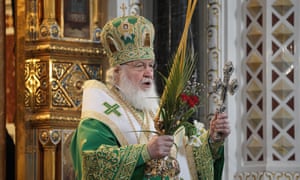 Updated

08:44
Putin claims sanctions on Russia is 'own goal' by west
Russia's president, Vladimir Putin, has said that western countries had scored an own goal by imposing sanctions against Russia over Ukraine that he said had led to a "deterioration of the economy in the west".
Speaking on the state of Russia's domestic economy, Putin was reported by Reuters to have said that inflation was stabilising and that retail demand in the country had normalised.
Russia's services sector has suffered the worst slump in activity since the Covid-19 pandemic hit in 2020 as consumers and businesses cancelled orders amid increasingly severe western sanctions after the invasion of Ukraine.
A closely watched business survey showed earlier this month that new orders during March dived as restrictions on imports and exports began to bite and inflation raised the price of services at the fastest rate on record.
Updated

08:21
Sergei Markov, a Moscow-based political commentator and former close adviser to the Russian President, Vladimir Putin, has claimed on the BBC that the Russian warship, Moskva, sank after it was hit by a Nato missile that was moved to Ukraine in January.
He admitted during an interview on BBC Radio 4's World at One programme that the loss of the ship was a failure on the part of the Russian military but that this was because Russia was fighting not only Ukraine but "a coalition" of big states including the US.
The Russian defence ministry has released little information about how the ship sank, claiming the damage to the boat was sustained in an accident onboard.
The Ukrainian government, along with western intelligence officials, say the ship was hit by several Ukrainian anti-ship missiles.
Updated