Russia-Ukraine war: Nato foreign ministers to meet as Zelenskiy dismisses fresh sanctions – live news | World news
eRm
April 7, 2022
83
01:46
Ukraine makes plea to Nato for more weapons
Ukraine's foreign minister, Dmytro Kuleba, has called on Nato allies to supply more weapons to bolster Ukraine's war effort, including war planes, heavy air defence systems, missiles and armoured vehicles.
Speaking at Nato headquarters, where Nato foreign ministers are meeting later today, Kuleba said there are three items on his agenda when he talks to the allies and holds bilateral meetings: "Weapons, weapons and weapons".
The Ukrainian foreign minister said there is no distinction between offensive and defensive weapons – any weapons, including tanks and fast jets, would be used to defend Ukraine.
He added that any country making this distinction are being hypocritical.
01:42
Ukraine could 'absolutely' win the war against Russia, Pentagon says
The Pentagon has said Ukraine could "absolutely" win the war against Russia, even as US officials speak of the risk of a protracted conflict.
"Of course they can win this," Pentagon spokesman John Kirby told a news briefing.
"The proof is literally in the outcomes that you're seeing everyday … absolutely they can win."
Of course, they can win this. And if you look at what they've been able to do just thus far, Mr. Putin has achieved exactly zero of his strategic objectives inside Ukraine. He didn't take Kyiv. He didn't topple the government. He didn't remove Ukraine as a nation state. And he's really only taken control of a small number of population centres.

And even they weren't the ones that he was really going after. So, you know, Mariupol is still not taken. He's moved his forces out of Kyiv. He's moved his forces out of Cherniniv. They haven't taken Kharkiv. They haven't taken Mykolayiv in the south.

So, I think the proof is literally in the outcomes that you're seeing every day.

The Ukrainians are bravely fighting for their country. And they have denied Mr. Putin so many of his strategic objectives. So absolutely, they can win."
01:36
Russia has stepped up conscript recruits, Ukraine says
Russia is focusing on an impending offensive operation in eastern Ukraine with the aim to take control of the Donetsk and Luhansk regions, Ukraine's ministry of defence has said, corroborating western intelligence report.
Ukraine's general staff of the armed forces said some withdrawn Russian units are now located in "tent camps" in a number of regions bordering Ukraine.
"The Russian servicemen refuse to take part in further hostilities on the territory of Ukraine. The moral and psychological condition of these personnel is low and tends to deteriorate," an operational report published this morning reads.
Russia "continues to look for ways to solve the problem of replenishing its units with human resources" and has "stepped up work with conscripts who have been discharged from military service since 2012" officials added.
The Russian occupiers continue to use violence against civilians in the temporarily occupied territories and are forcible deporting residents of Mariupol to the temporarily occupied districts of Donetsk, the report claimed.
01:28
More than 5,000 civilians killed in Mariupol, mayor says
More than 5,000 civilians, including 210 children, have been killed since the start of Russia's invasion of Ukraine, the city's mayor has said.
Vadym Boichenko noted that Russian forces bombed hospitals, including one where 50 people burned to death.
Boichenko also said that more than 90% of the city's infrastructure has been destroyed due to Russian bombardments.
The Russian military has besieged the port city, cutting off access to food, water and energy supplies while continually dropping artillery and air raids on the town.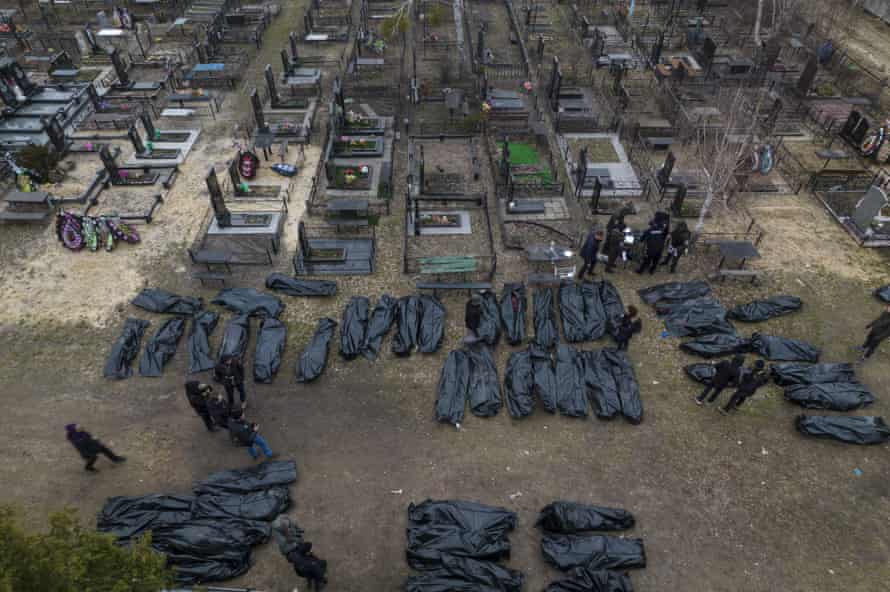 On Wednesday, about 1,000 people were able to make it out of the besieged port city in a convoy of buses and private cars organised by the International Committee of the Red Cross (ICRC). They are now at the Ukrainian-controlled city of Zaporizhzhia.
The ICRC team had tried for five days and four nights to reach Mariupol, coming within 12 miles of the city, but security conditions made it impossible to enter.
Ukrainian officials said the Russian military had pounded the city over the past 24 hours, with 118 airstrikes. They also said Russian soldiers were gathering bodies in order to destroy evidence of war crimes. A mobile crematorium was going from street to street, collecting and disposing of corpses from people killed by shelling and shooting.
In its latest assessment, the UK's ministry of defence said the humanitarian situation in Mariupol was deteriorating. "More than 160,000 remaining residents have no light, communication, medicine, heat or water. Russian forces have prevented humanitarian access, likely to pressure defenders to surrender," it said.
01:22
Russia hiding 'thousands' killed in Mariupol, Zelenskiy says
Russia is blocking humanitarian access to the besieged port city of Mariupol because it wants to hide evidence of "thousands" of people killed there, Ukrainian President Volodymyr Zelenskiy has said.
In an interview with Turkey's Haberturk TV, he said:
I think Russia is afraid that [if] we successfully send humanitarian aid to Mariupol, then the whole world will see what's going on here.

Russia doesn't want anything to be seen until they take control of the city until they clean it all up.

Mariupol is hell right now. Thousands have either been killed or injured.

The number of those killed and injured is increasing day by day … we do not have clear information on the number of those who lost their lives.

They are trying to cover up the situation. In this case, they are trying to prevent the humanitarian supply. They will not be able to cover up everything. They will not be able to bury or hide thousands of people. The world has seen the real situation. It has seen what has been done to a Ukrainian city."
Zelenskiy said that Russia had already attempted to conceal evidence of crimes in the town of Bucha outside of Kyiv and several nearby communities, where Ukrainian officials have accused Moscow of carrying out widespread killings of civilians.
"They burned families. Families. Yesterday we found again a new family: father, mother, two children. Little, little children, two. One was a little hand, you know," Zelensky said. "That's why I said 'they are Nazis'."
01:15
Ukraine braces for renewed Russian offensive on eastern front
Ukraine is bracing for a renewed Russian offensive on its eastern front, as Russian forces withdraw from the shattered outskirts of Kyiv to regroup and intensify their attacks across the Donbas region.
Ukraine's deputy prime minister, Iryna Vereshchuk, urged civilians to leave the east of the country "while the opportunity still exists" before a massive Russian military assault that it expects in the coming days.
Vereshchuk said authorities would "not be able to help" residents who stayed behind once large-scale fighting erupted. She said the governors of the Kharkiv, Luhansk and Donetsk regions were calling on people to move immediately to safer areas. "It has to be done now, because later people will be under fire and face the threat of death. There is nothing they will be able to do about it," she posted on Telegram.
Ukraine is bracing for a renewed Russian offensive on its eastern fron
The Kremlin has said it intends to seize the entire Donetsk region, amid reports that Putin is keen to declare victory in Ukraine in time for 9 May, the annual commemoration of the Soviet defeat of Hitler in the second world war.
In his nightly address, Ukrainian President Volodymyr Zelenskiy warned that the Russian military continued to build up its forces in preparation for a new offensive in the east, where the Kremlin has said its goal is to "liberate" the Donbas.
YouTube has suspended the account of a Chinese national in Odessa who has criticised Vladimir Putin's war in Ukraine after being reported to the platform for content containing "suspected violence", the Guardian's Rhoda Kwan reports from Taipei.
Wang Jixian, whose daily Mandarin vlogs detailing his life in the Ukrainian city made him an internet sensation, was temporarily suspended on Thursday last week. In his video immediately before the suspension, his video showed Chinese translations of a voice recording of Ukrainians speaking about atrocities committed by Russian soldiers.
The Beijing native began posting daily vlogs on his YouTube channel shortly after Russia's invasion of Ukraine on 24 February. "Today is … I am still in Odesa. I am still alive," his videos begin. His daily updates quickly drew more than 100,000 followers but also the ire of China's legions of nationalistic netizens. His channel suddenly went quiet last week.
Read the full story below.
01:03
Hesitation to agree on oil embargo is costing Ukrainian lives, Zelenskiy says
Zelenskiy described Russia's export of oil as "one of the foundations of Russia's aggression" that allows it to not take peace negotiations seriously.
Some politicians are still unable to decide how to limit the flow of dollars and euros to Russia from the oil trade, so as not to jeopardise their own economies…

The embargo on Russian oil supplies will be applied anyway. The format will be found. The only question is how many more Ukrainian men and women the Russian military will have time to kill, so that you, some politicians – and we know you, can borrow a little determination somewhere."
Zelenskiy said Ukraine will also continue to insist on a complete blockade of the Russian banking system from international finance.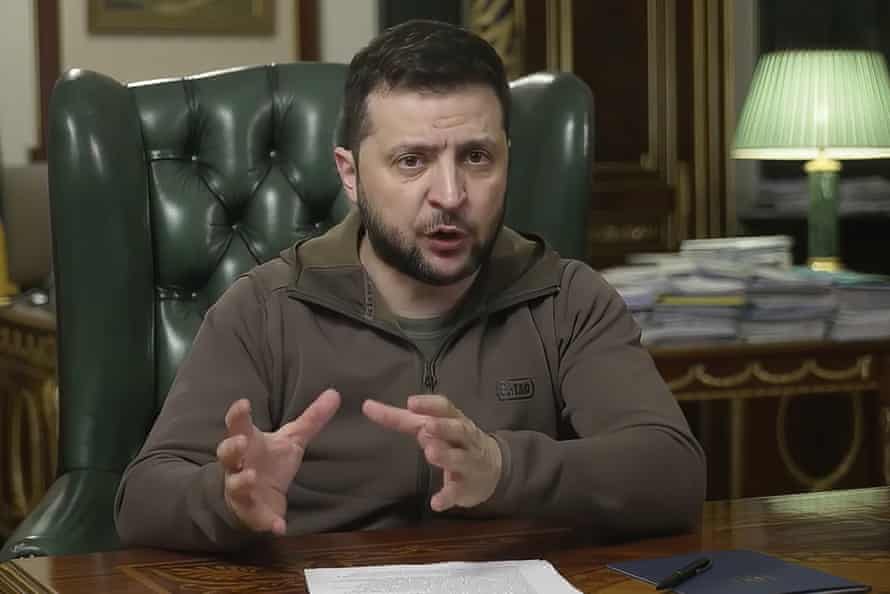 Here are some of the latest images to come from Ukraine today.
In Bucha, two young girls walks hand-in-hand past destroyed Russian military machinery littering the main town street.
A child's teddy bear hangs from a tree in front of a building bombed by the Russian army in Borodyanka while a damaged playground is seen next to a heavily damaged apartment building in Hostomel.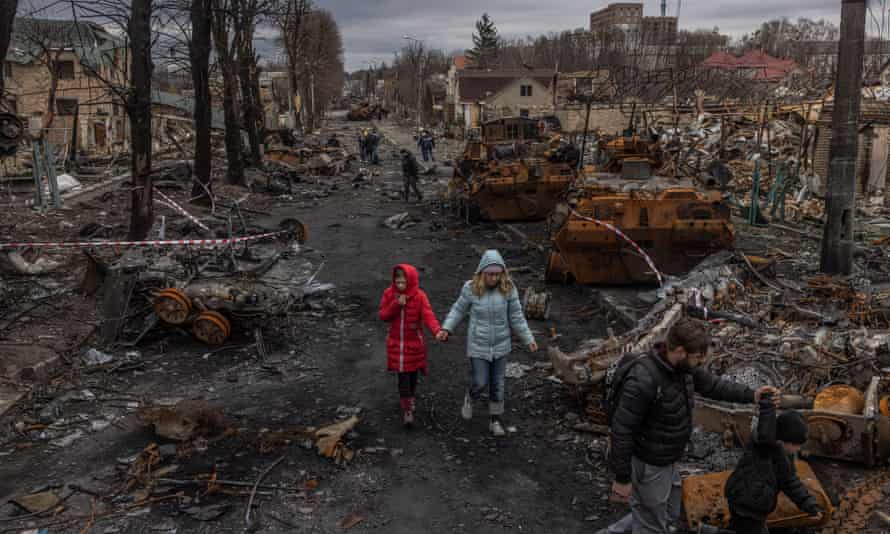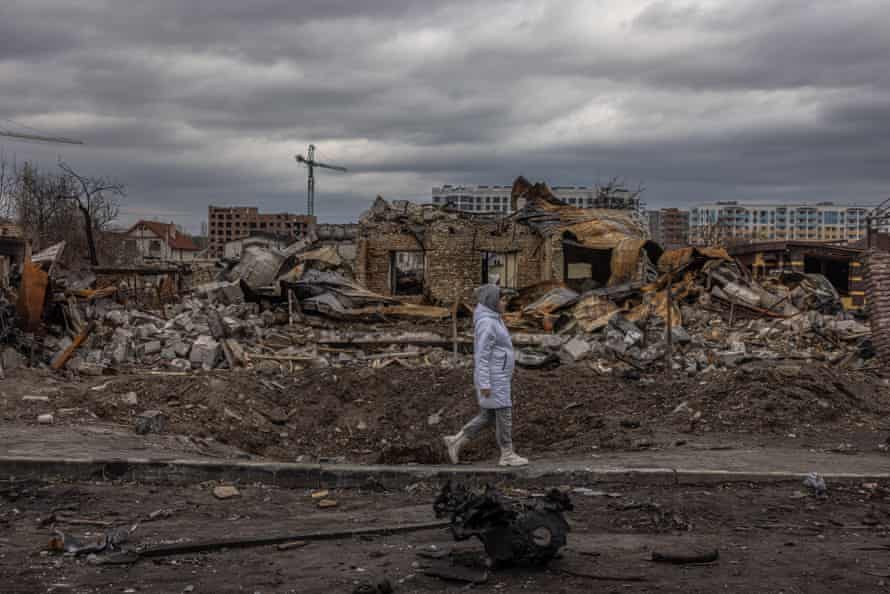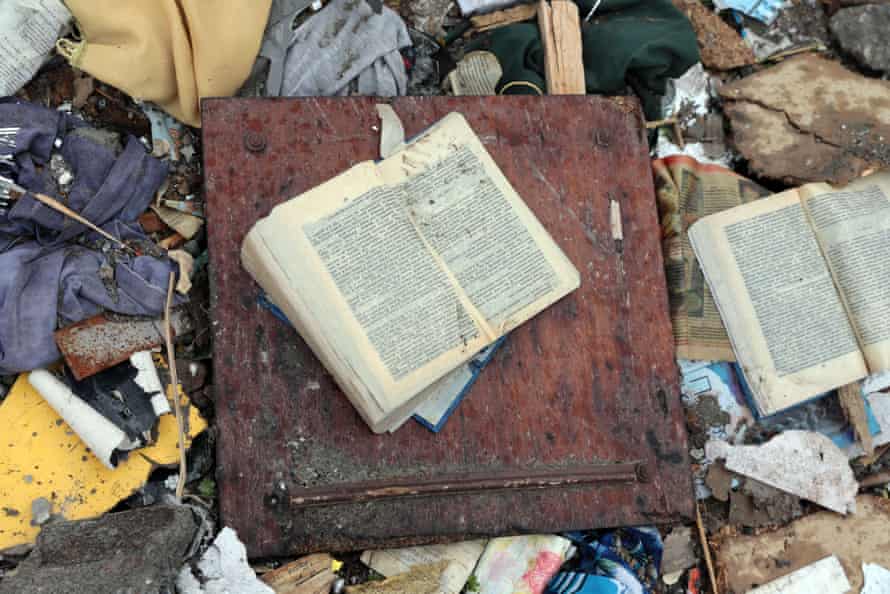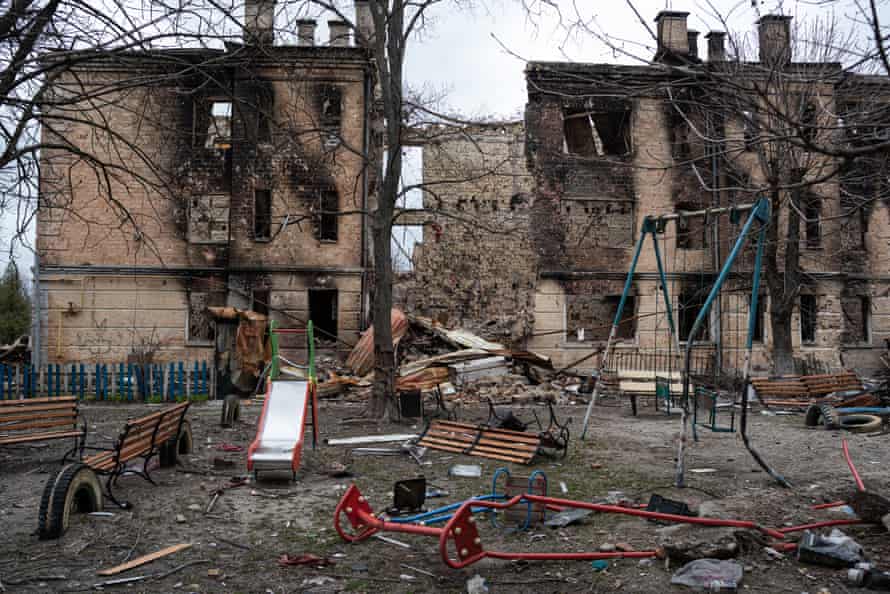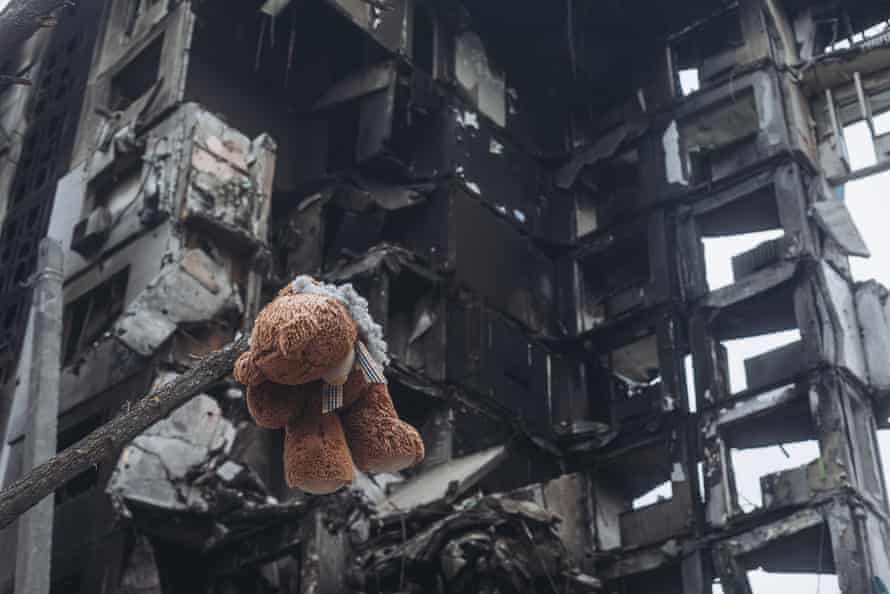 00:55
Russia will regard weak sanctions as 'permission to attack', says Zelenskiy
Ukraine's president Volodymyr Zelenskiy has said the new package of western sanctions against Russia is "not enough" and without more painful measures and supply of weapons, Russia will view the actions as permission to launch a new bloody attack.
New investments in Russia are blocked, restrictions are applied against several systemic banks in Russia, personal sanctions are added, as well as other restrictions. This package has a spectacular look. But this is not enough."
In his signature nightly national address the Ukrainian president added:
If there is no really painful package of sanctions against Russia and if there is no supply of weapons we really need and have applied for many times, it will be considered by Russia as a permission. A permission to go further. A permission to attack. A permission to start a new bloody wave in Donbas."
However, Zelenskiy remained optimistic saying "it is still possible to prevent this".
It is still possible to impose such sanctions, which Ukraine insists on, our people insist on. It is still possible to give us weapons that will really stop this aggression. The west can do it.

Just as it could have applied preventive sanctions last year to prevent this invasion. If the mistake is made again, if there is no preventive action again, it will be a historic mistake for the whole western world."
00:43
Nato foreign ministers to meet today
Nato foreign ministers will meet in Brussels today to address Russian President Vladimir Putin's "brutal and unprovoked invasion of Ukraine", the alliance said.
Moscow is not giving up its ambitions in Ukraine. We now see a significant movement of troops away from Kyiv, to regroup, re-arm and resupply, and they shift their focus to the east," Nato secretary general Jens Stoltenberg said ahead of the meeting.

Targeting and murdering civilians is a war crime. All the facts must be established and all those responsible for these atrocities must be brought to justice," Stoltenberg added, commenting on the horrific images of murdered civilians in Bucha and other Ukrainian cities.
Ministers will arrive for talks from 3:30pm local time (2:30pm GMT) and will be joined by their counterparts from Ukraine, Finland, Sweden, Georgia, and the European Union, and by Nato's Asia-Pacific partners – Australia, Japan, New Zealand and the Republic of Korea.
"At a time when authoritarian powers are pushing back on the rules-based international order, it is even more important for democracies to stand together, and protect our values," Stoltenberg said in a statement published by Nato.
Allies are stepping up their support for Ukraine's right to defend itself, including with anti-tank weapons, air-defence systems and other equipment, as well as increased humanitarian assistance and financial aid."
Allied foreign ministers will also discuss the development of Nato's next strategic concept, to guide the Alliance's adaptation to the new global security reality.
Hello and welcome to the Guardian's live coverage of the war in Ukraine.
I'm Samantha Lock and I will be bringing you all the latest developments.
Ukraine president Volodymyr Zelenskiy said the new package of western sanctions against Russia is "not enough" and without more painful measures and supply of weapons, Russia will view the actions as permission to launch a new bloody attack. In his daily address on Thursday, he called for the democratic world to reject Russian oil and completely block Russian banks from the international finance system. Zelenskiy said the west's hesitation to agree on an oil embargo is costing Ukrainian lives. Russia's export of oil as "one of the foundations of Russia's aggression" that allows it to not take peace negotiations seriously, he added.
The US, UK and EU unveiled new sanctions against Moscow. US sanctions target Russian banks and elites, and include a ban on any American from investing in Russia as well as sanctions on Putin's adult daughters. The UK will impose an asset freeze on Russia's largest bank, place sanctions on eight more oligarchs and end imports of oil and coal by next year, foreign secretary Liz Truss said. The EU announced a wide-ranging package of sanctions, including import bans on coal and transaction bans on banks.
Nato's foreign ministers will meet in Brussels on Thursday for two days of talks on bringing an end to the war.
The UN General Assembly will vote today on whether to suspend Russia from the UN human rights council.
Hungary's right-wing, Putin-allied prime minister Viktor Orbán gave a press conference in which he said he had offered to broker talks with Russia. He offered to work towards a ceasefire, while stopping short of agreeing to extend EU sanctions against Russia's oil and gas shipments.
Zelenskiy said Kremlin forces were trying to cover up evidence of atrocities. "We have information that the Russian military has changed its tactics and is trying to remove people who have been killed from streets and basements … this is just an attempt to hide the evidence and nothing more," he said Thursday, but did not provide evidence.
US prosecutors are working with their European and Ukrainian counterparts to help collect evidence of possible Russian war crimes in Ukraine.
Russia's military has now shifted its focus to the east of the Ukraine, with Ukraine authorities in Luhansk and Donetsk warning that civilians should leave "while the opportunity still exists" before a massive Russian military assault that it expects in the coming days. It comes as western officials say Russia's retreat from around Kyiv and the north east of the country is now "largely complete" and that it will take "at least a week" before reconstituted units could go to Donbas and perhaps longer.
Russia is hiding 'thousands' killed in Mariupol, Zelenskiy said. Russian forces are blocking humanitarian access to the besieged port city of Mariupol because it wants to hide evidence of "thousands" of people killed there, the president said.
More than 5,000 civilians, including 210 children, have been killed in Mariupol since the start of Russia's invasion, the mayor of the besieged city said. Vadym Boichenko said 90% of the city's infrastructure has been destroyed and Russian forces have targeted a hospital where 50 people were burned to death.
After multiple unsuccessful attempts to access the city, about 1,000 people made it out of Mariupol in a convoy of buses and private cars organised by the International Committee of the Red Cross (ICRC). They are now at the Ukrainian-controlled city of Zaporizhzhia.
A total of 4,892 people were evacuated from Ukraine on Wednesday using humanitarian corridors, Ukraine's deputy prime minister Iryna Vereshchuk said, compared with 3,846 who were evacuated on Tuesday.
Ukrainian soldiers are being trained in the US to operate deadly Switchblade drones that Washington is supplying to Kyiv, the Pentagon said Wednesday. Defence department spokesman John Kirby said it was a "very small" number of Ukrainian troops who were already in the US before Russia invaded their country.
Britain is drawing up plans to send armoured vehicles to Ukraine, according to The Times. Options include sending a protected patrol vehicle, such as the Mastiff, or a vehicle like the Jackal, which can be used as a reconnaissance or long-range patrol vehicle, a ministry of defence report said.
Sanctions imposed on Russia over its war in Ukraine should give China a "good understanding" of the consequences it could face if it provides material support to Moscow, US deputy secretary of state said.
The Pentagon has said Ukraine could "absolutely" win the war against Russia, even as US officials speak of the risk of a protracted conflict. "Of course they can win this," Pentagon spokesman John Kirby told a news briefing. "The proof is literally in the outcomes that you're seeing everyday … absolutely they can win."