Russia-Ukraine war live updates: Missiles strike Odesa
eRm
May 10, 2022
118
McConnell says he asked Biden to decouple Ukraine aid from Covid relief
Senate Republican leader Mitch McConnell said Tuesday that he asked President Joe Biden last week to separate aid packages for Ukraine and Covid relief, as the combo bill stalled because of a fight over immigration rules.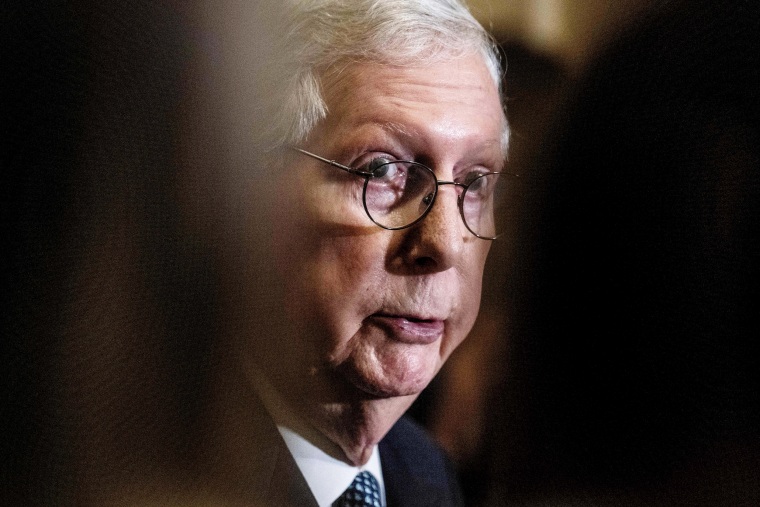 "I had a chance to call the president last week and request that the Ukraine package move by itself and quickly," McConnell said during a news conference. "I think we're on the path to getting that done."
Read the full story.
Leonid Kravchuk, first president of independent Ukraine, dies at 88
Leonid Kravchuk, independent Ukraine's first president, has died at 88, a spokesman for the Ukrainian president confirmed on Telegram.
"Sad news and a great loss. I knew him personally, which I am very proud of," said spokesman Andriy Yerma. "Leonid was a wise patriot of Ukraine, a truly historical figure in gaining our Independence."
Kravchuk served as the first president of independent Ukraine after the dissolution of the Soviet Union from 1991 to 1994. Yerma did not cite his cause of death.
Russian hit with red paint should have followed advice, Poland's prime minister says
WARSAW, Poland — Poland's prime minister said Tuesday that Russia's ambassador to Poland could have avoided being doused in red paint at a Soviet military ceremony if he followed the Foreign Ministry's advice to steer clear of the event.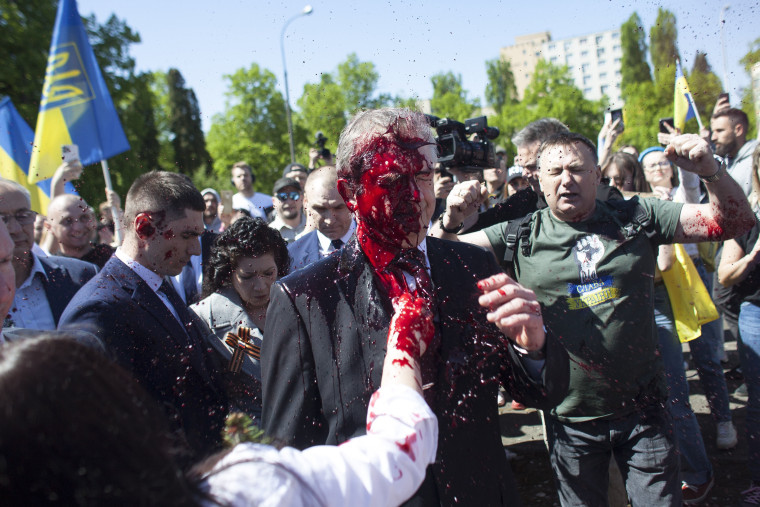 Ambassador Sergey Andreev was splattered Monday with red paint thrown at him by protesters opposed to the war in Ukraine at a Warsaw cemetery holding the remains of Red Army soldiers who died during World War II. He had hoped to pay his respects on the Russian patriotic "Victory Day" holiday marking the defeat of Nazi Germany.
Hypersonics not used in Odesa, senior defense official says
Officials at the U.S. Defense Department believe recent Russian missile strikes on Odesa, a port city on Ukraine's southwestern Black Sea coast, "could be an effort to draw Ukrainian attention" to the area, a senior defense official said.
"We've seen [Russia] use hypersonics in the past, hitting buildings, but we don't have anything to indicate they were used in Odesa," the official said, referring to missiles that travel from five to 25 times the speed of sound.
Acknowledging an increase in the tempo of strikes on the city, the official said, "It's not clear what they are hitting."
'Putin's war' hitting Americans in the pocketbook, Biden says
President Joe Biden on Tuesday blamed Russia's invasion of Ukraine as a major factor in the rising consumer costs in the United States.
"Mr. Putin's war in Ukraine" over the past 2 1/2 months has caused world shortages of wheat, corn and fuel which has directly impacted U.S. pocketbooks, according to the president.
Biden touted White House efforts to develop energy alternatives, "So in the future, American families are no longer subject to the whims of dictators halfway around the world."
U.S. joins European allies to condemn Russian cyberattacks
Secretary of State Antony Blinken on Tuesday blamed Russian military cyber operators for deploying destructive malware to disrupt networks operated by the Ukrainian government and the private sector.
The late February cyberattacks also spilled over outside of Ukraine, affecting tens of thousands of broadband customers across Europe as well as networks that support thousands of European wind turbines, officials said.
The U.S. is "joining with allies and partners to condemn Russia's destructive cyber activities against Ukraine," Blinken said, adding such actions are "all part of the Russian playbook."
The European Union on Tuesday similarly accused Russia of masterminding a cyberattack that crippled European networks of the internet satellite company Viasat.
Russian officials did not have an immediate response to the accusations.
Civilian casualties surpass 7K, but actual figure higher, U.N. says
The number of civilians killed or injured in Ukraine has totaled at least 7,061 since Russia's invasion began in late February, a United Nations official said at a news briefing Tuesday.
While at least 3,381 civilians have died, the "actual figures are higher and we are working to corroborate every single incident," said Matilda Bogner, the head of the U.N. Human Rights Monitoring Mission in Ukraine.
She added that monitors have documented other alleged crimes perpetrated against civilians, including rape, forced nudity and threats of sexual violence, with women and girls most frequently targeted. 
She said many of the deaths and allegations may constitute war crimes, and "such killings may also violate the right to life under international human rights law."
Civilians may still be sheltering at Mariupol steel plant, mayor says
Civilians may still be hiding in bomb shelters at the Azovstal steel plant in Mariupol, where the city's last defenders are battling Russian forces, Mariupol Mayor Vadym Boichenko said at a news briefing.
"In order to be able to say 100 percent whether the evacuation of civilians has ended, a steady cease-fire regime is required," Boichenko said. "The Russians do not give such an opportunity. We assume that civilians awaiting evacuation may be there."
Scores of civilians have been evacuated from the site to safer areas of Ukraine in recent days. Russian forces have pummeled the steel plant with artillery and bombs over the last weeks, hoping to defeat Mariupol's final pocket of resistance.
Around 100,000 civilians are still present in the southern port city and awaiting evacuation, the mayor said.
Russia is exporting Ukrainian grain abroad, defense ministry says
Russian forces in Ukraine are exporting grain and other agricultural products to Crimea, Russia and elsewhere abroad, Ukraine's ministry of defense said Tuesday.
"A significant part of the grain stolen from Ukraine is on dry cargo ships under the Russian flag in the Mediterranean," the defense intelligence post said on Telegram. "The most likely destination is Syria. From there, grain can be smuggled to other countries in the Middle East."
Vegetables such as beets, potatoes and cabbage have also been sent to Crimea in "large volumes," the defense ministry said.
Ukraine is one of the world's largest exporters of wheat and the world's biggest exporter of sunflower oil. Ukrainian President Volodymyr Zelenskyy warned Monday that the blockade of Odesa and others like it was threatening the world's food supply.
Farewells in Lviv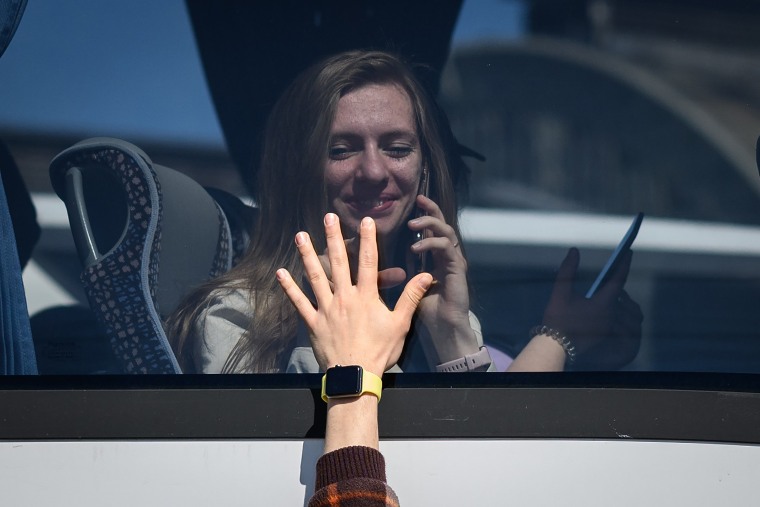 Russian forces renew attacks on Ukrainian port city of Odesa
U.N. chief offers Moldova 'full support' amid fears of Russian threat
The United Nations secretary-general has met with Moldova's president as Russia's war on neighboring Ukraine has seen tensions rise in a breakaway region of Moldova.
A statement issued after the meeting said U.N. chief António Guterres offered President Maia Sandu "his support for the full respect for Moldova's independence, sovereignty and territorial integrity."
Mysterious explosions have struck Moldova's breakaway Transnistria region, raising concerns about the war in Ukraine spreading into a western front as Russia targets the Ukrainian city of Odesa with missiles.
Transnistria hosts some 1,500 Russian troops and other forces. Pro-Russian forces broke off the border section from Moldova in 1992, and Russian troops have been stationed there since, ostensibly as peacekeepers.
Russian forces pummel Azovstal steel plant, Ukrainian fighters say
Russian forces bombarded the Azovstal steel plant in Mariupol on Tuesday, according to the Azov Battalion, whose fighters have formed the last pocket of resistance in the city and held out for weeks under intense attacks.
In the last day, the plant has come under fire from bombers, naval artillery and tanks, the group said in a post on Telegram.
"The enemy does not stop trying to capture the Ukrainian fortress and continues to carry out daily assaults with the support of infantry," said the battalion, an experienced volunteer force with neo-Nazi roots that has been defending the steel plant.
The plant has come under heavy attacks from Russian forces as they try to capture the last corner of the crucial southern port city still under Ukrainian control.
German foreign minister visits Bucha, voices support for war crimes probe
German Foreign Minister Annalena Baerbock visited Kyiv on Tuesday, her first trip to Ukraine since the war with Russia began. Baerbock's first stop was in the city of Bucha, just outside the capital, where hundreds of civilians are estimated to have been killed by Russian forces.
While there, she voiced her support for war crimes investigations.
"We can make a small contribution by supporting this investigation of war crimes, crimes against humanity, collecting evidence as an international community, ensuring that the perpetrators are held accountable," Baerbock said at a church in Bucha. "We owe that to the victims."
Baerbock is the latest in a string of foreign dignitaries to visit Ukraine in recent days, including Canadian Prime Minister Justin Trudeau and European Council President Charles Michel. 
NATO membership would strengthen Nordic defense, Swedish defense minister says
The Nordic region's defense capabilities would be strengthened if Sweden and Finland joined NATO, allowing joint defense planning within the framework of the alliance, Sweden's defense minister told Swedish radio on Tuesday.
"(If Sweden and Finland join NATO) there will be the effect that we use each other's strengths and advantages and fully complement each other and also carry out operational planning," Defense Minister Peter Hultqvist of the ruling Social Democrats said. "If so, the effect will be that we become stronger together. This is something that can happen if we choose to join NATO," he told the public broadcaster.
The Social Democrats will decide May 15 whether to drop decades of opposition by the party to NATO membership, a move that would almost certainly lead to Sweden asking to join the 30-nation alliance.
Putin unable to claim military success because Russia misjudged Ukrainian resistance, U.K. says
Russian President Vladimir Putin was unable to announce any significant military success at Monday's Victory Day parade because the Kremlin miscalculated Ukrainian resistance and was guilty of 'best case scenario' planning, the United Kingdom's defense ministry said Tuesday.
In its intelligence update, the ministry said that it is highly likely that Russia's invasion plan was based on an underestimation of Ukrainian resistance so that it could encircle and bypass population centers rapidly, achieving rapid success without deadly cost.
"This assumption led Russian forces to attempt to carry out the opening phase of the operation with a light, precise approach intended to achieve a rapid victory with minimal cost."
Due to this miscalculation, Russia suffers from unsustainable losses that forced it to scale back and refocus its operational activities, according to the defense ministry.
Macron and Scholz visit Brandenburg Gate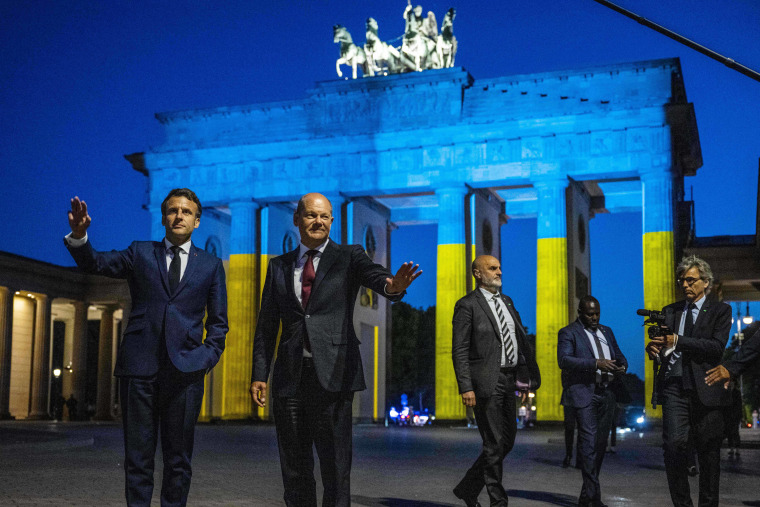 Body armor and blocked ports: Ukraine's farmers carry on in the midst of war
ZAPORIZHZHIA, Ukraine — The price of sunflower oil is soaring round the world, but Roman Tarasevich is stuck with a mountain of sunflower seeds he just can't move.
Ukraine is the world's biggest exporter of sunflower oil, but the Russian invasion has made farming, producing and shipping all but impossible, sending global prices higher and shoppers from London to New Delhi scrambling for limited bottles of the gold-colored liquid commonly used for cooking.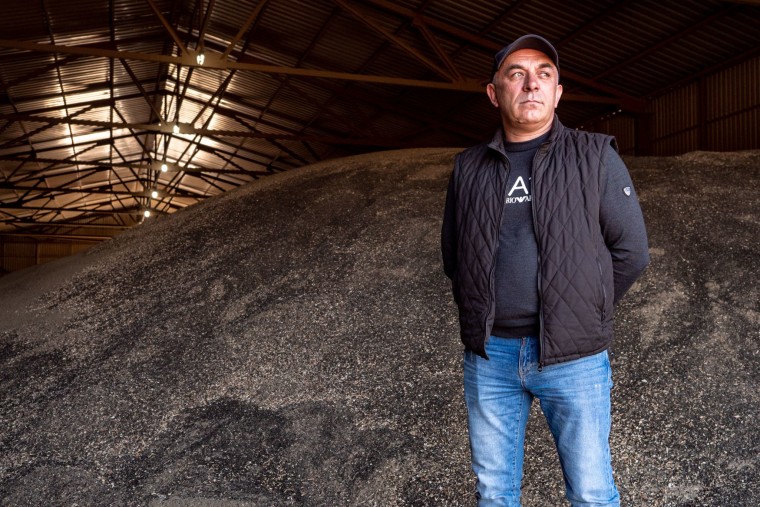 "We're definitely going to take a financial hit, but right now I just don't want to think about it and we're carrying on working," Tarasevich, 46, said, standing by the heap of unsold sunflower seeds at a farm warehouse in Zaporizhzhia in eastern Ukraine.
He appeared pained as he described how he had held onto last year's harvest to negotiate a higher price, but like many Ukrainians was taken by surprise by Russia's invasion. Ports have since been blocked, fuel is scarce and insurance premiums are sky high.
Read the full story here.
44 bodies discovered under rubble in Izyum from strike in March
The bodies of 44 civilians were found under the rubble of a five-story building in Izyum, around 75 miles southeast of Kharkiv, the governor of the region said Tuesday.
The building was destroyed in March, Gov. Oleh Syniehubov said in the Telegram post.
The city came under siege from Russian forces early on in the conflict, with officials warning in mid-March that residents were dying from a lack of food, medicine and other critical supplies. It has since been occupied by Russian forces and used as a key staging point for their offensive operations.
Missiles struck Odesa shopping mall, Ukraine's military says
Line of trucks stretches for miles at Ukraine border
Odesa cleans up after Russia fires seven missiles at Black Sea port city
Russian forces fired seven missiles at the Black Sea port city of Odesa early Tuesday, striking a shopping center and warehouse, according to Ukraine's military.
At least one person was killed and five injured, according to the country's State Emergency Services. Photos posted on the city's Telegram account showed charred buildings, largely reduced to steel and concrete structures, and rubble strewn across a parking lot. City workers provided assistance to victims and cleared debris throughout the night, the Odesa City Council said in a post on Telegram.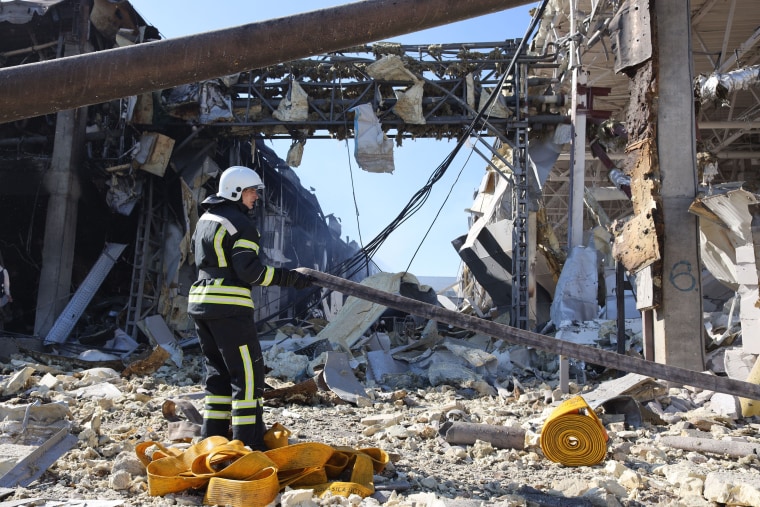 "The enemy's missile reserves are obviously low, as the rare Soviet style missiles were launched which are showing their age," Ukraine's Operational Southern Command said in a Facebook post. 
Ukraine's Zelenskyy says ports are at standstill because of Russian blockade
Nearly 6,000 Ukrainians approved to enter the U.S.
The Department of Homeland Security has approved nearly 6,000 Ukrainians to enter the U.S. through an online application system that lets them gain legal authorization to fly to U.S. airports and then stay with Americans who have agreed to sponsor them, the agency said Monday. 
The online portal, known as Uniting for Ukraine, launched April 25 as part of President Joe Biden's stated goal to bring 100,000 people fleeing Russia's deadly invasion to the U.S.
The launch of the website meant the closing of a popular but dangerous and illegal route many Ukrainians had taken via the U.S.-Mexico border, where, after having entered Mexico on tourist visas, they were transported from camps in Tijuana into California. After April 25, U.S. Border Patrol officers began turning back Ukrainians trying to cross the southern border. 
Read the full story here.
Ukraine's ambassador to U.S. to meet with Republican legislators
Ukraine's ambassador to the United States is expected to meet with Republican legislators as Congress weighs an aid package to the embattled nation was not certain.
Oksana Makarova was scheduled to attend lunch with Senate Republicans Tuesday afternoon, two sources with knowledge of the event told NBC News.
As her nation continued to fend off Russia's invasion, congressional Democrats are proposing a $40 billion aid package to boost Ukraine military and humanitarian resources. It would best the $33 billion package proposed by the administration of President Joe Biden.
The House is scheduled to take up the legislation Tuesday afternoon.
Biden urges Congress to 'immediately' pass Ukraine aid, putting Covid funds on back burner
President Joe Biden is urging Congress to quickly pass Ukraine aid in a move that would prioritize assistance for Kyiv over new Covid relief funding for the U.S.
"I call on Congress to pass the Ukrainian Supplemental funding bill immediately, and get it to my desk in the next few days," Biden said in a statement Monday.
Biden and Democratic leaders had hoped to move a coronavirus aid package alongside the Ukraine aid, using the Ukrainian assistance as leverage to secure additional Covid funding, but Republicans balked, saying they would not approve new money to fight the pandemic without a vote on the president's decision to end a Trump-era border policy known as Title 42.
That left Biden and Democratic leaders little choice but to separate the two packages.
Read the full story here.