Russia-Ukraine war live updates: Mariupol situation 'severe' as West sends weapons
eRm
April 20, 2022
88
U.N. Secretary-General seeks meeting with Putin and Zelenskyy
UNITED NATIONS — U.N. Secretary-General António Guterres wants to meet with the leaders of Russia and Ukraine in Moscow and Kviv to press for peace.
He made the request by letter Tuesday to Ukrainian President Volodymyr Zelenskyy and Russian President Vladimir Putin, asking to "discuss whatever urgent steps can be taken to stop the fighting."
As of Wednesday, his spokesman Stephane Dujarric said the U.N. has gotten no response.
Guterres called Tuesday for a four-day "humanitarian pause" in hostilities from Thursday through Sunday, the Orthodox Easter holiday to allow for evacuating civilians and providing aid.
The U.N. leader has faced questions about whether he would get involved personally. His spokesman said Guterres "has been doing what he thinks is most practical and the best way forward."
Dozens of bodies recovered in Kharkiv, State Emergency Service says
Dozens of bodies have been removed from 40 sites in the northeastern city of Kharkiv, the State Emergency Service of Ukraine said in a Facebook post Wednesday.
It said that 59 people had been rescued by teams working in the city and 112 bodies had been recovered. NBC News has not been able to independently verify the numbers.
Rescuers were also working to dismantle high-rise buildings in the Homostel region of Kyiv as well as sites in the Sumy and Chernihiv regions.  
Wimbledon bans tennis players from Russia, Belarus over Ukraine war
Tennis players from Russia and Belarus will not be allowed to play at Wimbledon this year because of the war in Ukraine, the All England Club said in a statement Wednesday.
"In the circumstances of such unjustified and unprecedented military aggression, it would be unacceptable for the Russian regime to derive any benefits from the involvement of Russian or Belarusian players with The Championships," the statement said.
"It is therefore our intention, with deep regret, to decline entries from Russian and Belarusian players to The Championships 2022."
Among the prominent players affected by the ban are reigning U.S. Open champion Daniil Medvedev, who recently reached No. 1 in the ATP rankings and is currently No. 2.
Aryna Sabalenka, who was a Wimbledon semifinalist in 2021 and is No. 4 in the WTA rankings, Victoria Azarenka, a former women's No. 1 who has won the Australian Open twice; and Anastasia Pavlyuchenkova, the French Open runner-up last year, will also be banned from the tournament.
Russia tests new intercontinental ballistic missile
Russia said Wednesday that it had test-launched its new Sarmat intercontinental ballistic missile.
President Vladimir Putin was shown on state TV being briefed by the military that the missile had been launched from Plesetsk in the country's northwest and hit targets in the Kamchatka peninsula in the far east.
Putin said the new strategic weapon had no analogues elsewhere and would provide food for thought for those who try to threaten Russia.
Germany rejects assertion by Ukraine that they could spare more fighting vehicles
BERLIN — The German government and military are rejecting an assertion by Ukraine's ambassador that the country could spare armored fighting vehicles and deliver them to Kyiv.
Ambassador Andriy Melnyk, who has frequently criticized perceived German slowness on weapons deliveries and other issues, argued that Germany's Bundeswehr uses about 100 Marder vehicles for training and they could be handed over to Ukraine immediately.
But Defense Ministry spokesman Arne Collatz said Wednesday that Germany needs the vehicles for deployments on NATO's eastern flank and for training. He said that "a delivery from Bundeswehr stock of 'heavy material' … is not foreseen."
He spoke after the German military's deputy chief of staff, Lt. Gen. Markus Laubenthal, told ZDF television that the military has "wide commitments" and needs the weapons systems it has.
Chancellor Olaf Scholz said Tuesday that Germany is reaching the limits of possible weapons deliveries from its own stocks and will finance Ukrainian purchases of equipment from a list drawn up by the German defense industry. That didn't satisfy critics who have called for direct German deliveries of heavy weapons such as tanks.
Estonia tightens rules for May 9 Victory Day
Estonia says it is prohibiting public meetings where people display Russian flags and military symbols during the Victory Day celebrations on May 9, which is traditionally celebrated by the Baltic country's sizable ethnic-Russian population to mark the end of World War II.
"The Estonian state has so far been tolerant of the events of May 9, but Russia's current activities in Ukraine preclude public meetings in Estonia expressing support for the aggressor state and displaying war symbols," Police and Border Guard chief Elmar Vaher said Wednesday.
Police said Wednesday that commemorating those killed in World War II wasn't forbidden in the country but "it's not to be used to incite violence and hatred between people."
Funeral held for three members of Ukrainian bomb disposal team
5 million people have fled Ukraine, says U.N Refugee Agency
The number of Ukrainian refugees has topped 5 million, more than a tenth of its pre-war population, according to the latest figures by UNHCR.
More than half of the refugees arrived in Poland since the beginning of the Russian invasion, with hundreds of thousands reaching neighboring countries of Romania and Moldova.
The data also showed that more than half a million refugees have reached Russia.
A glimpse of the situation in Mariupol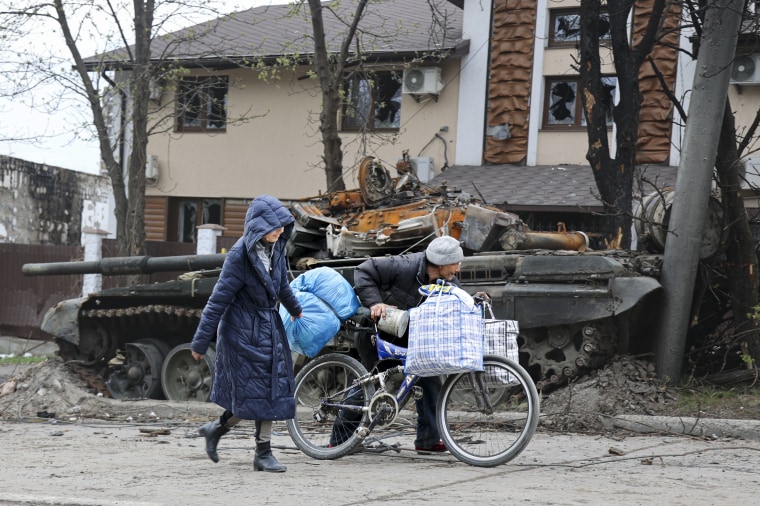 Biden to host meeting with top U.S. military leaders
President Biden is set to host an annual defense policy meeting with top military officials at the White House Wednesday. Biden is scheduled to meet in the Cabinet Room with Defense Secretary Lloyd Austin, the deputy secretary of defense, the Joint Chiefs of Staff and combatant commanders.
He and first lady Jill Biden will also host a dinner for them and their spouses in the White House Blue Room.
The events come as the U.S. continues to boost assistance to Ukraine. U.S. officials are also working closely with European leaders to ensure NATO is united in its strategy to respond to Russia's invasion into Ukraine.
Kremlin says it's 'waiting for an answer' from Ukrainian negotiators
The Kremlin is "waiting for an answer" from Ukrainian authorities after it submitted a draft document on negotiations, spokesperson Dmitry Peskov said on Wednesday.
Peskov's statement comes amid broad skepticism over whether Russia is negotiating in good faith, after both U.S. and U.K. said that the Russian forces were "repositioning" instead of scaling back from Kyiv.
Ukraine constantly departs from agreements and words, Peskov said. "The dynamics of the work of the Ukrainian side leaves much to be desired," he said, which has negative consequences in terms of negotiations.
The draft document includes "clear wording," according to Peskov. "We are waiting for an answer," he said.
'Facing our last days': Mariupol commander pleads for help as Russian forces close in
The commander of the last remaining Ukrainian troops holding the besieged city of Mariupol has said that his forces are outnumbered and may only have hours to live.
Maj. Serhiy Volyna said there were about 500 wounded troops and many civilians with them at the Azovstal steel plant, which has become the last stand for Ukrainians in the port city against Russia's advance.
In a video shared with NBC News and other media outlets that was also posted to what appeared to be his own Facebook page Wednesday, Volyna outlined the desperate situation facing the fighters and asked foreign leaders for help getting them to safety. 
Read the full story here.
Zelenskyy calls situation in Mariupol 'extremely severe,' urges no delay in weapons from allies
Ukraine aims to open humanitarian corridor out of Mariupol
Ukraine will focus its humanitarian efforts in eastern Ukraine on launching an evacuation corridor out of Mariupol, Deputy Prime Minister Iryna Vereshchuk announced on Telegram.
"Given the catastrophic humanitarian situation in Mariupol, it is in this direction that we will focus our efforts today," she said Wednesday.
Authorities also hope to send 90 buses to evacuate 6,000 civilians out of Mariupol on Wednesday, Mayor Vadym Boichenko said in an interview with the Parliamentary TV channel.
An evacuation column, typically made up of vehicles, is expected to move toward Zaporizhzhia via Berdyansk, allowing only women, children and the elderly to evacuate.
Ukrainian authorities have repeatedly accused Russia of hampering aid delivery and violating cease-fires during evacuations from the besieged port city.
Daily life in Mariupol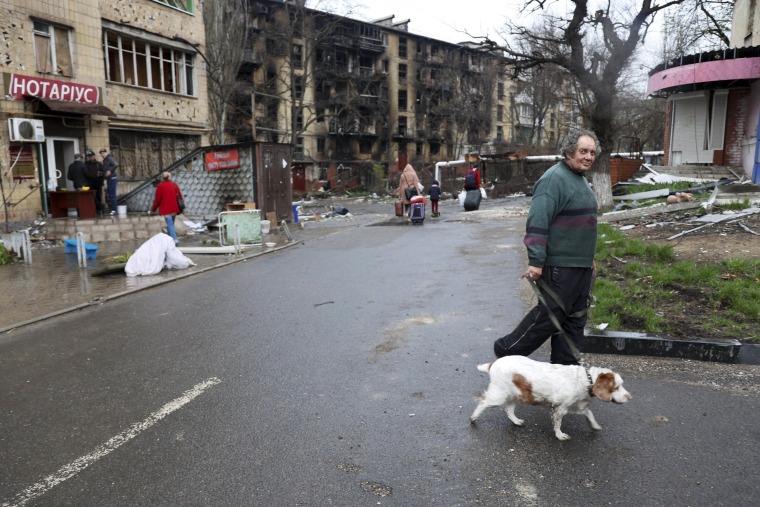 Ukraine says 12 settlements in Donetsk shelled by Russia
Russian troops have shelled 12 settlements in the eastern region of Donetsk over the past 24 hours, Ukrainian National Police said Wednesday.
In a Telegram post, the police said the shelling wounded and killed an unknown number of civilians. NBC News has not verified the claims.
The affected areas included the encircled port city of Mariupol and Kramatorsk, it said.
Chinese diplomats visit Eastern Europe amid tensions
A Chinese delegation is visiting central and Eastern Europe for the first time since the Ukraine invasion, amid tensions over Beijing's refusal to condemn Russia's aggression.
Wang Lutong, the Chinese foreign ministry's director general for European affairs, said on Twitter that the delegation would visit the Czech Republic, Slovakia, Hungary, Croatia, Slovenia, Estonia, Latvia and Poland. The delegation is led by Huo Yuzhen, China's special representative to a group called China-Central and Eastern Europe Cooperation that promotes business and investment ties between China and 16 other member countries.
Most members of the group have expressed strong opposition to Russia's military actions, and their relations with China have been strained by Beijing's professions of neutrality in the conflict. Earlier this week, a senior Chinese diplomat said Beijing would continue to strengthen strategic cooperation with Moscow "no matter how the international landscape may change."
Devastation in Zaporizhzhia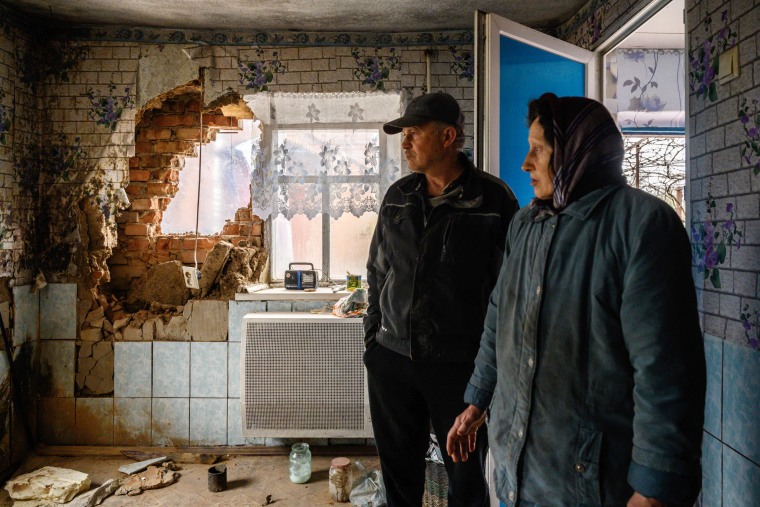 European Council president visits Kyiv
Russia 'continues to build' military presence around eastern Ukraine, U.K. says
Russia's military presence along the eastern border of Ukraine "continues to build," as Moscow launches its new offensive in the region, the British defense ministry has said.
In an intelligence update published early Wednesday, the ministry said that while Russian air activity is likely to remain low since its withdrawal from the north of Kyiv, the risk of precision strikes against "priority targets" in Ukraine persists.
"Russian attacks on cities across Ukraine show their intent to try and disrupt the movement of Ukrainian reinforcements and weaponry to the east of the country," it added.
Ukrainian returns home to devastated Bucha suburb
Canada set to send heavy artillery to Ukraine
OTTAWA, Ontario — Prime Minister Justin Trudeau said Canada will send heavy artillery to Ukraine.
Trudeau said he has been in close contact with President Volodymyr Zelenskyy and that Canada is very responsive to what Ukraine needs. He said there will be more details about the pledge in the days to come and that Ukrainians have "fought like heroes."
Canada's government has also hit 14 more Russians with sanctions for their close ties with President Vladimir Putin, including his two adult daughters.