Russia-Ukraine war latest updates: anti-mobilization protests in Dagestan; US warns of 'decisive' nuclear response | Russia
eRm
September 26, 2022
65
Key events
Local military commandant in recruiting office shot in Siberia – reports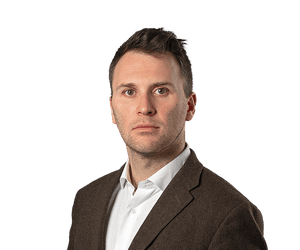 Andrew Roth
Andrew Roth reports for the Guardian from Moscow:
A Russian man has shot the local military commander in a Siberian town after telling him he would refuse to fight in the war in Ukraine.
The incident took place in the city of Ust-Ilimsk, a town of about 85,000 people in the Irkutsk region in Siberia.
Video of the dramatic incident showed the man, dressed in camouflage, firing at the official from point blank range as other potential draftees for the Russian invasion fled from the room. Reports say that at least three shots were fired.
There are conflicting reports about whether the commandant, who is head of the local draft committee, has died. Video showed him being carried from the building and placed on a stretcher. He was not moving in the video. Irciti, a local media outlet, reports that he is in hospital in critical condition.
"Nobody is going to go anywhere," the assailant said moments before opening fire, a witness told the Baikal People news outlet. Before that, the commandant, who also heads the local draft board, had gathered the men and "clumsily" gave a pep talk about going to war.
Alex Rossi is the Sky News correspondent in Moscow. He has offered this analysis this morning, saying:
We're now five days into this [mobilisation]. It doesn't seem to have really gone down very well. Bear in mind that Russia, of course, is a very heavily securitized police state where dissent isn't tolerated, but there have been sporadic protests all over the country.

The number of people that they're trying to draft is 300,000. That's almost double the initial invasion force. So it is a reflection of how badly things are going on the battlefield for the Kremlin, and just shows that they have a very significant manpower problem.

How these protests continue, we don't know whether they will grow, there's certainly the possibility of a really significant domestic backlash. Although they are small, it is significant that they're happening at all, and that will be a serious worry for Vladimir Putin going forward.
The Tass news agency is reporting that in Rubizhne in occupied Luhansk, a polling station for the widely-derided referendum being held there by proxy Russian authorities has had to be moved to a reserve location after shelling from Ukrainian forces hit the school where it was due to be held. The claims have not been independently verified.
Russia's RIA Novosti agency is carrying a quote from Kirill Stremousov, who is one of the leaders of the Russian-imposed administration in the occupied Kherson region. It reports he says he anticipates Kherson becoming part of the Russian Federation at the earliest opportunity, saying:
My personal opinion: this will happen in the near future, because the sooner we become part of the Russian Federation, becoming a full-fledged subject, the sooner we will be able to establish a peaceful life.
The "referendums" organized by the occupying authorities in eastern Ukraine continue today.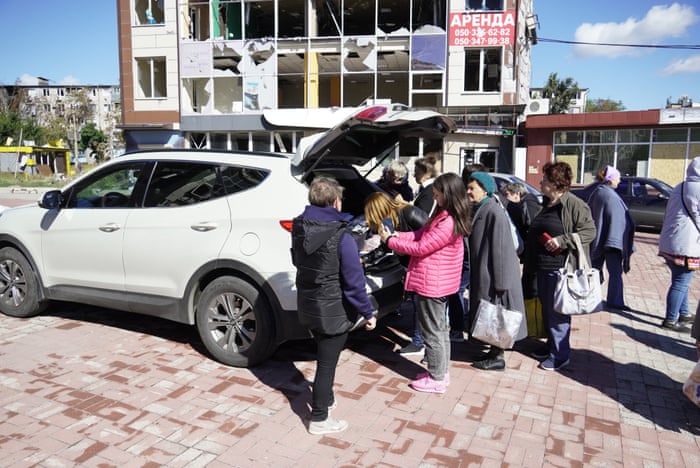 Vitaliy Kimgovernor of Mykolaiv, has posted a status update to Telegram of damage caused overnight in his region by Russian shelling.
He claims that an attack was made on an industrial zone on the outskirts of the city and that more than 15 houses and a school were damaged in one village, while one two-story residential building and an agricultural enterprise in another were hit. No casualties have been recorded overnight.
The claims have not been independently verified.
This is Martin Belam taking over the live blog, and I will be with you for the next few hours. You can reach me at martin.belam@theguardian.com
Japan will ban exports of chemical weapons-related goods to Russia, and is "deeply concerned" about the possible use of nuclear weapons, chief cabinet secretary Hirokazu Matsuno said on Monday.
Reuters reported that Japan also added 21 Russian organizations, such as science labs, to the list of entities subject to export bans.
"Japan is deeply concerned about the possibility of nuclear weapons used during Russia's invasion of Ukraine," Matsuno told the media, adding Japan will continue to work with the international society in supporting Ukraine and sanctioning Russia.
The news that Giorgia Meloni has claimed victory in Italy's elections, putting her on course to create the most right-wing government since the end of the second world war, is unlikely to be welcomed by Paris or Brussels. They are seeking to keep Europe united in the face of Russian aggression in Ukraine.
Meloni has condemned Russia's invasion and supported sending weapons to Ukraine, but it remains unclear whether her government will back the eighth round of EU sanctions being discussed in Brussels. Matteo Salvini, whose far-right League forms part of her coalition, has claimed the sanctions were bringing Italy to its knees. However, he never blocked any EU measures against Russia when in Mario Draghi's broad coalition government, which collapsed in July.
The initial tranches of men called up under Russia's partial mobilization have started arriving at military bases, according to the UK Ministry of Defence's latest update.
Many tens of thousands of call-up papers have been issued, according to UK MoD, which said Russia will face an administrative and logistical challenge to provide training for the troops.
Here is the UK analysis:
Unlike most western armies, the Russian military provides low-level, initial training to soldiers within their designated operational units, rather than in dedicated training establishments.

Typically, one battalion within each Russian brigade will remain in garrison if the other two deploy and can provide a cadre of instructors to train new recruits or augmentees.
However, Russia has deployed many of these third battalions to Ukraine.

Many of the drafted troops will not have had any military experience for some years. The lack of military trainers, and the haste with which Russia has started the mobilization, suggests that many of the drafted troops will deploy to the frontline with minimal relevant preparation. They are likely to suffer a high attrition rate.
The US has warned Russia privately of "catastrophic" consequences if it uses nuclear weapons, US officials said.
Russian President Vladimir Putin made a thinly veiled threat to use nuclear weapons in a speech last week as he announced the mobilization of reservists.
"It's very important that Moscow hears from us and knows from us that the consequences would be horrific. And we've made that very clear," Blinken said of Putin's comments as he spoke to the CBS News program "60 Minutes".
Two drones launched by Russian forces into the Odesa region in Ukraine hit military objects causing a fire and the detonation of ammunition, according to a report by Reuters.
"As a result of a large-scale fire and the detonation of ammunition, the evacuation of the civilian population was organized," the South command of Ukraine's forces said in a statement on the Telegram. "Preliminarily, there have been no casualties."
It's just past 8.10am in Ukraine. Here are the latest developments:
The United States and its allies will act "decisively" if Russia uses a tactical nuclear weapon in Ukraine, the US national security adviser said. Jake Sullivan told CBS on Sunday: "We have communicated directly, privately and at very high levels to the Kremlin that any use of nuclear weapons will be met with catastrophic consequences for Russia, that the US and our allies will respond decisively, and we have been clear and specific about what that will entail."

Protests against the Vladimir Putin's partial military mobilization order appeared to continue on Sunday in the Russian republic of Dagestan, with videos showing standoffs between the police and the public. Video footage posted on social media showed police arresting demonstrators protesting against the order to draft 300,000 more Russians to the army for the war effort in Ukraine.

Volodymyr Zelenskiy has vowed to liberate the entire country as Russia pressed on with its supposed referendum in occupied areas of Ukraine and so-called election workers accompanied by masked gunmen knocked on doors to get people to vote. The Ukrainian president said the country's armed forces would throw out Russia's forces and retaliate against "every strike of the aggressor". He vowed that Ukraine would regain control of the southern Kherson region and the eastern Donbas, saying: "Every murderer and torturer will be brought to justice."

The UK prime minister, Liz Truss, has said its allies France and the US should continue to support Ukraine in the face of the Russian president's increased threats and his military call-up. Truss said Vladimir Putin was escalating the war because he was not winning and had made a mistake.

Long queues of vehicles were at the border crossing between Russia and Mongolia on Sunday as people continued to flee the Kremlin's mobilization order, AFP reported. The head of a checkpoint in the town of Altanbulag told the agency that more than 3,000 Russians had entered Mongolia via the crossing since Wednesday.

Serbia will not recognize Russian annexation "referendums" in occupied Ukrainian areas. The Serbian foreign minister, Nikola Selakovic, said the referendums "completely contradict our state and national interests, our policy of dealing with territorial integrity, sovereignty and the principle of inviolability of borders".

Zelenskiy has renewed calls for western allies to cut Russian banks from Swiftthe global banking system that allows banks to send messages to each other. "If we cut Russian banks from Swift, we need to cut all Russian banks from Swift," he said.

Zelensky also said that Ukraine has received Nasams (national advance surface-to-air missile systems) air defense missiles from the US. In a TV interview, Zelenskiy thanked President Joe Biden and confirmed that Ukraine now had the systems in the country. Zelenskiy also said Russia's military call-up was a tacit acknowledgment that its "army is not able to fight".

Thousands of Hassidic Jewish pilgrims flocked to central Ukraine to mark the Jewish new year on Sunday, ignoring international travel warnings as Russian forces attacked more targets from the air. The pilgrims, many traveling from Israel and further afield, converged on the small city of Uman, the burial site of Nachman of Breslov, a respected Hassidic rabbi who died in 1810, Associated Press reported.

The Ukrainian ambassador to the UK has issued a plea for continued "generosity" and "patience" from those offering a home to refugees in Britain. Vadym Prystaiko said Ukraine needed "much more" help from the UK as the country fought Moscow's invasion, with the Kremlin's military call-up amounting to "something formidable".

Israel will treat 20 Ukrainian soldiers who have been injured in the war with Russia, according to the Israeli ambassador to Ukraine. The first two patients would arrive on Sunday for treatment at Sheba Medical Center near Tel Aviv, envoy Michael Brodsky said.

Aiden Aslin, one of the five British nationals released by Russia last week, has given his first media interview after returning to the UK. He told the Sun on Sunday that he was kept in solitary confinement for five months and "treated worse than a dog".