Russia-Ukraine war latest news: Germany rejects Putin's gas supply 'blackmail'; Russia drawing on forces from Georgia, UK says – live | Ukraine
eRm
April 1, 2022
108
Australian Prime Minister Scott Morrison has said Australia will send armoured Bushmaster vehicles to Ukraine after President Volodymyr Zelenskiy specifically asked for them during a video appeal to Australian lawmakers.
Zelenskiy addressed the Australian Parliament on Thursday and asked for the Australian-made, four-wheel-drive vehicles.
Morrison told reporters the vehicles will be flown over on Boeing C-17 Globemaster transport planes. He didn't specify how many would be sent or when.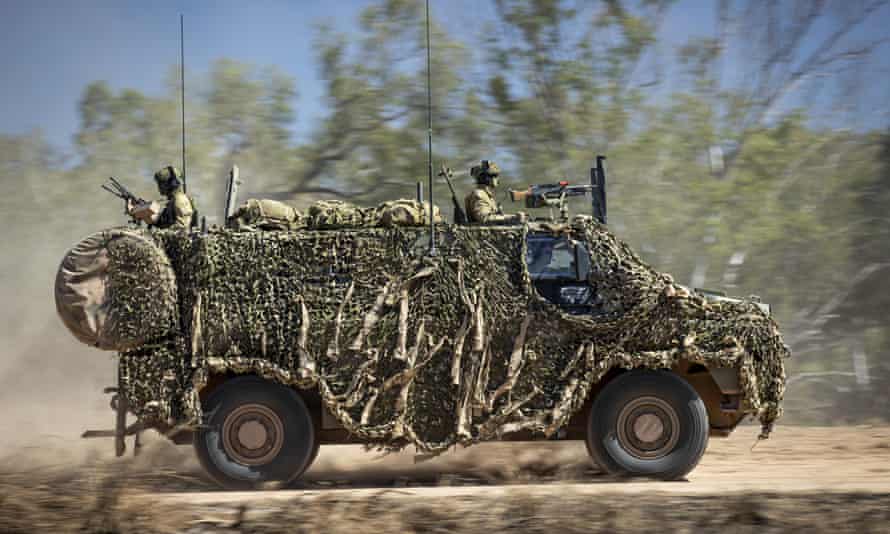 "We're not just sending our prayers, we are sending our guns, we're sending our munitions, we're sending our humanitarian aid, we're sending all of this, our body armor, all of these things and we're going to be sending our armoured vehicles, our Bushmasters, as well," Morrison said.
Zelenskiy specifically asked for Bushmaster vehicles during his address to Australian Parliament.
"You have very good armed personnel vehicles, Bushmasters, that could help Ukraine substantially, and other pieces of equipment," Zelenskiy said.
A Russian lawyer has taken up the task of defending a group of national guardsmen who refused to join the war in Ukraine.
"A lot of people don't want to go and fight," Mikhail Benyash told the Financial Times, adding that about 1,000 people had been in touch with his team, as he pursues the first court case to officially reveal dissent inside the ranks of Russia's security forces over the invasion.
The 12 national guardsmen who were fired after refusing to go to Ukraine were members of Rosgvardia, a militarised force separate from the army that was established in 2016 to maintain public order and fight crime, according to FT.
The guardsmen had been deployed before the invasion to occupied Crimea for military exercises, according to Pavel Chikov, head of Agora, the Russian human rights group. The day after the war began on February 24, they received orders to cross into Ukraine but refused, Chikov wrote on his channel in the Telegram messaging app.
The men argued that the order was unlawful as they were not soldiers, but members of a domestic force whose duties did not extend beyond Russia.
None were informed they were being sent into the "territory of Ukraine to participate in a special military operation, about the tasks and conditions of this operation and, as a consequence, did not consent to it", he added.
Benyash said Rosgvardia employees were not trained for full combat operations. "Have [they] been taught to dig trenches? To build defensive structures?" he asked. "In their line of work they handle small guns. Maximum they have automated weapons, but they basically never use them," he added.
Ahead of the next session in the case on Friday, Benyash said nine of the 12 guardsmen who filed the wrongful dismissal case had withdrawn the claims under huge pressure. There had been threats of criminal cases unless they backed down, he said. "Some are seeing their relatives turn away from them."
05:25
Russians fled Chernobyl with 'significant doses' of radiation, says Ukraine as IAEA investigates
The UN atomic watchdog is investigating Ukrainian claims that Russian soldiers occupying Chernobyl nuclear power station left after receiving "significant doses" of radiation.
The International Atomic Energy Agency (IAEA) said it could not confirm the claims by Ukrainian state power company Energoatom and was seeking an independent assessment.
Ukraine's state agency in charge of the Chernobyl exclusion zone, Energoatom, published an update late on Thursday confirming Russian troops had left the site.
Energoatom added that the Russians dug trenches in the forest inside the exclusion zone at the site of the world's worst nuclear disaster, and that the troops "panicked at the first sign of illness" that "showed up very quickly" and began preparing to leave.
So it is not surprising that the occupiers received significant doses of radiation and panicked at the first sign of illness. And it manifested itself very quickly."
The IAEA said it had not been able to confirm reports of Russian troops receiving high doses and was seeking more information in a statement on Thursday.
The IAEA has not been able to confirm reports of Russian forces receiving high doses of radiation while being in the Chernobyl Exclusion Zone and is seeking further information in order to provide an independent assessment of the situation."
Deserted military uniforms, tanks and soldiers' personal items now litter battlefields across Ukraine.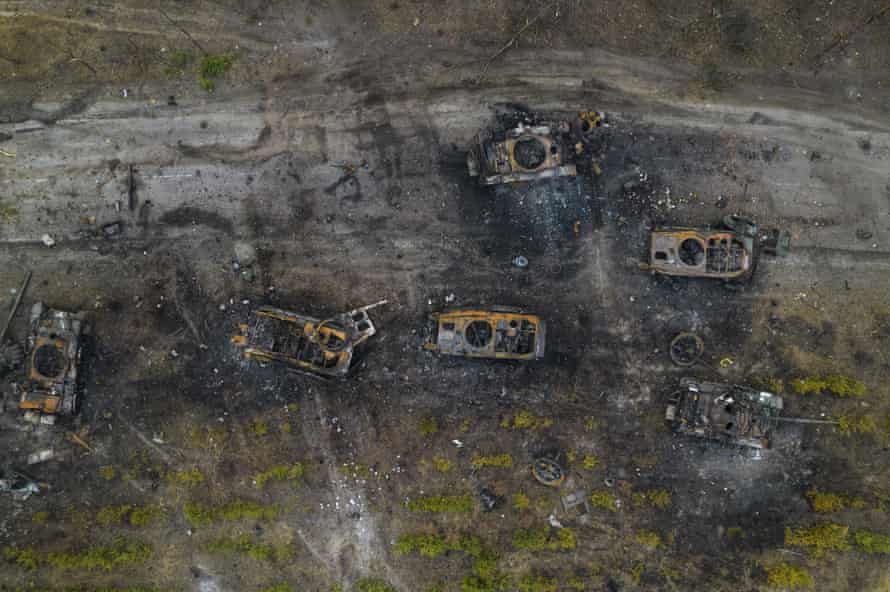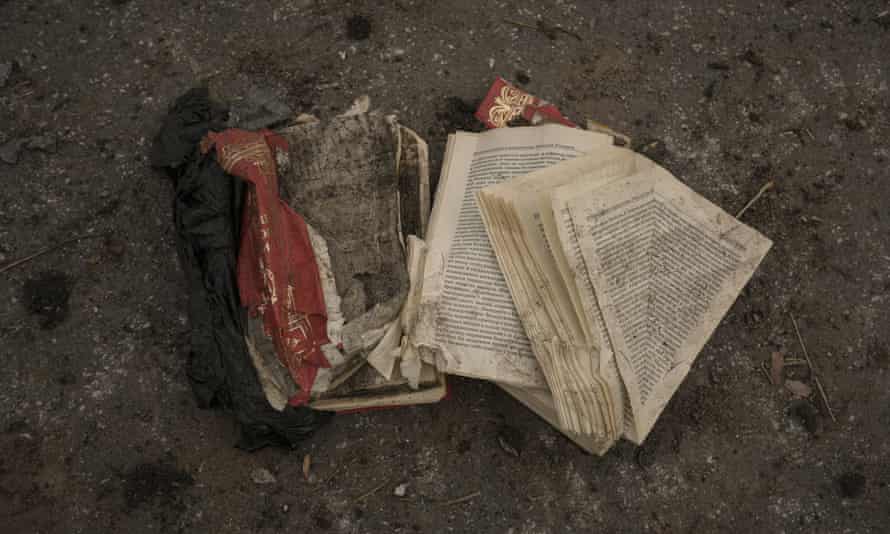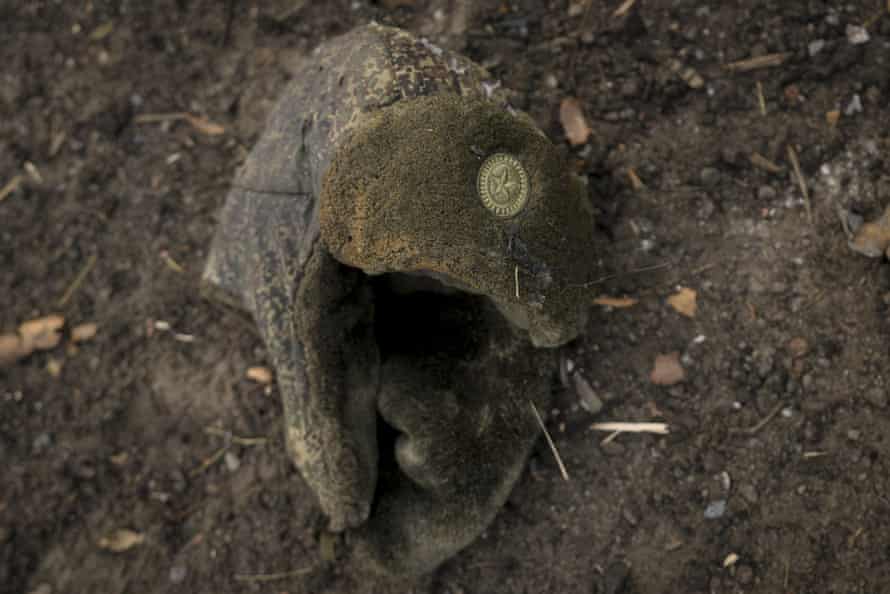 05:18
Ukraine reclaims towns near Chernihiv, UK MoD says
The UK's ministry of defence has said Ukrainian forces have retaken villages south of Chernihiv.
The report, published just after 6am GMT, reads:
Ukrainian forces have retaken the villages of Sloboda and Lukashivka to the south of Chernihiv and located along one of the main supply routes between the city and Kyiv.

Ukraine has also continued to make successful but limited counter attacks to the east and north east of Kyiv.

Both Chernihiv and Kyiv have been subjected to continued air and missile strikes despite Russian claims of reducing activity in these areas."
05:10
Mariupol prepares for evacuation through new humanitarian corridors
Ukraine hopes to launch a fresh attempt to rescue civilians from Mariupol this morning after warnings from the Red Cross that thousands of lives depend on the successful evacuation of people trapped in the besieged city by Russian forces.
A total of 45 buses are en route to the nearby southern coastal town of Berdyansk, the Ukrainian deputy prime minister, Iryna Vereshchuk, said, along with a team from the International Committee of the Red Cross (ICRC) delivering humanitarian aid and assisting evacuations. The convoy was expected to enter the city this morning after Russian promises of a limited ceasefire along the route from Mariupol to the Ukraine-held city of Zaporizhzhia.
Repeated efforts to set up humanitarian corridors for the evacuation of up to 170,000 people who remain in Mariupol, which has suffered four weeks of bombardment and dwindling supplies, have failed. Ukraine has accused Russian forces of shelling supposedly safe routes outside of several fighting hotspots; claims that Moscow denies.
Mariupol prepares for evacuation through new humanitarian corridors
"Time is running out to help these people. This evacuation is hugely important," said Alyona Synenko, a spokesperson for the ICRC. "It is essential we get concrete and precise agreements from both sides on times and routes tomorrow. These instructions need to be conveyed to military units on the ground and they must be respected.
"We distributed the last of the supplies we had there two weeks ago. People have nothing now. We are ready to help and we are hoping tomorrow safe passage materialises."
Control of Mariupol, a strategic port once home to 400,000 people and still in the Ukrainian government's hands, would ensure Russian dominance in the inland Sea of Azov.
05:02
Russian oil depot on fire – reports
An oil depot is reportedly on fire in the Russian city of Belgorod as the regional governor blames Ukrainian military helicopters for the attack.
Vyacheslav Gladkov said the fire was caused by air strikes from two Ukrainian helicopters that had crossed the border at low altitude, in a statement on his Telegram channel on Friday morning.
He added that the blaze injured two workers.
Belgorod sits just north of the border with Ukraine.
Ukraine has not claimed responsibility for any of the blasts.
Hello it's Samantha Lock back with you to deliver all the latest breaking news from Ukraine.
Attempts at peace talks will once again kick off this morning as negotiators from Russia and Ukraine prepare to meet again via video link. A humanitarian corridor promised by Russia out of Mariupol is also hoped to take affect.
Here's the latest:
Peace talks between Russia and Ukraine are due to restart this morning by video, focusing on the peace framework the Ukrainian side presented during a face-to-face meeting in Istanbul earlier this week.
A humanitarian corridor out of Mariupol is set to be opened from 10am today to allow civilians out of the besieged port city, which is in the Donbas in south-eastern Ukraine. It follows "a personal request from the French president and German chancellor to Russian president Vladimir Putin", the Russian defence ministry said.
A convoy of Ukrainian buses has set out for Mariupol to try to deliver humanitarian supplies and bring out trapped civilians, Ukraine's deputy prime minister said.
Russian forces have reportedly left the Chernobyl power plant, the Ukrainian Atomic Energy Ministry said, citing personnel at the site. Russian troops began leaving after soldiers got "significant doses" of radiation from digging trenches at the highly contaminated site, Ukraine's state power company said. Energoatom said the Russians had dug in the forest inside the exclusion zone around the now-closed plant and "panicked at the first sign of illness," which "showed up very quickly," and began preparing to leave, Energoatom said.
Russian troops reportedly took an unspecified number of captive Ukrainian servicemen hostage after leaving the Chernobyl nuclear power plant, Energoatom claimed in a statement on Telegram.
Ukrainian president Volodymyr Zelenskiy repeated his warning that Russia is preparing for "powerful strikes" in the Donbas region after appearing to withdraw from an assault on Kyiv. The Pentagon also said that Russia may be repositioning some of its forces to send them to the Donbas.
Nato's chief Jens Stoltenberg said Russian forces are not withdrawing, but regrouping. He also said the alliance had yet to be convinced Russia was negotiating in good faith in peace talks in Istanbul because Moscow's military objective since launching its invasion of Ukraine had not changed.
Russia is redeploying elements of its forces from Georgia to reinforce its invasion, British military intelligence said on Thursday. "It is highly unlikely that Russia planned to generate reinforcements in this manner and it is indicative of the unexpected losses it has sustained during the invasion," the ministry added.
The White House said the US has evidence that the war against Ukraine has been "a strategic disaster" for Russia. "We have seen incontrovertible evidence that this has been a strategic disaster for Russia," director of communications Kate Bedingfield said, adding that Russia is "working to redefine the initial aims of their invasion".
US president Joe Biden said that Russian president Vladimir Putin "seems to be self-isolated" and noted "there's some indication that he has fired or put under house arrest some of his advisers," without citing evidence.
UK defence secretary Ben Wallace seemingly concurred with this assessment, saying Putin is "not the force he used to be" as he becomes increasingly more isolated. Speaking with Sky News, Wallace said: "President Putin is not the force he used to be. He is now a man in a cage he built himself. He's isolated. His army is exhausted, he has suffered significant losses. The reputation of this great army of Russia has been trashed."
Russia has threatened to halt contracts supplying Europe with a third of its gas unless they are paid in Russian currency. Putin signed a decree on Thursday saying foreign buyers must pay in roubles for Russian gas from Friday. He said contracts would be halted if these payments were not made. Germany and France rejected the demands and said they amounted to "blackmail".
EU and Chinese leaders will meet for a first summit in two years on Friday, with Brussels keen for assurances from Beijing that it will neither supply Russia with arms nor help Moscow circumvent western sanctions. EU officials close to the preparations of the summit said any help given to Russia would damage China's international reputation and jeopardise relations with its biggest trade partners – Europe and the United States.
Britain and its allies have agreed to send more lethal military aid to Ukraine to help defend it against Russia's invasion, the British defence secretary, Ben Wallace, has said. As part of the agreement, armoured vehicles and long-range artillery will be sent.
Australia will send armoured Bushmaster vehicles to Ukraine after Zelenskiy specifically asked for them during a video appeal to Australian lawmakers.
Russia said it will respond to the EU's "irresponsible" sanctions. Senior foreign ministry official, Nikolai Kobrinets, told Russian state media agency RIA in an interview: "The actions of the EU will not remain unanswered … the irresponsible sanctions by Brussels are already negatively affecting the daily lives of ordinary Europeans."