Russia-Ukraine war latest: Boris Johnson makes surprise trip to Kyiv for talks with Volodymyr Zelenskiy – live | Ukraine
eRm
April 9, 2022
64
10:08
Boris Johnson meets Volodymyr Zelenskiy in Kyiv
The UK prime minister is holding a meeting with the Ukrainian president in the capital this afternoon.
The Ukrainian embassy to the UK shared a photograph of the two leaders in talks:
00:35
Eight Russian attacks thwarted in Donetsk and Luhansk, Ukraine says
The Ukrainian military has just published its latest operational report as of 6am this morning.
Officials claim Russian forces are attempting to break through the Ukrainian defences in Izum in Kharkiv, east Ukraine, by relocating additional units to the area while also attempting to establish full control over the city of Mariupol.
A partial blockade of Kharkiv and shelling of the city continues, Ukraine's general staff of the armed forces said.
The "constant arrival of wounded [Russian] soldiers" is putting strain on medical staff and overwhelming medical supplies, the report added.
In the absence of a stable supply of spare parts and units, Russian troops are forced to "work around the clock" to restore and repair equipment, officials claimed.
In the Luhansk region, the measures of Russian-occupation administrations on forced mobilisation of the population in temporarily occupied territories are being strengthened.
According to the report, in the territory of Donetsk and Luhansk regions, Ukrainian soldiers thwarted eight Russian attacks, destroyed four tanks, eight units of armoured vehicles and 13 air targets including three aircraft, one helicopter, five UAVs and four winged missiles.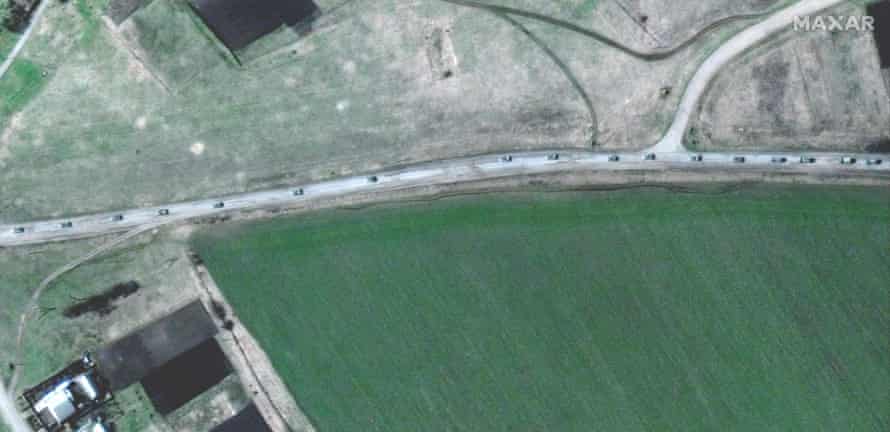 Finland is preparing for a potentially historic decision "before midsummer" on whether to apply to join Nato as a deterrent against Russian aggression.
The Nordic nation of 5.5 million has traditionally been militarily non-aligned, in part to avoid provoking its eastern neighbour, with which it shares a 1,300km (830 mile) border.
But Russia's invasion of Ukraine has seen public support for joining Nato double from 30 to 60%, according to a series of polls.
"Never underestimate the capacity of Finns to take rapid decisions when the world changes," former Finnish prime minister Alexander Stubb told AFP.
Himself a long-time Nato advocate, Stubb now believes Finland making a membership application is "a foregone conclusion" as Finns re-evaluate their relationship with their neighbour.
Next week a government-commissioned national security review will be delivered to parliament, the Eduskunta, to help Finnish MPs make up their own minds, before it is put to a vote.
"We will have very careful discussions but not taking any more time than we have to," Prime Minister Sanna Marin told a news conference on Friday.
"I think we will end the discussion before midsummer," she added.
"My guess is that the application will be filed sometime during the month of May" in time for the June Nato summit in Madrid, Stubb said.
23:15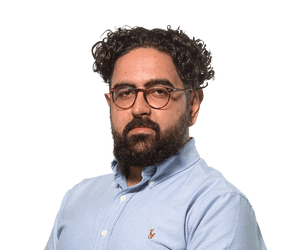 Mostafa Rachwani
When a single ceramic cockerel, sitting atop a kitchen cabinet, survived a bombardment of Borodianka, it became a symbol of Ukrainian resistance.
So when Boris Johsnon and Volodymyr Zelenskiy were given one each as a gift as they walked through Kyiv, it carried an added significance.
As both leaders stroll through the eerily empty streets of the Ukrainian capital, surrounded by armed soldiers, a woman approaches and gives them the two ceramic jugs in the shape of the cockerel.
"I'm from London," Johnson says, to which the woman responds with a smile.
"I know, I'm from Kharkiv."
The ceramic rooster was first designed by the famous Ukrainian artist and sculptor Prokop Bidasiuk, who worked at the local majolica factory and created many dishes, vases, toys and other ceramic products. Bidasiuk, who was born in 1895, has had his work displayed at the National Museum of Folk Applied Arts.
When photos emerged of one of his ceramic cockerels surviving the bombardment of Borodianka, it was adopted as a reflection of Ukrainian resilience, quickly becoming a meme online.
Here is a little more information on what we know about Putin's appointment of a new general to direct his war effort in Ukraine.
Army Gen. Alexander Dvornikov, commander of Russia's Southern Military District, has been named theatre commander of Russia's military campaign in Ukraine, according to CNN who cited a US official and a European official.
It speaks to a Russian acknowledgement that it is going extremely badly and they need to do something differently," the European official said.
A new assault is now expected to focus on the Donbas region, instead of multiple fronts.
Dvornikov, 60, was the first commander of Russia's military operations in Syria, after Putin sent troops there in September 2015 to back the government of Syrian President Bashar al-Assad. During Dvornikov's command in Syria from September 2015 to June 2016, Russian aircraft backed the Assad regime and its allies as they laid siege to rebel-held eastern Aleppo, bombarding densely populated neighbourhoods and causing major civilian casualties. The city fell to Syrian government forces in December 2016.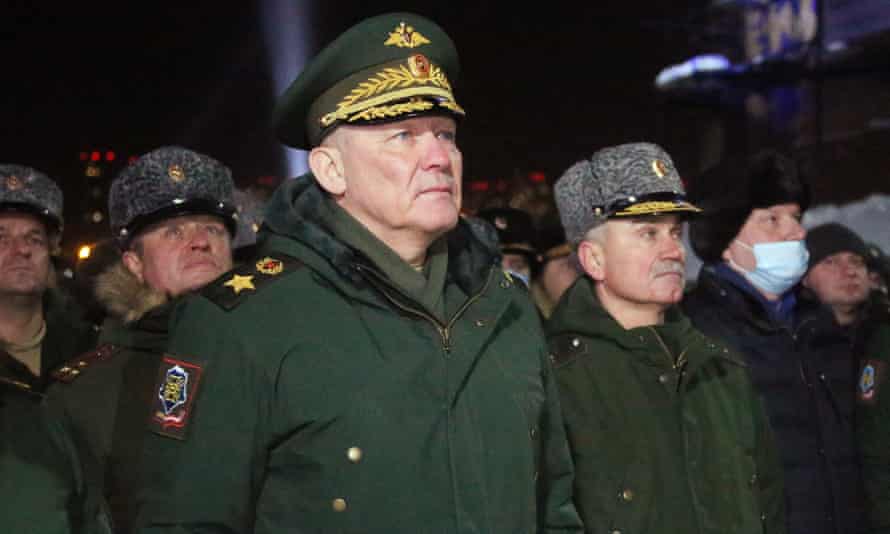 Russian forces have used a similarly heavy-handed approach in parts of Ukraine, striking residential buildings in major cities and demolishing much of the Ukrainian port city of Mariupol.
"We will see how effective that proves to be," the European official said. "The Russian doctrine, the Russian tactics remain pretty much as they've been since Afghanistan."
"They do things in the same old way," the official added.
Former UK ambassador to Russia, Sir Roderic Lyne, told Sky News on Saturday Moscow has appointed a new general with a "pretty savage track record in Syria to try to at least gain some territory in Donetsk that Putin could present as a victory."
In case you missed Boris Johnson's earlier address during a surprise trip to Kyiv, the British prime minister hailed the leadership of Ukrainian president Volodymyr Zelenskiy and signalled that the UK is ready to continue intensifying sanctions on Russia "week by week".
Johnson said that "we will provide support so that Ukraine will never be invaded again". It is unclear yet if Johnson meant specifically the UK or Britain and its European and Nato allies.
Protesters staged a self-described "die-in" outside Downing St in London on Saturday.
Demonstrators held 'babies' and signs covered in fake blood in protest against the massacre in the town of Bucha and atrocities reportedly committed by Russian forces in Ukraine.
A similar protest took place outside the White House in Washington D.C where protesters lay on the ground as they re-enacted the murder of civilians in Bucha.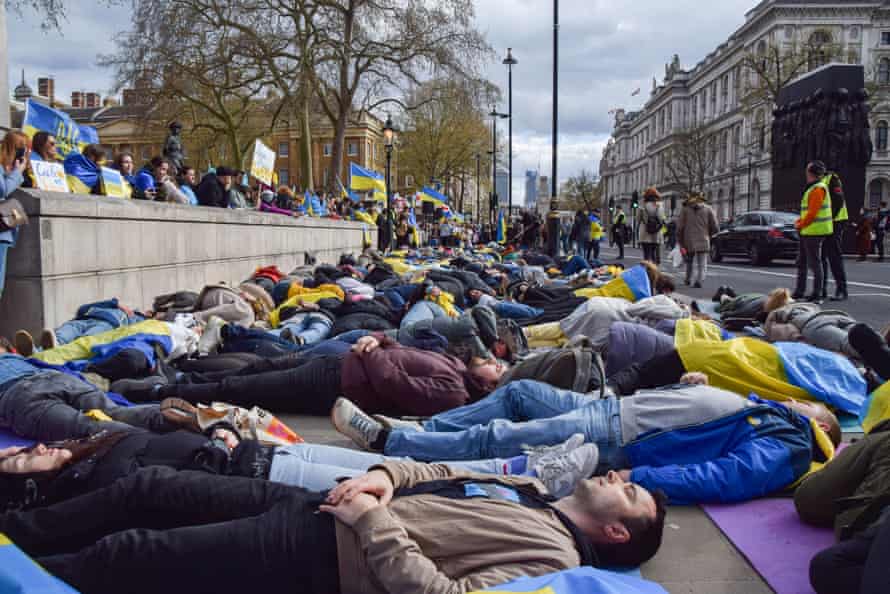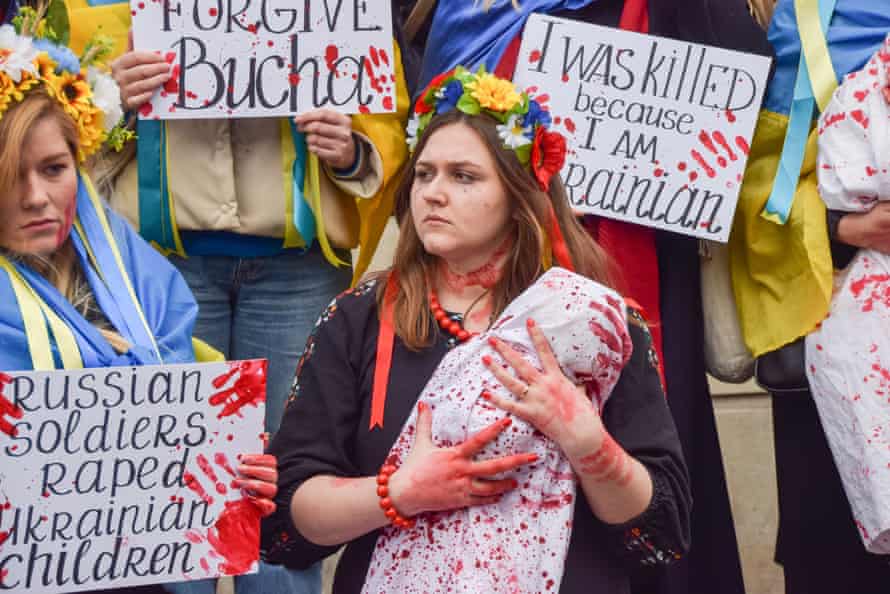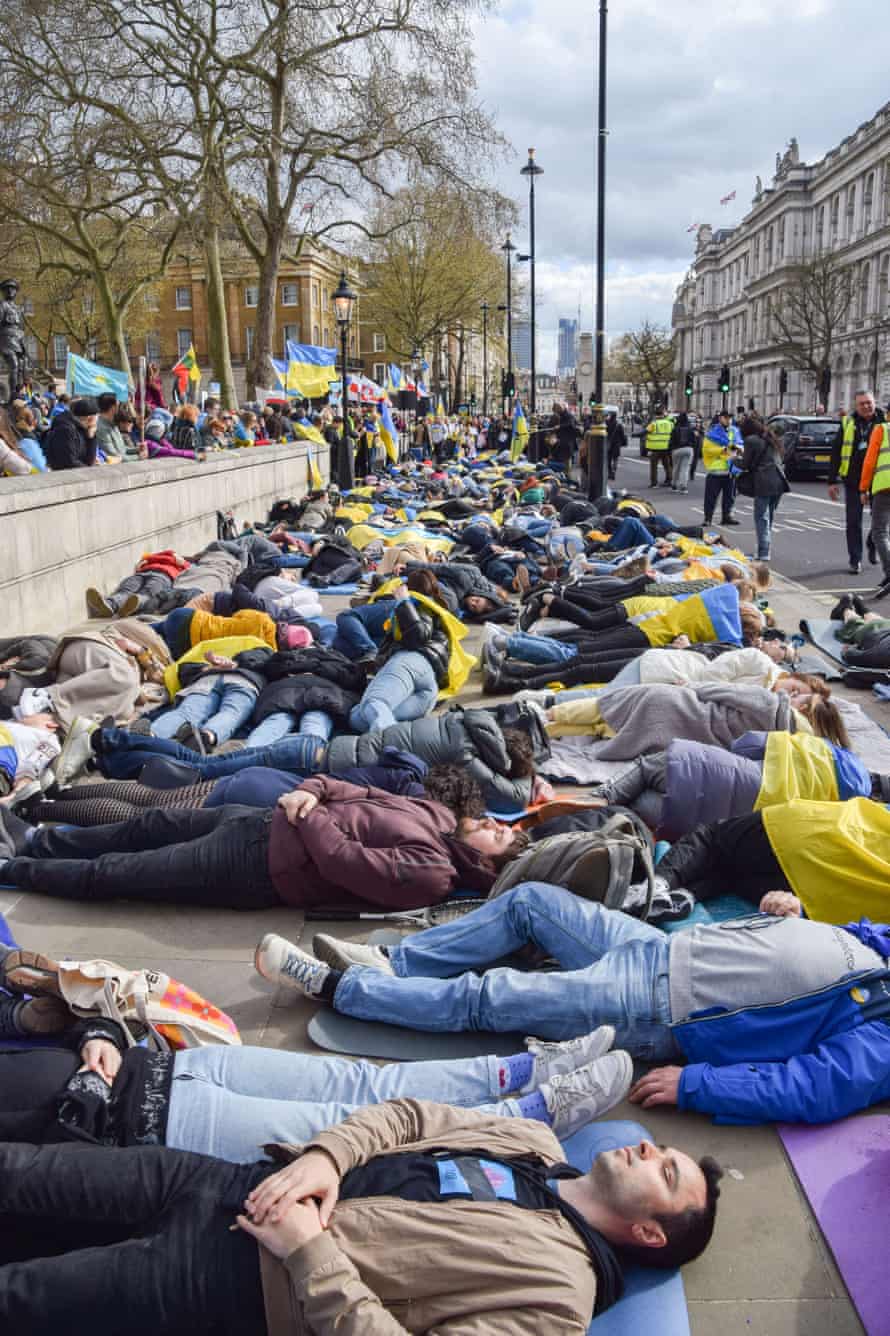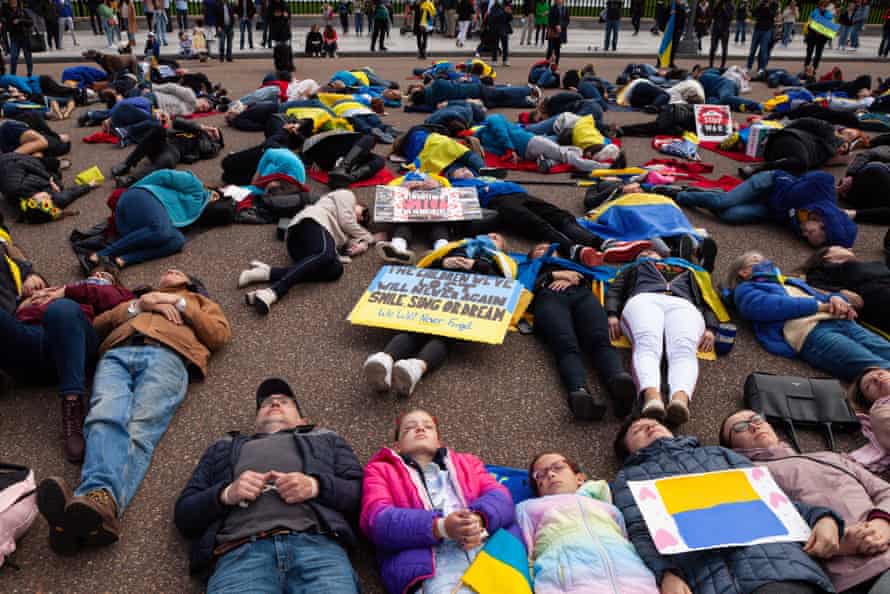 21:57
Ukraine bans all imports from Russia
Ukraine has banned all imports from Russia, one of its key trading partners before the war with annual imports valued at about $6 billion, and called on other countries to follow suit.
"Today we officially announced a complete termination of trade in goods with the aggressor state," Ukraine's minister for economic development and trade, Yulia Svyrydenko, said in a statement on Saturday.
From now on, no Russian Federation's products will be able to be imported into the territory of our state.

The enemy's budget will not receive these funds, which will reduce its potential to finance the war.

Such a step of Ukraine can serve as an example for our Western partners and stimulate them to strengthen sanctions against Russia, including the implementation of the energy embargo and isolation of all Russian banks."
Since the start of Russia's invasion of Ukraine on 24 February, exchange of goods and services between the two neighbouring countries has been virtually non-existent, but Saturday's move makes the termination of imports a law.
21:45
Without oil embargo, Russia has 'sense of impunity', Zelenskiy says
We have some more detail from Zelenskiy's earlier late-night address.
The Ukrainian president urged for "more painful restrictions" on Russia's cash flow, primarily upon oil and gas.
First of all this applies to the oil business. The democratic world can definitely give up Russian oil and make it toxic to all other states.

Oil is one of the two sources of Russian self-confidence, their sense of impunity."
Zelenskiy also pushed for gas sanction, saying over time this "will also be shut down".
"It's just inevitable. Not only for safety, but also for environmental reasons," he added.
Towns and villages surrounding Kyiv have been left reeling after Russia's failed campaign to seize the capital.
The Russian retreat has revealed scores of civilian deaths and devastation inflicted upon homes, apartment buildings and civilian infrastructure.
Images from Borodianka, about 50km north-west of Kyiv, reveal the extent of the destruction.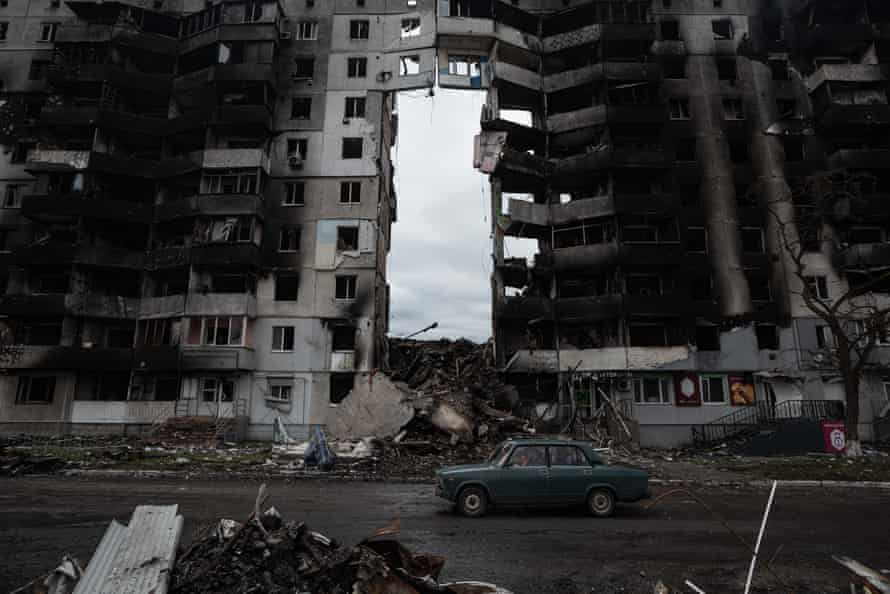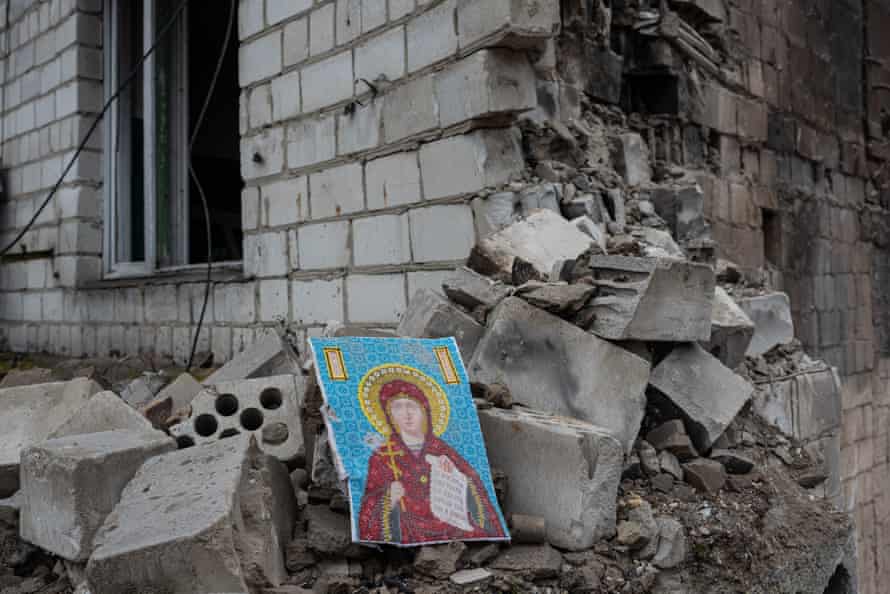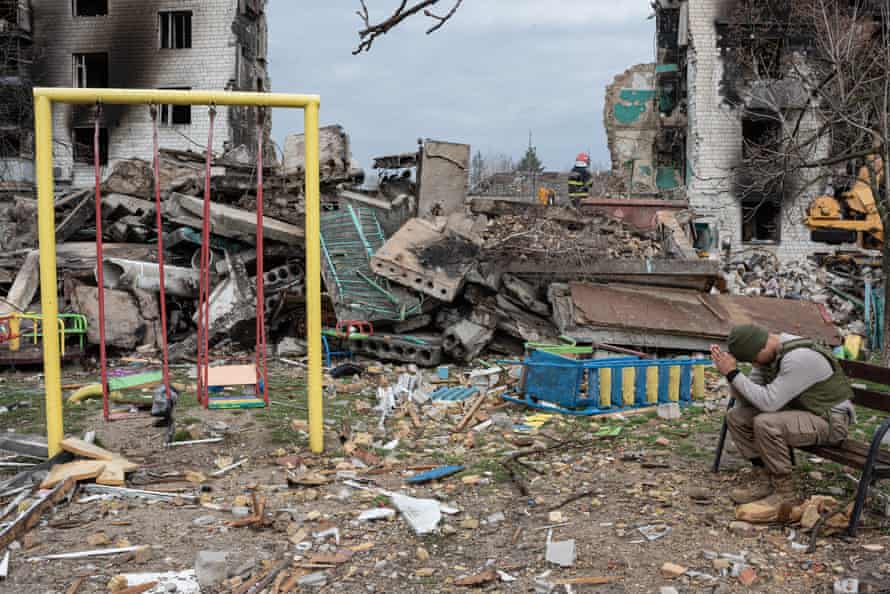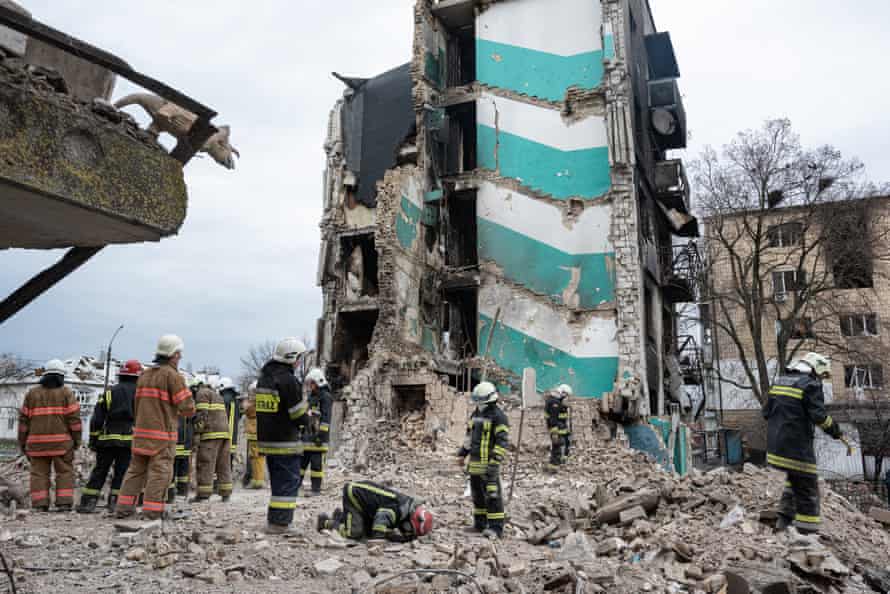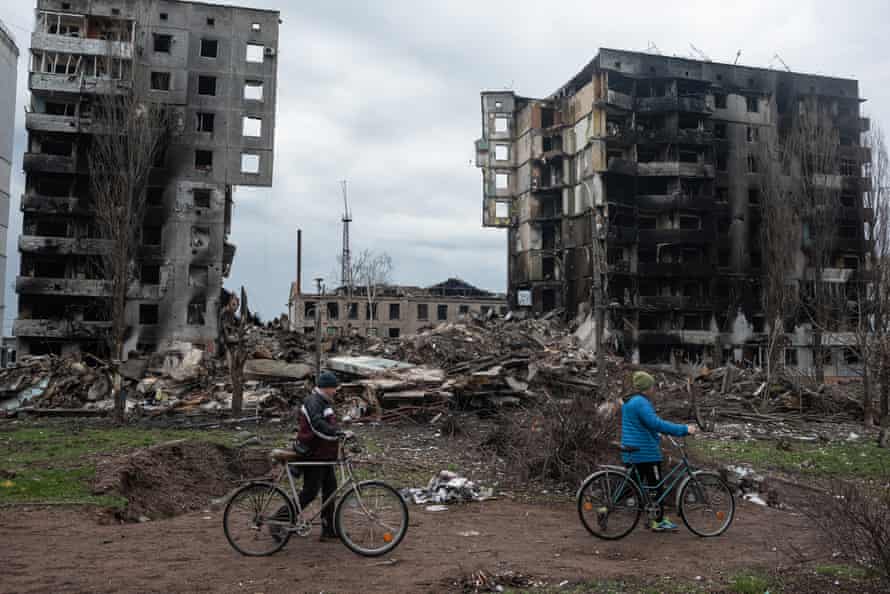 Nato is working on plans for a permanent military presence on its border in an effort to battle future Russian aggression, The Telegraph is reporting, citing Nato Secretary-General Jens Stoltenberg.
Nato was "in the midst of a very fundamental transformation" that will reflect "the long-term consequences" of Russian President Vladimir Putin's actions, Stoltenberg said in an interview with the newspaper.
"What we see now is a new reality, a new normal for European security. Therefore, we have now asked our military commanders to provide options for what we call a reset, a longer-term adaptation of Nato," it cited Stoltenberg as saying.
Stoltenberg, who recently said he would extend his term as head of the alliance by a year, also said in the interview that decisions on the reset would be made at a Nato summit to be held in Madrid in June.
It is 4am on Sunday in Ukraine as the country prepares for a feared escalation in attacks in the east and evacuations continue.
During a surprise visit to the capital on Saturday, Britain's prime minister Boris Johnson pledged more military and economic assistance for Ukraine.
Here's where things stand:
Ukraine's president Volodymyr Zelenskiy said his country is ready for a tough battle with Russian forces amassing in the east of the country. "This will be a hard battle, we believe in this fight and our victory. We are ready to simultaneously fight and look for diplomatic ways to put an end to this war," he said.
Zelenskiy said Ukraine "does not have time to wait" while pushing for an oil embargo on Russia in his latest national address. He also said he is committed to pressing for peace despite Russian attacks on civilians that have stunned the world, and renewed his plea for countries to send more weapons ahead of an expected surge in fighting in the country's east, in an interview with the Associated Press.
British prime minister Boris Johnson pledged a major new infusion of British arms and financial aid during a surprise trip to Kyiv on Saturday. Johnson said the UK and its partners and allies will provide support so that "Ukraine will never be invaded again". The UK confirmed it will send 120 armoured vehicles and new anti-ship missile systems.
Johnson praised Zelenskiy's "resolute leadership and the invincible heroism". "Putin's monstrous aims are being thwarted," he said. The reputations of Vladimir Putin and his government have been "permanently polluted" by war crimes against civilians in Ukraine, he added.
Russia's withdrawal from northern Ukrainian has left evidence of "disproportionate targeting" of civilians, mass graves, the use of hostages as human shields, according to the latest British intelligence report. The report also claimed Russian forces continue to use improvised explosive devices (IEDs) to inflict casualties, lower morale, and restrict Ukrainian freedom of movement.
Five people have been killed in east Ukraine shelling, according to the Donetsk governor. Four were reported killed in the city of Vugledar, and one in the town of Novomikhaylovka.
In the town of Borodianka, north-west of Kyiv, rescue teams are sorting through the rubble of houses destroyed in Russian bombardments, looking for those missing. Heavy Russian bombardment has razed residential buildings and Ukrainian authorities are attempting search, clear-up and, hopefully, some rescue activities.
Ukraine carried out a prisoner exchange with Russia on Saturday, the third such swap since the start of the war, with 12 soldiers confirmed to be coming home, Ukrainian deputy prime minister Iryna Vereshchuk said in an online post.
A total of 4,553 people were evacuated from Ukrainian cities through humanitarian corridors on Saturday, fewer than the 6,665 who escaped on Friday, Ukraine's deputy prime minister Iryna Vereshchuk said. Ten humanitarian corridors to evacuate people from embattled areas across the country had been agreed on Saturday.
The European Commission is pledging 1bn euros to support Ukraine and countries receiving refugees fleeing the war following Russia's invasion, Ursula von der Leyen said.
The Czech Republic has delivered tanks, multiple rocket launchers, howitzers and infantry fighting vehicles to Ukraine among military shipments that have reached hundreds of millions of dollars and will continue, two Czech defence sources told Reuters.
Austrian chancellor, Karl Nehammer also met Volodymyr Zelenskiy earlier on Saturday, following a visit to the city of Bucha to the north west of Kyiv, where mass civilian graves and street killings by Russian forces were discovered last week.
Russia has reorganised the command of its battle operations in Ukraine, installing a new general with extensive experience in Russian operations in Syria, according to a western official. The commander of Russia's southern military district, Gen Alexander Dvornikov, now leads the invasion, the source told the BBC, adding: "We would expect the overall command and control to improve."
Here is another look at British prime minister Boris Johnson's surprise trip to Kyiv on Saturday.
Video footage showed Johnson and Zelenskiy walking through the centre of the Ukrainian capital and talking to ordinary Kyivans.
"This is what democracy looks like. This is what courage looks like. This is what true friendship between peoples and between nations looks like," the Ukrainian defence ministry said alongside a clip of the pair.
A total of 4,553 people were evacuated from Ukrainian cities through humanitarian corridors on Saturday, fewer than the 6,665 who escaped on Friday, Ukraine's deputy prime minister has said.
Iryna Vereshchuk made the announcement in an update on her official Telegram late on Saturday.
From Mariupol and Berdyansk, 3,425 people traveled to Zaporizhia by car or bus, she said.
Of the evacuees, 192 were residents from Mariupol and 3,233 were residents of cities of the Zaporizhia region.
Another 529 residents of Melitopol were also successfully evacuated.
Former Italian Prime Minister Silvio Berlusconi said he is "deeply disappointed and saddened" by the behaviour of his old friend Russian President Vladimir Putin over the Ukraine invasion.
"I cannot and I do not want to hide that I am deeply disappointed by the behaviour of Vladimir Putin," Berlusconi told a public meeting in Rome.
"I've known him about twenty years ago and he always seemed to me to be a democrat and a man of peace," the 85-year-old billionaire continued.
Berlusconi, who served as head of the Italian government three times between 1994 and 2011, had previously refrained from publicly criticising Putin.
When he was in power, Berlusconi maintained friendly personal ties with the Russian president, going so far as to invite him on vacation to his luxurious villa in Sardinia.
"Faced with the horror of the massacres of civilians in Bucha and other places, real war crimes, Russia can not deny its responsibilities," he said Saturday.
Ukrainian president Volodymyr Zelenskiy has delivered another signature national address, noting that his country "does not have time to wait" while pushing for a oil embargo on Russia.
Ukraine does not have time to wait. Freedom does not have time to wait. When tyranny launches aggression against everything that keeps peace in Europe, action must be taken immediately.

It is necessary to act in a principled fashion. And the oil embargo should be the first step. At the level of all democracies, the whole civilised world.

Then Russia will feel it. Then it will be an argument for them – to seek peace, to stop pointless violence."