Russia-Ukraine war: EU to prepare new sanctions on Moscow; Zelenskiy lays out peace formula at UN – live updates | Russia
eRm
September 22, 2022
89
Key events
Here are some of the latest images sent to us over the newswires from Ukraine.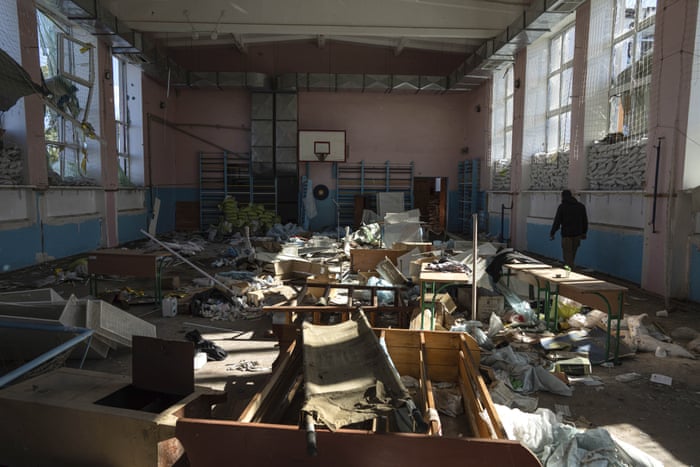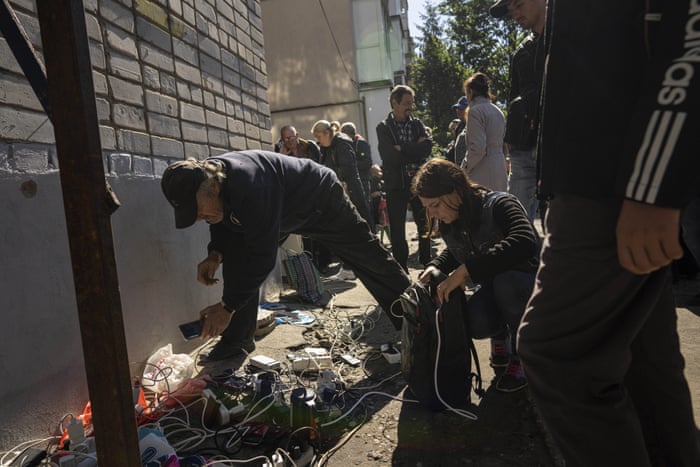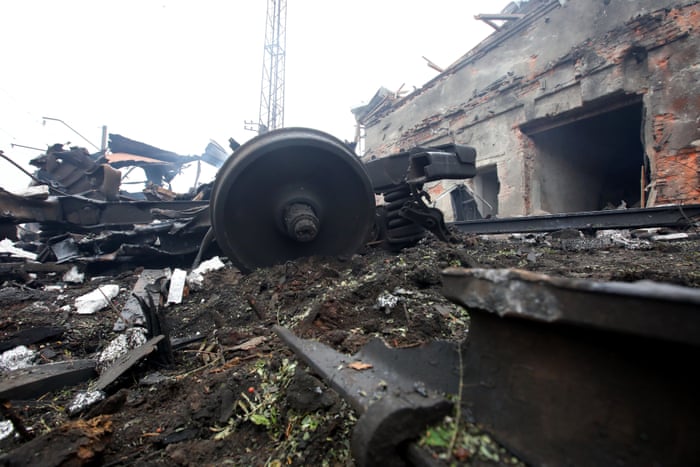 Vitaliy Kim, governor of Mykolaiv, has posted a lengthy status update to Telegram detailing damage from a large number of strikes across the region.
He says in the city of Mykolaiv itself "massive rocket fire" just after midnight led to "multi-story buildings were damaged, windows were broken, gas pipelines, water pipes, cinema and theatre courtyards, administrative buildings were damaged."
However there appear to be no casualties or deaths as a result of the strikes. The claims have not been independently verified.
Russian foreign ministry spokeswoman Maria Zakharova has, according to Russia's RIA news agency, described Joe Biden's speech at the UN as "indecent", and accused the US president of mis-quoting his Russian counterpart Vladimir Putin. RIA quotes Zakharova saying:
As for the speech of the President of the United States, I consider it absolutely indecent how it began. Indecent not because they have nothing to do or they do not have the right to touch other countries. The fact is that he allegedly started quoting the president of Russia. We, as we always do, began to double-check Biden's words. Biden said it for sure, but the president of Russia did not say that.
She described the way that Putin's words were being portrayed by Biden and the US media as "absolutely propaganda" and "contrary to what was actually said".
Here is how Joe Biden opened his speech in the UN, saying:
Let us speak plainly. A permanent member of the United Nations Security Council invaded its neighbour, attempted to erase a sovereign state from the map.

Russia has shamelessly violated the core tenets of the United Nations Charter — no more important than the clear prohibition against countries taking the territory of their neighbour by force.

Again, just today, President Putin has made overt nuclear threats against Europe and a reckless disregard for the responsibilities of the non-proliferation regime.
Later in his speech he also said:
Russia shunned the non-proliferation ideals embraced by every other nation at the 10th NPT Review Conference. And again, today, as I said, they're making irresponsible nuclear threats to use nuclear weapons.
Here is the passage, in translation, from Vladimir Putin's speech on Tuesday where he mentioned nuclear blackmail and nuclear weapons:
Nuclear blackmail was also launched. We are talking not only about the shelling of the Zaporizhzhia nuclear power plant, which is encouraged by the west, which threatens a nuclear catastrophe, but also about the statements of some high-ranking representatives of the leading Nato states about the possibility and admissibility of using weapons of mass destruction against Russia – nuclear weapons.

For those who allow themselves to make such statements about Russia, I would like to remind you that our country also has various means of destruction, and for some components more modern than those of the Nato countries.

And if the territorial integrity of our country is threatened, we will certainly use all the means at our disposal to protect Russia and our people. This is not a bluff. And those who try to blackmail us with nuclear weapons should know that the weathervane can turn and point towards them.
The US ambassador to Ukraine, Bridget Brink, has said her thoughts are with the recently released prisoners of war and their families. She tweeted:
My thoughts this morning are with the released POWs, and with their loved ones. Thank you to President Zelenskiy and his team for including all prisoners of war, including two US citizens, who will be reunited with their families, in negotiations.
Alexander Drueke and Andy Tai Huynh, both US military veterans from Alabama who had volunteered to fight, were released yesterday. Drueke's aunt, Dianna Shaw, said the two men were "safely in the custody of the US embassy in Saudi Arabia and after medical checks and debriefing they will return to the states."
UK MoD: mobilisation is 'admission Russia exhausted supply of willing volunteers'
The UK's ministry of defence has issued its daily intelligence briefing about how it sees the situation in Ukraine. It has concentrated today on the consequences of Russia's partial mobilisation announced yesterday by Vladimir Putin, which it judges unlikely to be effective. It writes:
Russia is likely to struggle with the logistical and administrative challenges of even mustering the 300,000 personnel. It will probably attempt to stand up new formations with many of these troops, which are unlikely to be combat effective for months.

Even this limited mobilisation is likely to be highly unpopular with parts of the Russian population. Putin is accepting considerable political risk in the hope of generating much needed combat power.

The move is effectively an admission that Russia has exhausted its supply of willing volunteers to fight in Ukraine.
Uzbekistan's state prosecutors warned citizens against joining foreign armies after Russia offered fast-track citizenship to those who sign up and Ukraine said it had captured Uzbeks fighting alongside Russians, Reuters reports.
Those fighting in military conflicts abroad faced criminal prosecution under Uzbek law, the Central Asian nation's Prosecutor General's office said in a statement late on Wednesday.

A video circulated in Ukrainian social media this month showed two Uzbeks captured in fighting between Ukrainian and Russian forces; the detainees said they had been recruited in Moscow.

Hundreds of thousands of Uzbeks live in or regularly travel to Russia to find work and provide for their families at home; some work illegally and risk being deported.

Russia's parliament passed a law this week offering fast-track citizenship to foreigners who join its army, part of a broader drive to strengthen the military amid the stalled Ukrainian campaign which also included partial mobilisation.
Russia is set to face direct pressure at the United Nations on Thursday over its invasion of Ukraine, whose leader Volodymyr Zelenskiy has appealed to the world to punish Moscow. Agence France-Presse reports.
As global leaders convened for the annual general assembly, the security council will hold a special session among foreign ministers called by France on impunity for rights abuses in Ukraine.

The morning session is expected to bring Russian foreign minister Sergei Lavrov face to face with top western diplomats including secretary of state Antony Blinken, who has refused a one-on-one meeting since the 24 February invasion.

After two years of pandemic restrictions, only one leader was still allowed to address the assembly virtually – Zelenskiy, who in a pre-recorded video called 15 times for "punishment" of Russia and received a rare standing ovation.
The partial mobilisation announced by Russian President Vladimir Putin will not generate significant extra combat capability for months, the Institute for the Study of War writes in its latest report. The thinktank's analysts also believe Putin comments about nuclear weapons did not mean he would use them to defend annexed areas of Ukraine.
Putin's order to mobilize part of Russia's "trained" reserve, that is, individuals who have completed their mandatory conscript service, will not generate significant usable Russian combat power for months. It may suffice to sustain the current levels of Russian military manpower in 2023 by offsetting Russian casualties, although even that is not yet clear.
Nuclear watchdog head meets Lavrov and Kuleba over Zaporizhzhia plant
The head of the UN nuclear watchdog agency said Wednesday he met with Ukraine's and Russia's foreign ministers in a bid to establish a safety and security zone around a nuclear plant in south-eastern Ukraine that is Europe's largest, AP reports.
The Zaporizhzhia power plant has faced almost daily shelling and bombardment, raising fears of a nuclear accident.

Rafael Grossi, director-general of the International Atomic Energy Agency, said that as a result of the separate meetings with Ukraine's Dmytro Kuleba and Russia's Sergey Lavrov, work has already begun on establishing and shaping the zone.

He said he hopes to visit Kyiv soon, and "perhaps later on" go to Russia.

"Given the urgency of the situation and the gravity of what's going on in the field we have to move fast," Grossi said. Both nations, he said, share "a conviction that the establishment of the zone is indispensable."

"The mere fact that the two foreign ministers are sitting down with me and are listening to our ideas, I think it's a good indicator that there is a very strong solid base for this thing to happen," he said.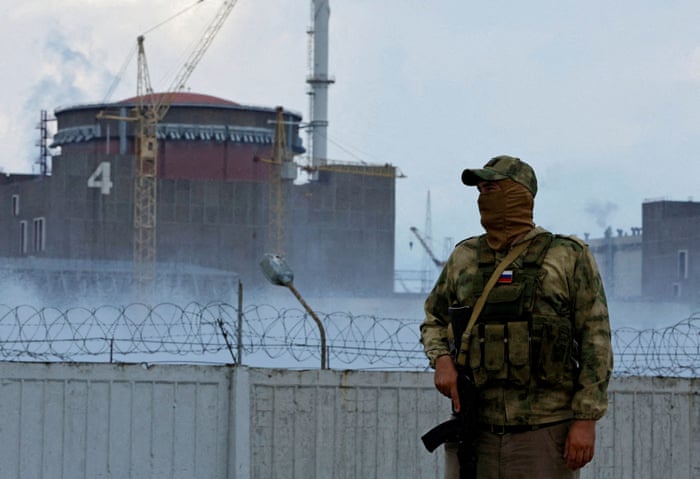 North Korea has denied it is providing arms to Russia, state media said, weeks after the US said Moscow was turning to Pyongyang to replenish its stocks depleted by invading Ukraine, Agence France-Presse reports.
We have never exported weapons or ammunition to Russia before and we will not plan to export them," an official at the defence ministry's General Bureau of Equipment said in a statement carried by the official Korean Central News Agency (KCNA).

The statement comes after the White House said earlier in September that Russia was buying artillery shells and rockets from communist North Korea to support its war in Ukraine.

National Security Council spokesman John Kirby said the US believed purchases "could include literally millions of rounds, rockets and artillery shells."
Liz Truss has dismissed as "sabre-rattling" Vladimir Putin's warning that Russia will use "all the means at our disposal" to protect itself, warning in her UN speech: "This will not work."
The Russian president's threats in a televised address to the nation appeared to suggest the conflict in Ukraine could spiral into a nuclear crisis, prompting a furious response from world leaders, led by the US president, Joe Biden.
The new UK prime minister, who addressed the UN in New York hours after a virtual speech by the Ukraine president, Volodymyr Zelenskiy, urged world leaders not to "let up" on dealing with Putin despite domestic concerns about soaring energy prices.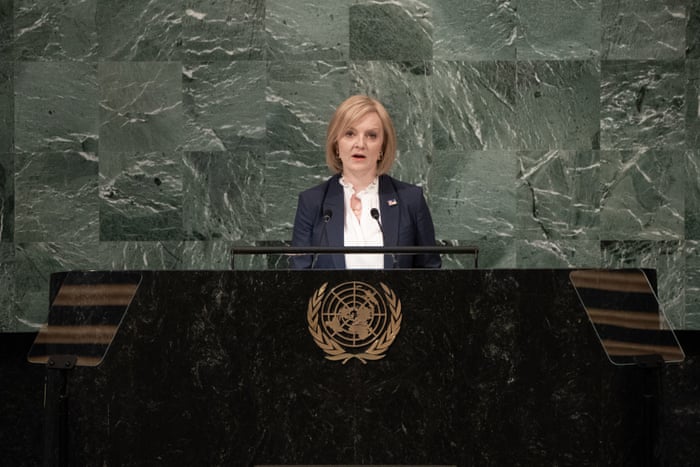 The Ukrainian president, Volodymyr Zelenskiy, has shrugged off Russian moves to escalate the war, saying his country's forces would continue their counteroffensive, not giving Russia breathing space to mobilise and dig in on Ukrainian soil.
"We can return the Ukrainian flag to our entire territory. We can do it with the force of arms, but we need time," Zelenskiy said in a recorded broadcast to the UN general assembly on Wednesday, which Russia had tried to stop but was overwhelmingly voted down by member states.
"Russia wants to spend the winter on the occupied territory of Ukraine … It wants to prepare fortifications on occupied land and carry out military mobilisation at home. We cannot agree to a delayed war because it will be even hotter than the war now."
Zelenskiy laid out what he said were five non-negotiable conditions for peace. These included punishment for Russian aggression, restoration of Ukraine's security and territorial integrity, and security guarantees.
A crime has been committed against Ukraine, and we demand just punishment," Zelenskiy told the UN body.
"A special tribunal should be created to punish Russia for the crime of aggression against our state… Russia should pay for this war with its assets," the Ukrainian president said, urging the UN to "remove the right of veto" from Russia as a Security Council member.
Zelenskiy reminded world leaders of the mass graves being exhumed in the recently liberated town of Izium as the general assembly gathered, saying that among the bodies was a man strangled with a rope, and another who had been castrated before the murder. The Ukrainian president said that was not the first of such atrocities.
He told the global assembly: "Ask, please, the representatives of Russia why the Russian military are so obsessed with castration. What was done to them so that they want to do this to others?"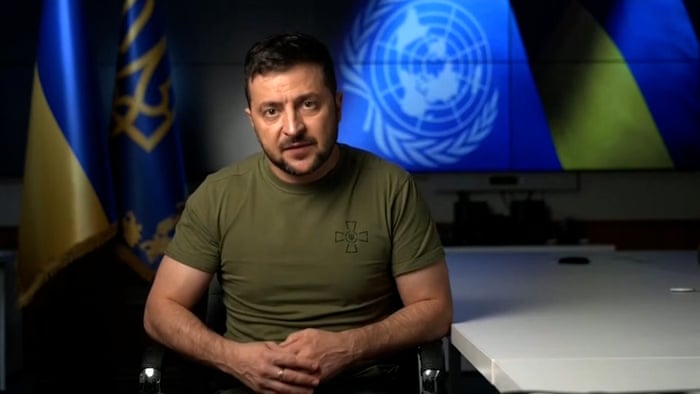 Security forces detained more than 1,300 people in Russia on Wednesday at protests denouncing mobilisation, a rights group said, hours after President Vladimir Putin ordered Russia's first military draft since the second world war.
The independent OVD-Info protest monitoring group said that according to information it had collated from 38 Russian cities, more than 1,311 people had been held by late evening.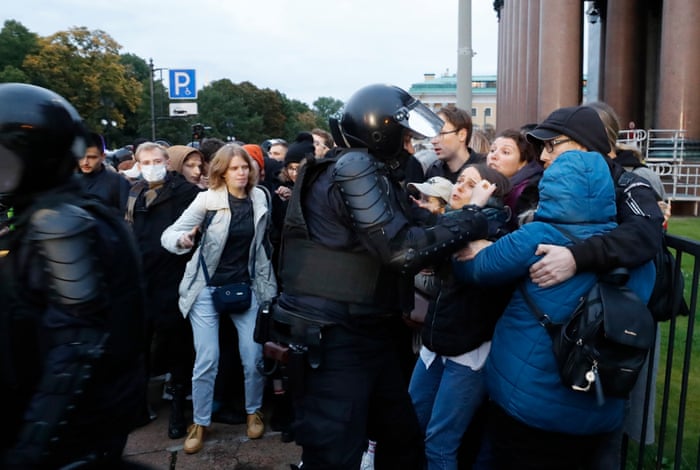 EU foreign ministers agree on preparing new sanctions
EU foreign ministers have agreed to prepare new sanctions on Russia and increase weapons' deliveries to Kyiv, Reuters reports.
The bloc's 27 foreign ministers are in New York for the annual gathering of world leaders at the United Nations.

EU foreign policy chief Josep Borrell said Vladimir Putin's announcement of partial mobilisation – which included moves to annex swaths of Ukrainian territory and a threat to use nuclear weapons to defend Russia – showed panic and desperation.

"It's clear that Putin is trying to destroy Ukraine," Borrell told reporters after ministers met to decide how to respond.

After being briefed by Ukrainian foreign minister Dmytro Kuleba, the ministers agreed to task their teams to prepare an eighth sanctions package that would target "more relevant sectors of the Russian economy and continue targeting people responsible for the war of aggression in Ukraine," Borrell said.

EU ministers will hold their next formal meeting in mid-October when a sanctions package could be formalised.

The ministers also agreed to ramp up weapons supplies to Ukraine. Borrell declined to give further details on the type of sanctions or military support, but said he believed there would be "unanimous" support within the bloc for new measures.
Ukraine has announced that 215 Ukrainian and foreign citizens have been released by Russia in a prisoner exchange, including fighters who led the defence of Mariupol's Azovstal steelworks that became an icon of Ukrainian resistance.
Russia received 55 prisoners including Viktor Medvedchuk, a former Ukrainian lawmaker and ally of Russia's president, Vladimir Putin, accused of high treason, the Ukrainian leader, Volodymyr Zelenskiy, said in his daily address.
Medvedchuk was arrested in April, after escaping house arrest on treason charges days after the Russian invasion. At the time, Zelenskiy suggested exchanging him for Ukrainian prisoners of war held by Russia but the Kremlin rejected the offer.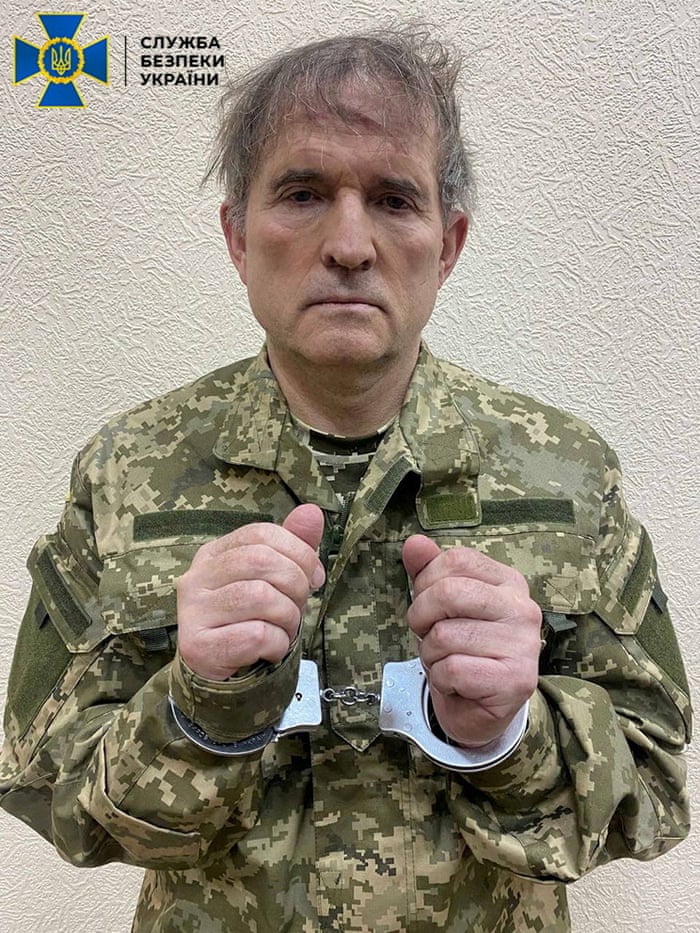 There was never any doubt Russia would respond to its latest military setbacks, the Guardian's defence and security editor, Dan Sabbagh, writes in his latest analysis.
It was inevitable, after Russia's sudden military reverse near Kharkiv, that Vladimir Putin would respond, announcing a partial mobilisation of extra troops and a fresh bout of sabre-rattling on nuclear weapons a day after announcing plans to hold high-speed annexation referendums in occupied areas of Ukraine.

The timing, on the morning of Joe Biden's speech to the UN general assembly aimed at rallying support for Ukraine, demonstrates that, to some extent, Putin's announcements are about news management – to seize the agenda with tenuous claims that Russia is threatened by Nato "nuclear blackmail".

You can read the full report here:
Good morning and welcome back to our live coverage of Russia's invasion of Ukraine. As the war dominated the first in-person UN general assembly meeting in two years, EU foreign ministers agreed on new sanctions on Russia, a major prisoner swap was announced and more than 1,300 Russians were arrested for demonstrating against Vladimir Putin's announcement of a partial mobilisation.
Here are the latest developments, as of 7.30am Kyiv time:
European Union foreign ministers agreed on Wednesday to prepare new sanctions on Russia and increase weapons' deliveries to Kyiv after President Vladimir Putin ordered the country's first wartime mobilisation since the second world war. EU foreign policy chief Josep Borrell said Putin's announcement – which included moves to annex swaths of Ukrainian territory and a threat to use nuclear weapons to defend Russia – showed panic and desperation.

Ukraine's president, Volodymyr Zelenskiy, has called on the international community to adopt a five-point formula to achieve peace and security in Ukraine, in a wide-ranging and impassioned televised speech to the UN general assembly on Wednesday. The points include punishment for crimes of aggression, protection of life, restoration of security and territorial integrity, security guarantees and the determination of Ukraine to continue defending itself.

Joe Biden and allied leaders have reacted angrily to Vladimir Putin's threats to use nuclear weapons and pledged to maintain support for Ukraine. In his speech to the UN on Wednesday, Biden sought to unite the international community in the face of what he called "reckless" threats and "an extremely significant violation" of the UN charter.

More than 1,300 protesters have been arrested in anti-mobilisation rallies that are taking place throughout Russia. According to OVD-Info, more than 1,311 people have been detained in 38 cities across Russia, with most of the detainees in Moscow and St Petersburg.

North Korea has said it has never supplied weapons or ammunition to Russia and does not plan to do so in the future, according to a statement released by the state media service, KCNA.

Russia has released 215 Ukrainians it took prisoner after a protracted battle for the port city of Mariupol earlier this year, including top military leaders, a senior official in Kyiv said. The freed Ukrainians included the commander and deputy commander of the Azov battalion that did much of the fighting, said Andriy Yermak, the head of President Volodymyr Zelenskiy's office.

Ivan Fedorov, the mayor of Russian-occupied Melitipol in Ukraine, has urged local men to evacuate the city amid mobilisation orders from Russia, the Kyiv Independent reports.

Finland said it was working on a federal strategy to "limit or completely prevent" tourism from Russia after the invasion of Ukraine. "This national solution may include new legislation, which would be adopted very quickly," the foreign minister, Pekka Haavisto, told a press conference on Wednesday.

Five British nationals held by pro-Russian forces in eastern Ukraine have been safely returned, the UK prime minister, Liz Truss, has said. Among those released was Aiden Aslin, a British-Ukrainian former care worker from Nottinghamshire.

The Saudi foreign ministry said Russia had released 10 foreign prisoners of war captured in Ukraine after mediation by Crown Prince Mohammed bin Salman. US citizens Alexander Drueke and Andy Tai Ngoc Huynh were among those released.

Joe Biden has denounced Vladimir Putin's threats to use nuclear weapons as "reckless" and "irresponsible" and called Russia's planned annexation of more regions of Ukraine as "an extremely significant violation" of the UN charter. The US president was speaking to the UN general assembly, where he sought to galvanise the outrage of UN member states at the threat that Putin's actions and "imperial ambitions" posed to the UN's founding values.

Earlier on Wednesday, Vladimir Putin announced a partial mobilisation in Russia in a significant escalation that places the country's people and economy on a wartime footing and sent shock waves across Russia. The Russian president said in a televised address that the "partial mobilisation" was a direct response to the dangers posed by the west. According to the decree, the contracts of soldiers fighting in Ukraine will also be extended until the end of the partial mobilisation period.

Liz Truss and the European Commission president, Ursula von der Leyen, said Putin's speech on Wednesday was "a statement of weakness". They said in a joint statement following a meeting between the pair in New York that Putin's calls for partial mobilisation were "a sign that Russia's invasion is failing".

Russia fired a series of long-range missiles at Ukraine's second city Kharkiv early on Wednesday, hours after the Kremlin announced plans to annex Ukrainian territory and to carry out the partial mobilisation. Explosions were heard across Kharkiv at around 2am. At least one missile struck a high-rise apartment in the western Zalutino district. Ten residents were injured.

The security service of Ukraine has released a recording of an intercepted call by a Russian soldier in which he appears to complain about the setbacks faced by Russian troops in recent months. "Locals hate us here. Ours rape local women," the soldier appeared to say into the phone, adding there was little to no chance of him returning home anytime soon.