Russia loses 8 tanks, 22 APVs and 7 artillery systems in one day: Ukraine
The Ukrainian military has detailed recent casualties suffered by Russian forces in an update posted to Facebook on Sunday morning.
The General Staff of the Ukrainian Armed Forces said eight more Russian tanks were destroyed in a single day since the last operational update on Saturday morning, bringing the total number of Russian tanks destroyed to 3197 since the invasion began on February 24, 2022.
According to the General Staff, Russian forces also lost 22 other armored personnel carriers (APVs) and seven artillery systems.
The operational update also states that Russian forces lost 650 soldiers during this period, bringing the Russian death toll in Ukraine to 126,160 according to the Ukrainian count.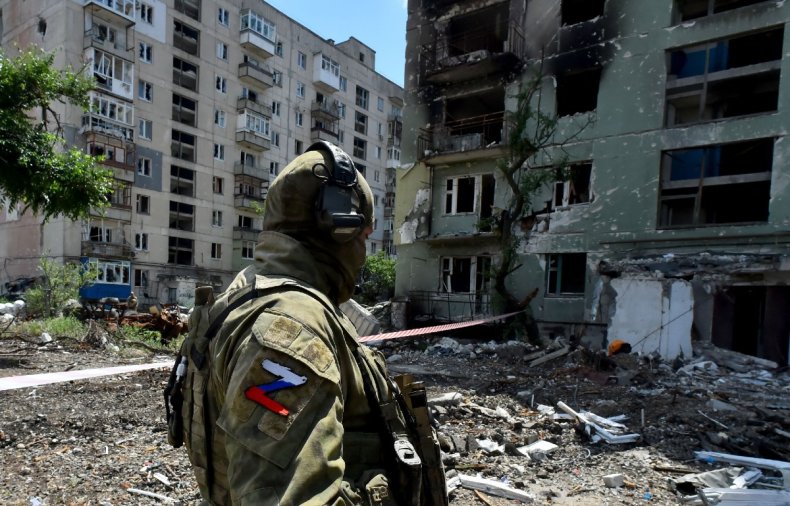 newsweek could not verify this number. Reported death tolls for Russian and Ukrainian forces differ between Kyiv and Moscow and independent figures have proven difficult to ascertain.
The Russian Ministry of Defense does not offer a regularly updated casualty count. According to Russian state media, 1,351 Russian soldiers were killed in the first month of fighting in Ukraine at the end of March 2022.
Just days before this death toll was released, NATO put it at between 7,000 and 15,000.
An updated death toll provided by Russian Defense Minister Sergei Shoigu on September 21, 2022 reports that 5,937 Russian personnel have been killed in Ukraine since February.
On the same day, the Ukrainian General Staff of the Armed Forces put the Russian death toll at around 55,000.
In November, Joint Chiefs of Staff Chairman Gen. Mark Milley said that since February "well over 100,000 Russian soldiers have been killed and wounded."
In early December, a joint tally by the BBC's Russian service and independent Russian broadcaster Mediazona confirmed the deaths of 10,000 Russian employees in Ukraine.
"We only rely on confirmed death reports, so the data collected does not reflect the actual number of victims," ​​the BBC wrote when it released the figures. "We assume that our list contains at least 40 to 60 percent fewer names of the dead than were actually buried in Russia."
As of January 27, Mediazona had verified 12,538 Russian casualties.
On Saturday, the British MoD, citing the New Year's attack on Makiivka, Donetsk, expressed doubts as to how accurately the death toll reported by Russia reflected the actual number of victims.
"The difference between the number of victims recognized by Russia and the likely true total underscores the pervasive presence of disinformation in Russian public announcements," the ministry wrote on Twitter.
The government department said "deliberate lies authorized by senior executives" and inaccurate information shared by lower-level officials down the chain of command played a role in the misleading statistics.
On Saturday, Ukraine's Defense Ministry reported that more than 5,000 Russian soldiers had died in the previous week alone.
https://www.newsweek.com/ukraine-war-russia-tanks-death-toll-armored-personnel-vehicles-1777326 Russia loses 8 tanks, 22 APVs and 7 artillery systems in one day: Ukraine