'Run or Die'—Ukraine Mocks Retreating Russians in Kherson Counter-Offensive
A video posted on the Defense of Ukraine's Twitter page mocking Russian soldiers has gone viral on social media.
The 40-second video was posted on Wednesday and so far has more than 900,000 views. The brief clip issues an ultimatum to Russian soldiers and says for them to leave Kherson Oblast in Ukraine or face death.
Kyiv has launched a counter-offensive in the region, which was seized by Russian President Vladimir Putin's forces in the early stages of the war. On Wednesday, Ukraine said that its military has killed more than 200 Russian soldiers.
The video, set to the 1932 song "Run Rabbit Run," shows footage of Russian soldiers appearing to be fired upon by missiles, artillery fire and snipers. It mockingly calls the Russian soldiers "guests" and plays footage of an alleged soldier warning against Ukrainian forces.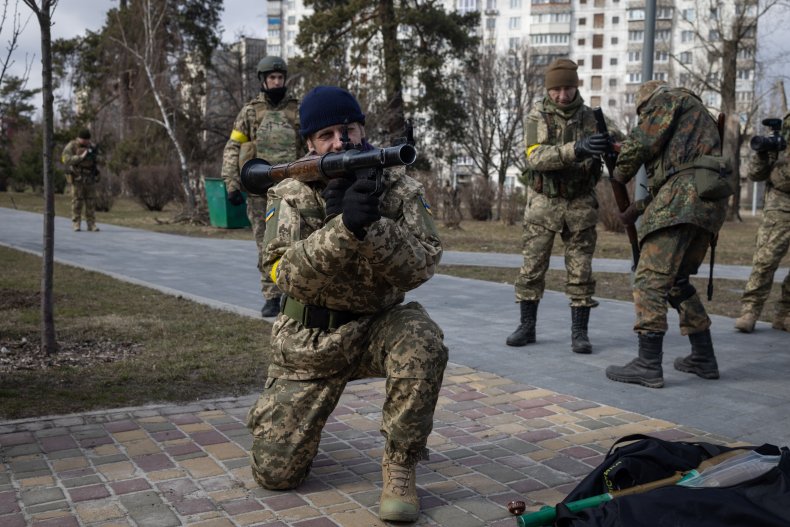 Ukraine's Operational Command South said Wednesday that "the situation in our operational area remains difficult, but is controlled by the defense forces." It reported that the nation's armed forces had killed 201 Russian military personnel and destroyed six Russian ammunition depots, 12 T-72 tanks, and a wide range of Russian military equipment and weapons.
Newsweek has been unable to independently verify these claims and has reached out to Russia's foreign ministry and Ukraine's defense ministry for comment.
The Kherson region holds strategic value for Ukraine, some experts have concluded.
"Retaking the occupied territory of the Kherson province on the west bank of the Dnieper would be a major psychological and political win for Kyiv," Peter Rutland, professor of Russian, East European and Eurasian Studies at Wesleyan University, told Newsweek.
"The city of Kherson is the only provincial capital to have fallen into Russian hands. It would also make it much harder for the Russians to launch an offensive to take Odesa," he said. "However that would still leave a large swath of Russian occupied territory on the east bank of the Dnieper, including the Zaporizhzhia nuclear power station."
Russian news agency TASS said on Tuesday there had been five explosions in Kherson which were likely to have been caused by air defense systems at work. Meanwhile, the Ukrainian military's Operation Command South also reported destroying a pontoon crossing the Dnieper as well as a dozen command posts in the Kherson region.