NSSF Helping Streamline Manufacturer Efforts to Arm Ukraine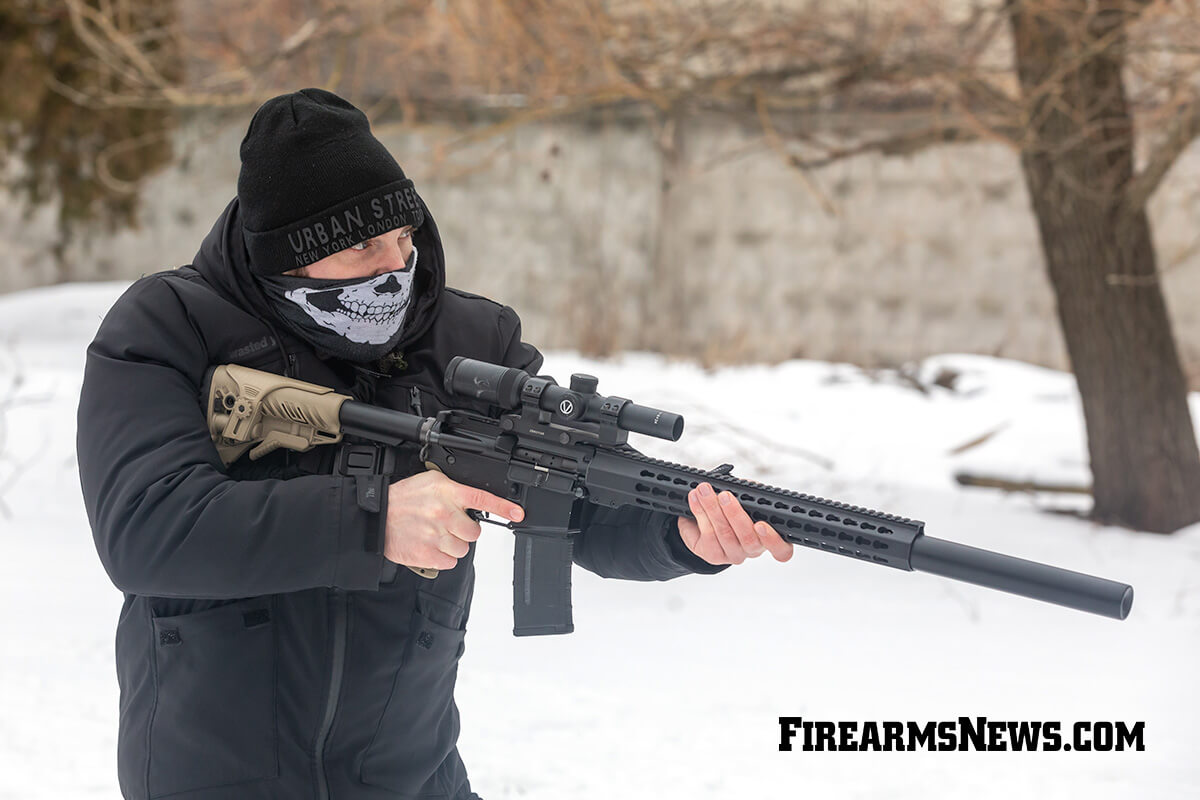 March 17, 2022
By Mark Chesnut
https://www.shutterstock.com/image-photo/kyiv-ukraine-feb-06-2022-territorial-2119615457 – A member of Ukraine's Territorial Defense practices with his personally owned suppressed AR-15 – MSRs and suppressors have been legal to own for decades in Ukraine. However, cost and bureaucratic red tape inhibits most Ukrainians from owning them. There are severe ammo shortages in gun stores and within the government which is very understandable. (Drop of Light / Shutterstock)
The National Shooting Sports Foundation (NSSF) is working with American manufacturers of firearms, ammunition and other equipment to assist the Ukrainian military, citizens, and foreign volunteers as they fight the Russian invasion.
The NSSF, the trade association for the US firearms industry, released guidelines on how manufacturers can assist the Ukrainian effort by providing materials in the form of donations. According to the NSSF, Ukraine is specifically requesting that US firearms industry send the following rifles, pistols and ammunition: 7.62х39mm, 7.62x51mm, 7.62x54mm, .308 Win., 5.45х39mm, 5.56х45mm, sniper rifles including bipod and scope chambered in .308 Win. or 7.62х51mm (if donating a non-.308 "sniper type" rifle, eg, .338 Lapua or similar, Ukraine requests that manufacturers provide ammunition with the rifle), pistols and ammunition chambered in 9х19mm, extra magazines and spare parts. [EDITOR'S NOTE: MSRs and "high capacity" magazines have been legal to own in Ukraine for decades and AR-15- and AR-10-type rifles are manufactured in Ukraine as well. Here's more information on Ukrainian gun ownership.]
The NSSF guidelines include specific export instructions on where materials should be sent, along with contact information for manufacturers having questions about sending firearms, ammo or other equipment.
Mark Oliva, NSSF director of public affairs, said many firearm and ammunition manufacturers expressed interest in supporting Ukraine's defense at the first signs of the Russian build-up of forces on the border.
"That interest turned into earnest desire to get involved in an active way after Ukrainian President Volodymyr Zelenskyy's clarion call of,' The fight is here; I need ammunition, not a ride, '"Oliva said in an exclusive interview with Firearms News. "Some manufacturers already held export licenses to send arms and ammunition to Ukraine, but others did not. NSSF wanted to ensure that those manufacturers wanting to assist in the material support for Ukraine's defense were able to do so within the export controls regulated by the Commerce Department's Bureau of Industry and Security through the Commerce Control List (CCL). "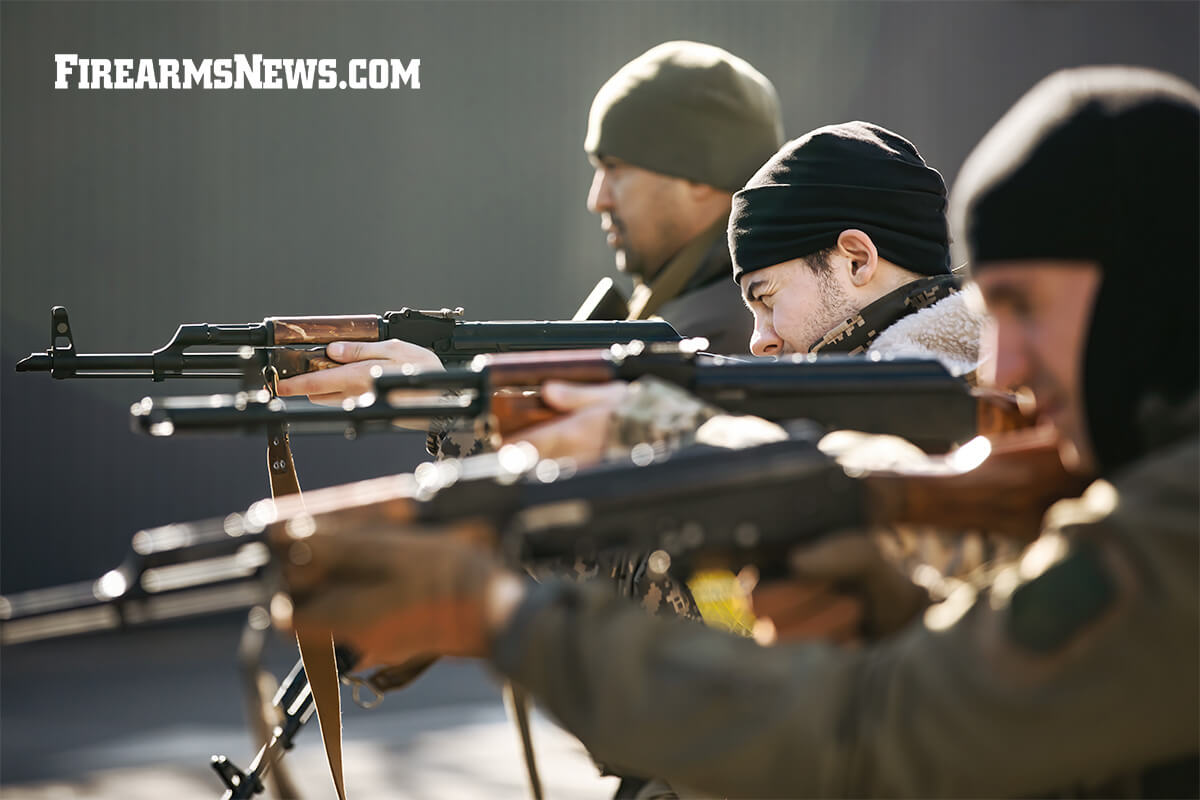 https://www.shutterstock.com/image-photo/kyiv-ukraine-feb-28-2022-war-2130365060 – Kyiv, Ukraine. Feb. 28, 2022: Members of the Kyiv's Territorial Defense practice with AK-type rifles. (Rising Star / Shutterstock)
Oliva said that the fact that arms and ammunition are able to be exported through the CCL is the result of over a decade of work to get Categories I, II and III for sporting arms and ammunition moved from the US Munitions List (USML) to the Commerce Control List, which was finalized in March 2020.
"Those items are listed as dual-use and that transfer of oversight from the State Department's U.S. Ammunition List to the Commerce Department's Commerce Control List streamlined exports for U.S. manufacturers," he said. "This is making it more efficient for the needed firearms and ammunition to be sent to Ukraine for them to defend against an unprovoked invasion by Russian forces."
---
---
Oliva said the list of requested firearms, ammunition and gear came from NSSF directly asking Ukraine's embassy to compile a list of what small arms and ammo were most in need and would be best suited for Ukraine's defense. While several manufacturers are participating, the exact number isn't available at this time.
"Some manufacturers have already held export licenses with Ukraine and are able to export firearms and ammunition under those existing licenses," Oliva said. "Others have publicly announced efforts to send supplies, notably AMMO Inc., and Vista Outdoor's ammunition manufacturers of Remington, CCI, Speer and Federal Ammunition. Both companies separately pledged one million rounds in support of Ukraine's defense and are conducting their own campaigns to raise funds to support relief and defense efforts. Other manufacturers are working more quietly to support Ukrainian forces and are sending arms and ammunition.
"The interest from firearm and ammunition manufacturers to support Ukraine's defense is why NSSF reached out to BIS at the Commerce Department and the Ukrainian Embassy in Washington, DC, to ensure that US manufacturers are able to support Ukraine's defense efficiently and within the regulations governing the export of sporting arms and ammunition. "
In the end, NSSF's goal is to ensure the firearm and ammunition industry is able to provide support to Ukraine while remaining within the laws and regulations governing firearm and ammunition exports.
"US firearm and ammunition manufacturing is still the 'arsenal of democracy' and this desire by manufacturers to support the defense of a nation victimized by unprovoked Russian aggression shows that these are companies dedicated to preserving freedom," Oliva said. "The invasion of Ukraine is a solemn reminder that there are those in the world who would prey on their neighbors and use lethal force to impose their will. The defense against invasion and usurping the will of a free people is, too many times, preserved by men and women willing to take up arms and defend their families, homes and nation.
"This underscores the importance of the Second Amendment right to keep and bear arms by Americans and demonstrates why we must be vigilant to preserve the right and the industry that provides the means to exercise that right."
This export assistance from NSSF came at a perfect time since reports have been coming in this week that many foreign volunteers are waiting for weapons. We'll continue to update this story as the effort by American manufacturers to support freedom in Ukraine grows.
Freelance writer and editor Mark Chesnut is the owner / editorial director at Red Setter Communications LLC. An avid hunter, shooter and political observer, he has been covering Second Amendment issues and politics on a near-daily basis for more than 20 years.
---
Related Articles
President Zelenskyy: Open Up Ukrainian Gun Ownership!
The Biggest Case for the 2nd Amendment Is Happening Right Now in Ukraine and Leftists in America Are Forced to Watch
How to Support AMMO's Charitable Efforts for Ukrainian Armed Forces