More sanctions, isolation if Putin carries out threats, warns West
eRm
September 30, 2022
56
At least 200,000 Russians have left the country since Putin's draft began
At least 200,000 Russians have left the country in the week since President Vladimir Putin of Russia announced a partial military mobilization after a series of setbacks in the country's war with Ukraine, according to figures provided by Russia's neighbors.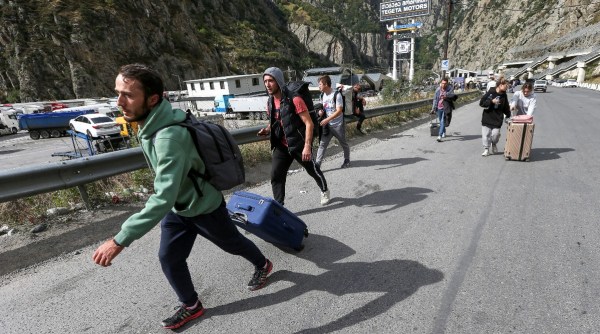 Travelers walk after crossing the border with Russia at the border checkpoint Verkhny Lars – Zemo Larsi, Georgia, Sept. 28, 2022. (Reuters)
The mobilization could pull as many as 300,000 civilians into military service, from what Russian officials have said is a pool of some 25 million draft-eligible adults on their rolls, suggesting that the departures, though unusual, may not prevent the Kremlin from achieving its conscription goals.
"I left because of my disagreement with the current government in Russia," said Alexander Oleinikov, 29, a bus driver from Moscow who had crossed overland into northeastern Georgia. He said that many people he knew were against the war, which he called a "tragedy" caused by "one crazy dictator."
The size of the exodus is difficult to determine, however, given that Russia has borders with 14 countries, stretching from China and North Korea to the Baltic States, and not all governments release regular data about migration. (Read more)