Live updates: Russia's war in Ukraine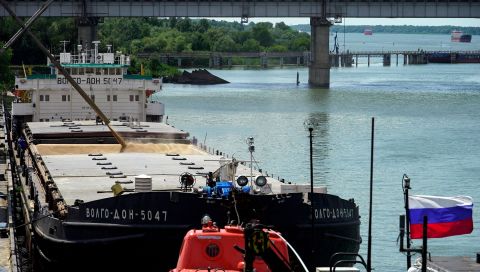 Russia's foreign ministry has said it is "ready" to export food and fertilizer products to prevent a global food security crisis, but blamed the US for "making it very difficult" for Moscow to do so.
"The USA is making it very difficult for us to do this — and, accordingly, they take a hit at the world food security — by blocking as much as possible financial settlements for our products," said foreign ministry spokeswoman Maria Zakharova.
She accused countries supplying weapons to Ukraine of being "donors and sponsors of extremist terrorist activities."
The US has supplied Kyiv with strategic arsenal to bolster its sweeping counteroffensives.
"You are not just accomplices in the crimes of the Kyiv regime, you are exactly those whom you regularly talk about in the adopted declarations and statements," Zakharova said.
"You are the sponsors of terrorist activities that take place under the auspices of the Kyiv regime and directly with the participation of NATO as an Alliance and as its individual members, led by the United States," she added.
Some background: Russia's military assault on Ukraine has exacerbated the global food crisis.
Before the war, wheat supplies from Russia and Ukraine accounted for almost 30% of global trade, and Ukraine is the world's fourth-largest exporter of corn and the fifth-largest exporter of wheat, according to the US State Department.
However, Moscow's blockade of Black Sea ports earlier this year stalled millions of tons of grain exports from Ukraine.
The Black Sea Grain Initiative — brokered in July by the UN and Turkey — ended months of the blockade, allowing grain ships to navigate a safe corridor through the Black Sea, helping alleviate global food shortages.
Earlier this week, Ukrainian President Volodymyr Zelensky emphasized the importance of the deal, adding that since July Ukraine has exported 8 million tons of food by sea.
CNN's Betsy Klein, Phil Mattingly and Jennifer Hansler contributed reporting.