Huntington Ingalls Stock -Defense Spending And Dividends (NYSE:HII)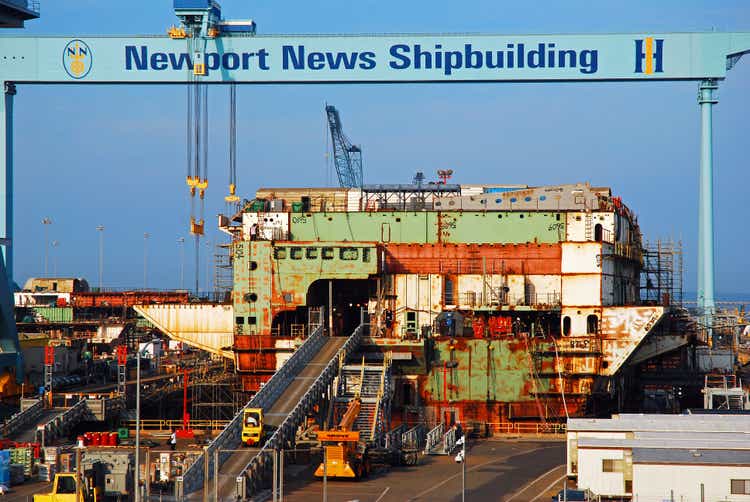 Introduction
On February 12, 2022, I wrote my most recent article covering one of my favorite dividend growth stocks: Huntington Ingalls Industries (NYSE: HII). In that article, I highlighted the company's ability to generate rapidly rising shareholder returns via dividends and buybacks. Since then, this $ 8.1 billion market cap defense giant has returned more than 10%. The bad news is that performance has been lackluster since the start of the pandemic when market participants brought the stock from its $ 280 all-time high back to $ 140. Now the stock has recovered to $ 200ish. Unfortunately, the stock is unchanged since the rally that followed when President Trump was elected in 2016 – excluding dividends.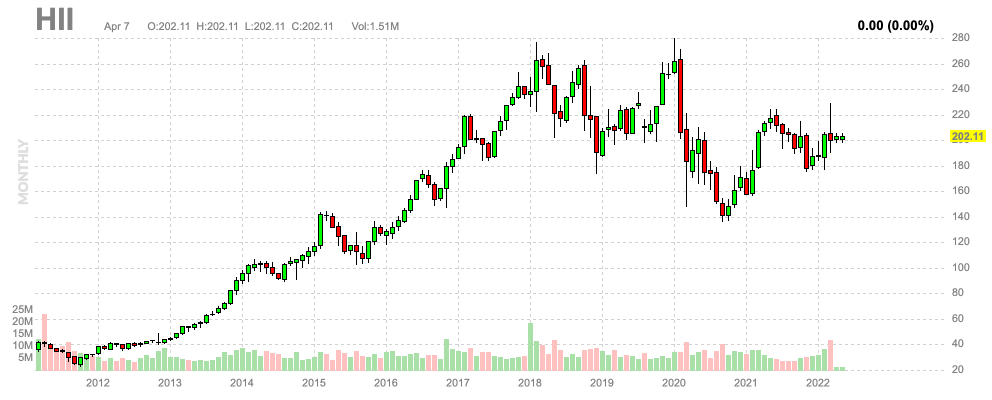 In this article, I'm going to address some of the issues facing HII, which include a defense budget that lacks "ambition" and a rising need to boost defense capabilities. In this case, it includes the biggest hardware the US armed forces have at their disposal: ships and related.
What's Huntington?
First of all, if you're new to Huntington Ingalls, let me give you a brief overview of the company. The company's stock price goes back to March of 2011. Back then, it was spun off by defense giant Northrop Grumman (NOC). Since then, HII is solely focused on everything that floats.
Aircraft carriers are the largest ships in the Navy's portfolio. Some have a displacement of over 90 thousand tons. They are the cornerstone of the US and allied defense operations these floating fortresses allow the US to engage in military operations all over the world. Huntington Ingalls builds is responsible for all aircraft carriers.
In addition to that, the company and its peer General Dynamics (GD) are responsible for the Navy's nuclear submarines. Huntington Ingalls builds the Virginia Class and Columbia Class submarines. Since the 1960s, the company has delivered 62 subs to the Navy. 14 of these are ballistic submarine missiles.
The company also builds amphibious assault ships as well as surface combatants and national security cutters.
Moreover, the company engages in defense and Federal solutions, which include maritime fleet sustainment; intelligence, surveillance, and reconnaissance; cyber operations; secure enterprise information technology engineering and operations; advanced modeling, simulation, and training; and logistics management.
Smaller operations also cover unmanned systems. Roughly two weeks ago, it was reported that the Navy is moving ahead with a Huntington UUV program.
Because the company engages in massive defense projects, it has a roughlog of $ 48.5 billion. That's up from $ 46.0 billion in 2020. Also, its earnings, EBITDA, and free cash flow seem to be all over the place.
While I will get into these numbers in more detail, notice how volatile free cash flow has been. This has everything to do with the size of single projects. Companies that work in smaller "batches" have a way smoother free cash flow history. So, in general, if HII reports "bad" sales or earnings in the future, it's often because it hasn't finished any major projects in that given quarter or year.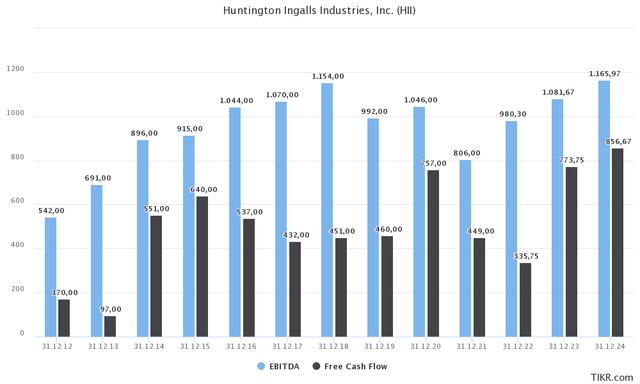 So, now to the complex stuff.
Defense Spending – We Need More!
The war in Ukraine has changed the geopolitical landscape. Not just in Europe, but also in Asia, Africa, and the US. The worst thing is that we're now witnessing massacres in Ukraine, which means there is no easy way out of this conflict according to an op-ed written by the UK's foreign minister Liz Truss via The Telegraph. The title is called "The West must show Putin its collective strength".
Without boring you with the entire article, which is paywalled anyway, this paragraph pretty much sums it up as western forces are now looking to turn Europe into a defensive bulwark. That's exactly what Putin wanted to avoid by invading Ukraine, but here we are.
We are delivering on his plan by strengthening Ukraine's defense with next-generation anti-tank weapons, Javelin missiles and Starstreak anti-aircraft systems. We are working as one of the largest humanitarian donors to mobilize the international coalition. We have joined forces with our friends to apply huge economic pressure on Putin's regime with sanctions and to isolate him on the world stage. We are working to ensure Ukraine is in the strongest possible position at the negotiating table when Putin is serious about diplomacy. And we are working to strengthen security and resilience across the Euro-Atlantic area.
What this means is that capabilities need to be improved as we're not just talking about sending Javelins and related hardware that scare Russia's tanks.
Two weeks ago, the EurAsian Times reported that the US deployed its Nimitz Class aircraft carrier for Ukraine operations. It is increasingly likely that these operations will take longer than initially planned – and they will become more capital intensive.
Personally, I believe that we will see significant unrest in Africa as a result of skyrocketing food prices. The same happened in 2011 when unrests in ie, Egypt and Syria were triggered by sky-high inflation. My personal opinion is that we will see something similar. However, it needs to be seen how bad these unrests get. Back in 2011, it triggered the war in Syria and military operations in multiple countries close to the Mediterranean Sea.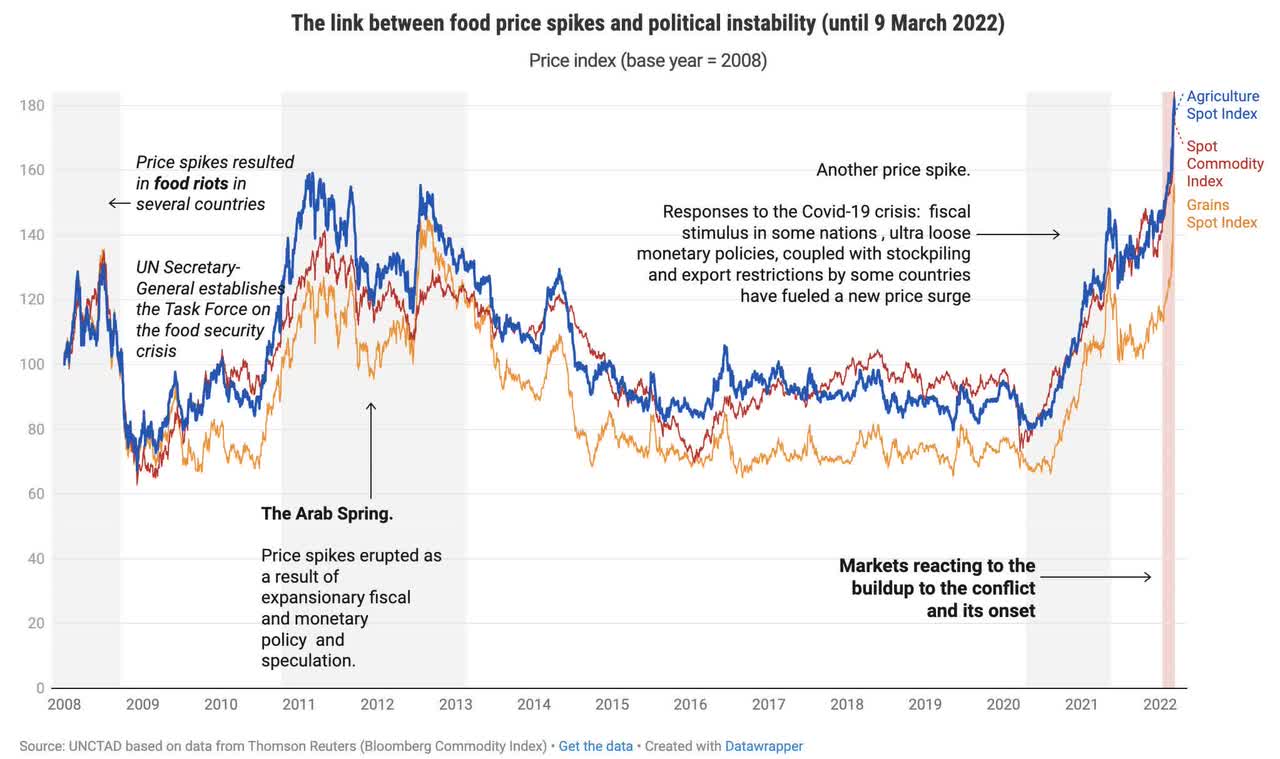 And then there's China. What to say about China other than that it is trying to poke the US. It has its eyes on Taiwan. However, I do not expect China to make a move on Taiwan. It cannot be compared to Ukraine. Some say because Biden looked weak, Putin went into Ukraine. In Taiwan, the situation is different. A war would impact the busiest maritime route in the world. It would crush supply chains beyond our wildest beliefs and hurt China at a time when it is already dealing with economic weakness.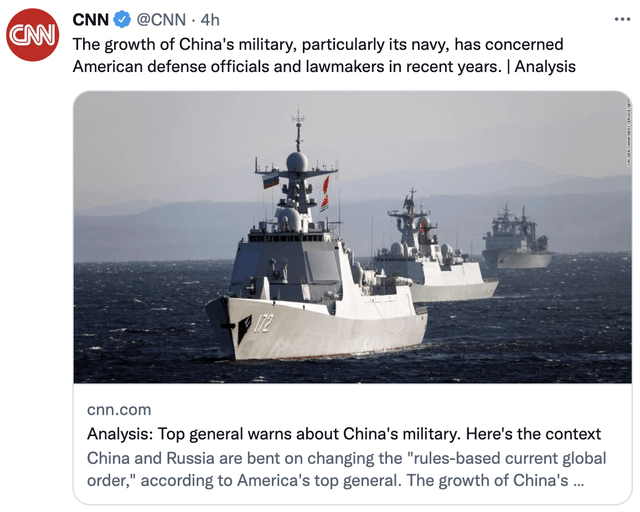 Basically, what CNN mentioned is the fact that China is arming itself at a rapid pace.
There is a growing narrative – not unlike the one pushed by President Joe Biden that the US is falling behind to China in its technological capacity – that the US military is falling behind China's.

"Unprecedented Chinese military modernization has enabled them to leapfrog us in key capabilities," Rep. Mike Rogers of Alabama said at the hearing Tuesday. "The Chinese Communist Party now controls the largest army and navy in the world. It has more troops, more ships and more hypersonic missiles than the United States."
In this case, however, I need to mention that China's Navy is NOWHERE near as powerful as the US Navy. A higher number of ships does not mean anything as the US remains the undefeated leader in defense technologies.
The point is that the US defense forces are not getting the money they require.
A great example of the funding gap has been provided by Foreign Affairs:
The last National Defense Strategy — produced by the Trump administration in 2018 — also depended on future spending that neither the president nor Congress provided. Executing Trump's strategy would have required a real spending increase of three to five percent annually over that year's existing $ 670 billion defense budget. Such an increase has not been forthcoming. Today, taking the middle range of four percent growth over inflation, a rough calculation puts the 2022 Defense Department requirements at $ 906 billion. The funding just appropriated by Congress, however, amounts to $ 728 billion, meaning that the gap between Washington's strategy and its ability to carry out that strategy is a chasm of $ 178 billion.
Essentially, the Biden administration is trying to incorporate a whole list of other things in its defense budget that combat for example climate change. However, as Foreign Affairs noted, that's not sustainable.
The Biden administration is also incorporating other issues such as global health and climate change into the defense strategy. The Pentagon obviously aspires to square this circle by arguing that the so-called integrated deterrence — the Defense Department's organizing principle for its upcoming strategy — will reduce the demand for military forces by utilizing all elements of national power with exquisite orchestration. In reality, however, such a concept bases Pentagon strategy on forces beyond its control and is no substitute for a well-funded military.
Waiting Isn't Time Wasted
With all of this said, it needs to be seen how the defense budget changes over the next few years. The odds are that it indeed becomes bigger and focuses again on heavy CapEx projects like ships after the focus shifted to nuclear and multi-domain capabilities.
Even if global tensions were to ease, I like Huntington Ingalls as it was never meant to be a way to benefit from escalating global tensions and bloody wars.
It was always about the company's ability to generate free cash flow. As I mentioned in my last HII article, what matters is the company's longer-term outlook. In 2023, it expects to generate between $ 750 and $ 800 million in free cash flow. Followed by a surge of up to $ 100 million in 2024. This is based on payroll tax repayments and a load of working capital that will be freed up as well as a margin expansion in technical solutions.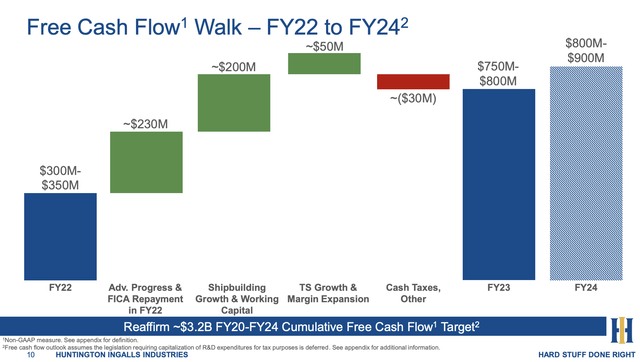 If we use the company's $ 8.1 billion market cap, we get an implied free cash flow yield of 10.5%. That's the highest number I've encountered among major defense contractors in the US. Bear in mind that the company's dividend yield is just 2.3%, which means a lot of cash can flow towards dividend growth. It also helps that the company's net debt is just 2.5x expected EBITDA this year followed by a decline to less than 1.8x by 2024. Also, these expectations are "pre-war". Any improvements in future orders will enhance the company's ability to generate free cash flow.
While a high free cash flow is an indication of an attractive valuation (if the debt is low and sustainable), I'm still going to combine the $ 8.1 billion market cap, $ 2.3 billion in 2023 expected net debt, and $ 720 million in pension and related liabilities, to arrive at an enterprise value of $ 11.1 billion.
This is 10.1x next year expected EBITDA of $ 1.1 billion. The valuation would be 9.4x EBITDA without pension liabilities. The graph below excludes pension liabilities.
Takeaway
The only reason I'm not buying more HII is that I have 24% aerospace & defense exposure in my long-term dividend growth portfolio. If that weren't the case, I would be buying the company all day long. Some people don't like that the stock isn't rallying, but I'm satisfied. It allows me – and everyone else – to accumulate shares at a reasonable valuation.
I have little doubt that the company will do very well in the many years ahead. The defense budget will more than likely be reshaped to incorporate bigger equipment as global geopolitical tensions are going through the roof.
Even if the situation does not escalate, free cash flow generation is high enough to support aggressive long-term dividend growth.
On top of that, the balance sheet is healthy, the business model is bulletproof, and there are not a lot of undervalued dividend growth stocks left in this market.
(Dis) agree? Let me know in the comments!