Donald Trump claims he threatened Vladimir Putin over Ukraine
eRm
April 25, 2022
119
In public at least, Trump as president cultivated a warm relationship with the Russian leader, as he did other strongmen political leaders at the time.
Loading
"What I did say is that we are going to be very strongly responding if you do that. I also said to President Xi don't go into Taiwan and there's going to be a very strong response. "
"They both had the same response, 'Really? Really? ' I said, 'Really.'
Trump was the first U.S. president in history to be impeached twice by the House of Representatives but was not convicted by the Senate in either case.
The first arose from Trump's threats to hold back aid to Ukraine while pressuring then newly elected president Volodymyr Zelensky to announce investigations into Biden and his son Hunter, who had served on the board of a Ukrainian gas company. The aid was only released once the threat had become public. The second impeachment was over his role in inciting an insurrection, following his loss to Joe Biden in the 2020 election.
In the Morgan interview, Trump said he believed the reason China had not launched an invasion of Taiwan already was because of Russia's missteps in Ukraine, where Putin has lost an estimated 15,000 troops in the face of local resistance.
Loading
The interview, which took place at Trump's Mar-a-Lago resort in Palm Beach, Florida, will be screened on Sky News Australia on Tuesday evening.
He said he believed the Biden administration's fumbled withdrawal from Afghanistan had led to the Ukraine invasion.
"When they saw the way we acted in Afghanistan, they ran, surrendered," Trump says. "Hey [Putin] said, 'Hey, this is no longer Trump.' "
While it was Trump who set the timeline to retreat after nearly two decades in the Middle East he said the current government mishandled the situation by removing its military assets in the wrong order.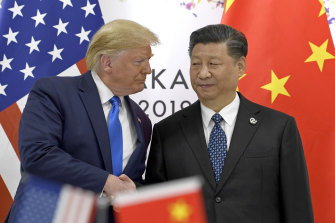 Trump said he believed Putin had used nuclear threats during the war in Ukraine to frighten other nations and that the weak response had made the Russian leader think "no one will attack him".
"He uses the 'N word', the nuclear word all the time. That's a no-no, you're not supposed to do that, "he said. "He uses it on a daily basis. And everybody's so afraid, so afraid, so afraid.
"I would say, we have far more than you do. [We are] far, far more powerful than you, "Trump said.
He also lashed out at his former vice president Mike Pence, calling him "foolish" and "weak" for refusing to back allegations that his election loss to Joe Biden was "rigged."
"I have proof, and we have massive proof," Trump said, calling Morgan a "fool" for believing it was a free and fair election.
Trump said he "had it out" with Merkel in a number of meetings the pair held over the years, saying he once presented her with a "very luxurious napkin" as a white flag to wave.
"I had it out with her," Trump said of Germany's energy dependence on Russia. "I sent her the white flag of surrender," he said.
"She asked, what do you mean? I said: Do me a favor, lift this flag of surrender. You know what it was? It was a very luxurious napkin. "
Trump's time in office has been followed by a trail of legal issues.
On Monday, a New York judge held Trump in contempt of court for not producing documents subpoenaed in the state attorney general's civil probe of his business practices, and ordered the former president to be fined $ US10,000 per day until he complies.
Attorney General Letitia James is investigating whether the Trump Organization, the former president's New York City-based family company, misstated the values ​​of its real estate properties to obtain favorable loans and tax deductions.
Get a note directly from our foreign corresponding on what's making headlines around the world. Sign up for the weekly What in the World newsletter here.