Counting Russia's Staggering Losses 200 Days into Ukraine War
Two hundred days after the beginning of Russia's full-scale invasion of Ukraine, the war is unfolding in ways that not many experts would have predicted back in February—and definitely not the way Russian President Vladimir Putin wished for.
Western intelligence estimates that Russia has suffered huge losses in Ukraine, both in terms of military equipment and troops.
Kyiv claims these numbers are even higher than the ones shared by Western observers, while Moscow has so far been very reserved about the number of actual losses suffered in Ukraine.
Newsweek has contacted Russia's Ministry of Defense for comment.
Here's a breakdown of everything we know so far about the military losses suffered by Moscow's troops in Ukraine.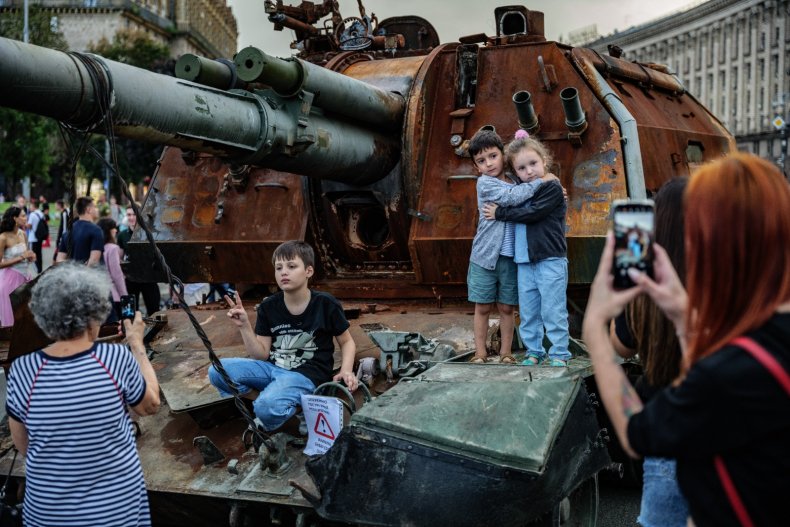 Generals fail
At least ten Russian generals have been reportedly killed in Ukraine since the beginning of the conflict in the Eastern European country.
Among the killed generals, there are Magomed Tushaev, a leading Chechen special forces warlord who commanded the 141th Motorized National Guard Brigade and was killed on February 26 near Hostomel, according to Ukrainian authorities.
On February 28, Major General Andrei Sukhovetsky, commanding general of Russia's 7th Guards Airborne Division and deputy commander of the 41st Combined Arms Army, was said to have been killed by sniper fire, according to Kyiv. His death was confirmed by a retired Russian intelligence officer on Twitter.
Major General Vitaly Gerasimov was killed outside Kharkiv on March 7, according to Ukraine's Ministry of Defense. He was a one-star rank major general of the Russian Ground Forces, and was chief of staff and first deputy commander of the 41st Combined Arms Army at the time of his reported death.
Major General Andrei Kolesnikov, another one-star rank serviceman commanding the 29th Combined Arms Army, was killed only four days after Gersimov's death, on March 11, according to Ukraine's military.
Major General Oleg Mityaev, in command of the 150th Motorized Rifle Division, was reported dead by Ukrainian Interior Ministry adviser Anton Gerashchenko on March 16.
Lieutenant General Andrei Mordvichev was reportedly killed in Chornobaivka, near Kherson airport, on March 19, while on March 25 the Ukraine's Defense Ministry reported that another lieutenant general, commander of 49th Combined Arms Army Yakov Rezantsev, had been killed in a strike near Kherson.
On April 16, Russian media reported the funeral of Major General Vladimir Frolov, who is said to have died in Ukraine during the "special military operation."
On March 22, retired Major General Kanamat Botashev was reportedly killed in the Luhansk region, according to the BBC Russian service. The BBC reported that the high-ranking pilot had been flying a Su-25 fighter jet over the region when his aircraft was hit by a Ukranian Stinger shoulder-fired missile system.
The death of Lieutenant General Roman Kutuzov in the village of Mykolaivka, in the Luhansk region, was reported by Russian state television on June 5. The announcement that Kutuzov had apparently been promoted to major general was made after his death.
Russia has confirmed only four deaths among its generals in over six months of fighting.
The Moscow Timesan independent Russian-language newspaper based in Amsterdam, estimates that at least 317 Russian officers have been killed in Ukraine, a third of whom are majors, lieutenant colonels and colonels.
Troops Killed
In early August, the Pentagon estimated that as many as 80,000 Russian troops have been injured or killed in Ukraine since the beginning of the war.
This is the highest number provided by American experts so far, as in late July CIA Director William Burns had put the US intelligence estimate "in the vicinity of 15,000 killed and maybe three times that wounded."
Back in March, NATO had already estimated that the same number—15,000—of Russian troops had already been killed in Ukraine.
The numbers of Russian casualties are likely inflated in Ukraine's reports, who this week said over 50,000 Moscow troops had been killed in their territories since February 24.
The Kremlin, on the other hand, has been tight-lipped about the actual number of troops killed during the "special military operation" in the neighboring country, although it admitted that the Russian army had suffered losses.
The latest report from the Russian Defense Ministry on the number of troops killed or injured in Ukraine is from March, when the ministry said losses accounted for 1,351 deaths.
Russian media outlets have claimed 5,000 troops lost.
Damaged, Destroyed And Abandoned Tanks, Planes And Ships
Oryx, an open source site tracking military equipment losses around the world, has gathered photographic evidence of 5,887 Russian vehicles and pieces of military equipment which have been destroyed, damaged, abandoned or captured since February 24.
Specifically, Oryx found that Russia has lost 1,029 tanks—637 of which were destroyed, 42 damaged, 51 abandoned and 299 captured by Ukrainian troops. Ukraine's armed forces claim Russia has already lost 2,122 tanks, while the Kremlin has not shared any number of losses regarding its vehicles.
Images of destroyed and damaged Russian tanks in Ukraine have been doing the rounds on social media and news organizations since the beginning of the war, as media reported that the Russian vehicles had a fundamental, structural flaw that made them vulnerable to Ukrainian attacks.
The Russian army was estimated to have started the war in Ukraine with some 2,700 tanks, according to the London-based International Institute for Strategic Studies (IISS) and Santa Monica-based political think tank RAND.
There was photographic evidence of the loss of 527 Russian armored fighting vehicles, 366 of which were destroyed, seven damaged, 29 abandoned and 125 captured.
Russia also lost 1,137 infantry fighting vehicles—740 of which destroyed, 25 damaged, 73 abandoned and 299 captured—and 151 armored personnel carriers—79 of which destroyed, two damaged, nine abandoned and six captured—according to Oryx.
Some 1,482 trucks, vehicles and jeeps have also been lost in Ukraine, as well as two logistics trains, which were all destroyed, and 124 unmanned aerial vehicles, 63 of which were destroyed and 61 captured.
At least eight Russian naval ships were destroyed in Ukraine since February 24 and three were damaged according to Oryx, including Russia's Black Fleet flagship, the Moskva.
Ukraine's armed forces claim that Russia has lost 15 warships and boats.
According to Oryx, Russia has also lost 53 aircraft, 51 of which were destroyed, and 49 helicopters, 48 ​​of which were destroyed. Ukraine claims Moscow troops have lost over 210 helicopters.