Airtasker chairman James Spenceley skirts the frontline on aid mission
eRm
August 23, 2022
85
"I decided to personally donate two ambulances," he said. "I had to get them into Ukraine and ended up flying over and met lots of people, and I realized I couldn't stop as I saw the devastation and people's lives destroyed – everything they owned, worked for, saved to buy a unit, and there's just unit block after unit block destroyed."
Mykolaiv 'where I was most worried'
Mr Spenceley's aid convoy set out from Rzeszów in Poland with 225 liters of spare fuel, given the shortages on the road in Ukraine, and has visited Lviv, Uman, Mykolaiv and Zaporizhzhia. This week it moves onto Kramatorsk to deliver a second ambulance near the war's eastern front lines, before traveling to Dnipro to deliver a third ambulance and onto Kyiv.
The entrepreneur known for taking risks such as selling his Sydney house in 2007 to fund his multibillion-dollar internet start-up Vocus (now owned by Macquarie Bank) conceded he worries about his safety.
"In a war zone, absolutely," I said. "But we take as many precautions as possible. Mykolaiv was where I was most worried, hearing really loud bangs and the air-raid sirens all night. I'm worried, but we're not going within 20 kilometers of the front line and the front lines don't move that often, so you'd have to be pretty unlucky."
On Monday, in Zaporizhzhia, around 50 kilometers from Europe's biggest nuclear power plant that has been repeatedly shelled, Mr Spenceley interviewed Ivan Fedorov, the mayor of Melitopol who was kidnapped and later released by Russian forces in March.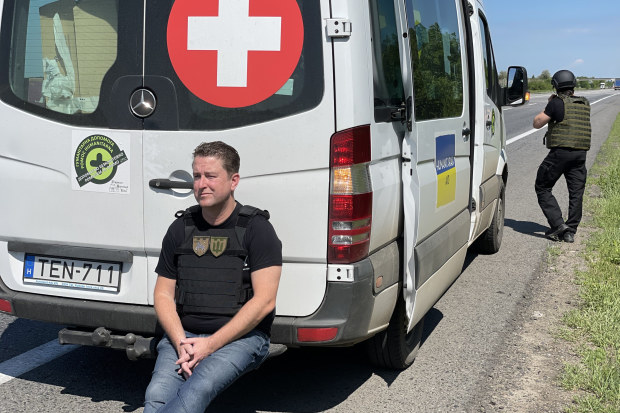 Over the weekend prior, Mr Spenceley said his convoy dropped medical equipment including defibrillators, oxygenators and an ambulance to the Mykolaiv Red Cross.
Mr Spenceley, who was also elected to North Sydney council in December 2020 and nominated for a director role at National Australia Bank in October 2021, said Ukraine needed more ambulances due to the war, with his convoy also delivering a four-wheel drive vehicle to reach areas ambulances cannot travel.
"We've had quite a few people contact us just wanting to donate an ambulance themselves. We had one couple who wanted to donate two ambulances, so it's been fantastic," he said.
"They [Ukraine] probably need 10 times what they need normally. A huge amount have been destroyed as cities get bombed or as they go out to the front line to pick people up."
The businessman plans to return to his home on Sydney's north shore after leaving Ukraine on August 27.